Beyond Disease; Beyond Scarcity; Beyond Cruelty: We need new technology, science, and culture to get beyond disease and destruction.
About this event
The H+ Summit will host speakers on Zoom and steam live for all attendees on YouTube. We will have a YouTube chat window for discussion, Q&A, and provide a survey on the Summit topics for your participate. Information on each speaker's title and schedule will be posted soonest! We welcome you to join Humanity+. Thank you and see you on July 7-8 .
Streaming Live on YouTube: Day 1. 7th July. Day 2, 8th July.
The SARS-CoV-2 pandemic is a war on human biology. It is a wake-up call for every person on the planet. It does not discriminate on the basis of race, age, or socioeconomic status. It can affect everybody, but it kills first the oldest, the weakest and the poorest. This world-wide killer infection has heightened the bandwidth of news feeds and online events as people are trying to understand and strategize a solution. There is no question that human civilization is now alert to its own vulnerability. Rather than continuing with such vulnerability, action needs to be taken at the biological core. The human genome must be strengthened and protected.
While we are dealing with this crisis, there is an on-going event that goes under the radar, with less public awareness and news feed. It is aging. Aging has killed more people that all pandemics combined. Please participate in the H+ Summit Survey !
H+ SUMMIT THEMES:
1. Beyond the Pandemic: Building a Stronger less Vulnerable Genome.
2. Beyond Mortality: Preventing Negative Conditions Impacting Life.
3. Beyond Scarcity: Economy of Abundance (Practical-Radical Optimism).
4. Beyond Cruelty: Stop Discrimination / Create Compassion (Evolved Consciousness).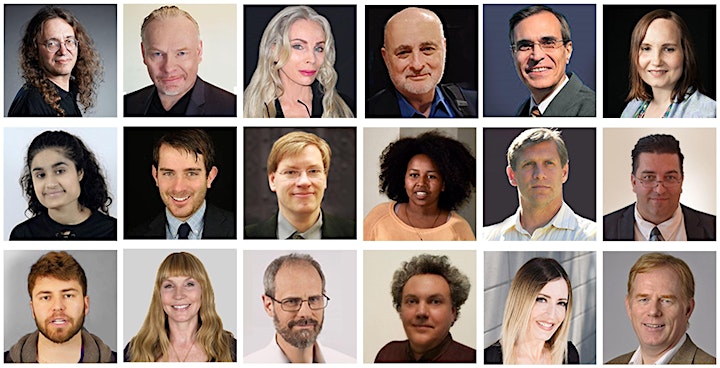 • Dr. Ben Goertzel – CEO & Chief Scientist, SingularityNET
• Dr. Max More – Ambassador & President Emeritus, Alcor
• Dr. Natasha Vita-More – Author, Professor & Speaker, Digital University
• Dr. Jose Cordeiro – Founding ED, Ibero-American Futurists Network, RIBER
• Nell Watson – Chair & VP, IEEE ECPAIS Transparency Experts Focus Group
• Ryan O'Shea – Founder, Future Grind
• Dr. Anders Sandberg – Senior Research Fellow, Future of Humanity Institute
• Alishba Imran – Co-Founder, XVolta
• David Ernst – Founder, Liquid Democracy
• David Brin – Best-Selling Author, Scientist, NASA Advisor
• Dr. Kat Cotter, Anti-Aging Practitioner
• Didier Coeurnelle – Vice President, Technoprog
• Michael Masucci - Media Producer & Curator, EZTV Online Museum
• Maria Entraigues-Abramson, Global Outreach Coordinator, SENS
• Zoltan Istvan, Futurist & Author
• David Kelley, Senior Architect & AI Research
SCHEDULE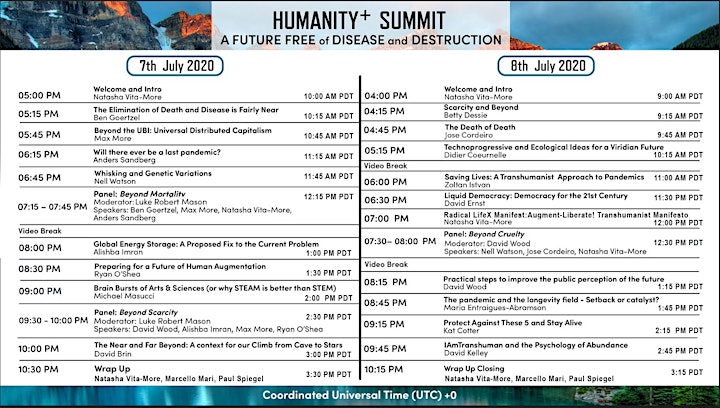 SPONSORS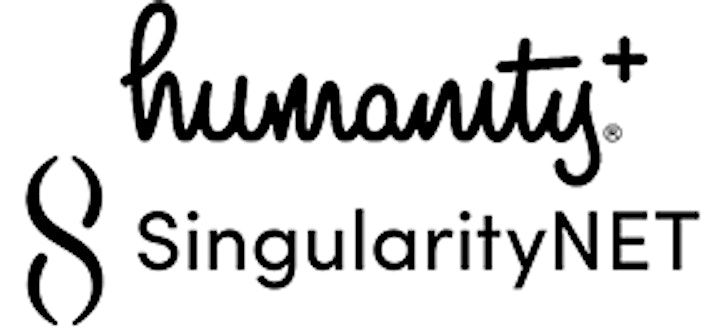 Organizer of POST-PANDEMIC: A Future Free of Disease and Destruction
Humanity+, Inc. is a 501(c)3 non-profit corporation that provides studies of the ramifications, promises, and potential dangers of technologies that will enable humans to overcome fundamental human limitations, and the related study of the ethical matters involved in developing such technologies. The emerging, exponential technologies include artificial intelligence, nanotechnology, genetics, mitigating disease, human enhancement, human-computer integration and a directive toward radical life extension and space exploration.

Multidisciplinary Approach: Our model in analyzing the dynamic interplay of accelerating technology is based on opportunity analysis. In this sphere, much of our focus is on technologies that help humanity overcome odds. Looking into the near-term future, artificial intelligence, nanotechnology, dynamic interfaces, and anticipated future technologies foster new forms of energy and opportunities for space exploration. Our theoretical interests focus on posthuman topics of brain simulation, automated collaborative filters, mind uploading, and singularity.
Humanity+ conferences explore innovations of science and technology and their relationship to humanity. Recent conferences have been held at RMIT University Melbourne – Australia, San Francisco State University, Polytechnic University in Hong Kong, Parsons The New School for Design in New York City, California Technology Institute, and Harvard University.