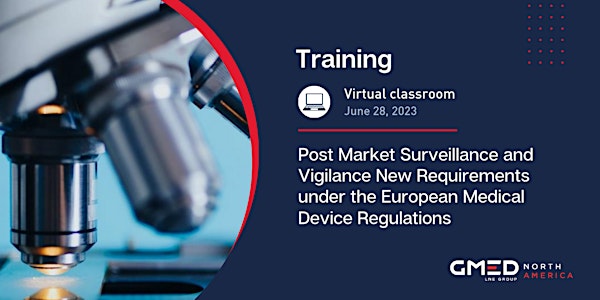 Post Market Surveillance & Vigilance: New Requirements under the EUMDR/IVDR
Post Market Surveillance & Vigilance: New Requirements under the EUMDR/IVDR; 1-Day Training; June 28, 2023
By GMED North America, Inc.
Date and time
Wednesday, June 28 · 7am - 3pm PDT
Refund Policy
Refunds up to 7 days before event
Eventbrite's fee is nonrefundable.
About this event
About the Training
Training Time: 1-day session: June 28, 10am - 6:00 pm
Both Regulation (EU) 2017/745 (MDR) and (EU) 2017/746 (IVDR) include new and more detailed Post-market surveillance and vigilance requirements.
The transitional provisions described in both Regulations (MDR Article 120, IVDR Article 110), require a manufacturer to implement the Post-market surveillance, market surveillance, vigilance requirements during the transitional period in order to keep placing its Device on the market with a Medical Device Directive certificate after the date of the Regulations application. For the Regulation (EU) 2017/745, it is starting May 27, 2021; for the Regulation (EU) 2017/746, May 27, 2022.
This course has been designed to allow manufacturers to easily identify the key requirements and prepare for their timely implementation.
REQUIRED LEVEL
Basic knowledge of the post-market requirements under the Directives 93/42/EEC, 90/385/EEC and 98/79/EC
WHO SHOULD ATTEND
Medical Device Manufacturers: Regulatory Affairs Managers, Quality Managers, Person in Charge of Regulatory Compliance
Internal and External Auditors
Importers
Distributors
LEARNING OBJECTIVES
Identify regulatory requirements with regards to Post Market Surveillance and Vigilance
Implement new Post-Market Surveillance and Vigilance requirements under Regulations (UE) 2017/745 and (UE) 2017/746
Identify tools and forms to be used, methods to implement
EDUCATIONAL RESOURCES
Presentations
Practical working sessions
Course evaluation
AGENDA
Check out the Program:
Post Market Surveillance and Vigilance requirements
Analysis of new requirements
EUDAMED Vigilance module
Transitional provisions – Notified Body's expectations
Implementation: PMS plan, PSUR, PMCF… (tools, forms, methods)
Role of the Notified Body – new activities
About the Trainer
Florianne Torset-Bonfillou, Senior International Project Manager; Lead Auditor & Product Reviewer, GMED North America
Florianne is a Senior International Project Manager at GMED North America. She is also a Lead Auditor and a Product Reviewer with focus on high-risk devices, mainly in the cardio and neurovascular field.
She has a background in Biology, Chemistry and Quality Management. After working in the Pharma/Device industry, Florianne first joint GMED as an Assessor, then became part of the Quality & Regulatory support team. For the past 5 years, Florianne provided Regulatory support to the local team for the transition to the European Regulation EU 2017/745 and EU 2017/746. Since 2023, she supports the UK subsidiary towards its UKCA designation.
She is also a trainer on the European Regulation, Quality Management, Risk Management, and other regulatory and quality topics.
About the organizer
 GMED North America. is the subsidiary of GMED, leading Certification Organization & distinguished Notified Body (CE0459).
GMED is a leading Certification Organization and a distinguished Notified Body (CE0459) whose scope covers all of the existing European Medical Device Directives (90/385/EEC, 93/42/EEC and 98/79/EC).
GMED is also an Auditing Organization Recognized by the MDSAP Regulatory Authority Council and has been performing MDSAP audits since April 2015. GMED is accredited under the NF EN IEC/ISO 17021-1:2015 standard by COFRAC (Certificate № 4-0608), the French Accreditation Committee, to carry out Quality Management System Certification activities according to ISO 9001:2015 and ISO 13485:2016. 
Established in 1994, GMED is fully owned by LNE (e.1901), a State owned Industrial and Commercial Establishment (EPIC), and operates since August 1st, 2018 as a simplified joint stock company (SAS) within the LNE group. 
GMED's success and high level of performance rely first and foremost on a strong and dedicated team of individuals trained at the highest level of the current evaluation and auditing methods to provide the best certification services: Certification Project Managers, Subject Matters Specialists (MDAO or Medical Device Animal Origin, Medicinal Substance, Active Implantable Medical Devices, Microbiologists), Technical Documentation Evaluators and Design Dossier Assessors, Clinical Reviewers & Experts (Ex: Sterilization Methods and Validation) and Auditors for CE marking and QMS activities. 
With offices in Europe and a dedicated US Operation created in 2005 - GMED North America (MD), GMED offers the convenience and efficiency of local teams of experimented specialists to accompany your certification process which will allow you to market in your target markets.