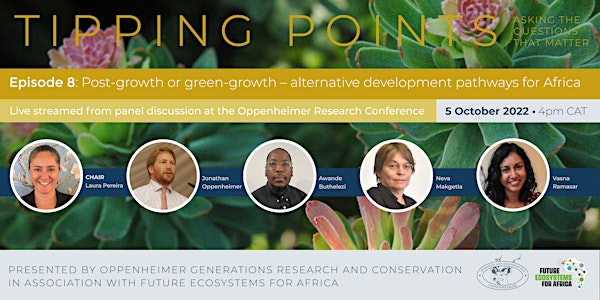 Post-growth or green-growth – alternative development pathways for Africa
Tipping Points: the webinar series for topical discussions on issues affecting development and the environment in Africa
About this event
About this event
Tipping Points, the webinar series for topical discussions on issues affecting development and the environment in Africa, is brought to you by Oppenheimer Generations Research & Conservation.
This month, the episode will be livestreamed from a panel discussion at the 11th Oppenheimer Research Conference, in Midrand, Johannesburg. This panel discussion brings together thinkers on either side of the post-growth or green-growth debate, to discuss what these issues mean for Africa. Join our eighth episode at 4pm CAT on 5th October 2022!
Chair: Laura Pereira
Laura Pereira is the Exxaro Research Chair at the Global Change Institute at Wits University and a researcher at the Stockholm Resilience Centre. She is an interdisciplinary sustainability scientist, having been trained in ecology, law, zoology and human geography. She is interested in the interface between traditional knowledge and innovation, the role of future techniques in enabling transformative change and developing innovative methods for knowledge co-production in Global South contexts. Laura sits on the IPBES Task Force on scenarios and models and is also a member of the Earth Commission's Working Group 4 on Transformations.
Panelist: Jonathan Oppenheimer
Jonathan Oppenheimer is a South African businessman and social impact investor. He began his career at NM Rothschild and Sons, before moving to Anglo American and subsequently De Beers, where he held several senior management roles in southern Africa and London over two decades. He completed his education at Harrow School London and the University of Oxford where he studied Politics, Philosophy and Economics.
Panelist: Awande Buthelezi
Awande Buthelezi is an organiser and researcher at the Co-operative and Policy Alternative Center (COPAC) and an activist with the Climate Justice Charter Movement. He is also the lead coordinator for the Climate Justice Deal research, to create a comprehensive macroeconomic framework for South Africa built on climate justice principles to meet the environmental and socioeconomic challenges of the country within the shifting context of the crisis.
Panelist: Neva Makgetla
Neva Makgetla is a Senior Economist at Trade and Industrial Policy Strategies (TIPS), an economic research institute. She has undertaken extensive research into South African economic issues, published widely, and contributed to a number of national economic policy processes and debates from 1994. She was Deputy Director General for economic policy in the Economic Development Department from 2010 to 2015. She has a PhD in Economics and before 1994 worked for over 10 years as an economics lecturer in Africa and the United States. She is currently a member of the National Minimum Wage Commission.
Panelist: Vasna Ramasar
Vasna is currently an Associate Senior Lecturer in the Division of Human Ecology, Department of Human Geography, and a Research affiliate at the Lund University Centre for Sustainability Studies (LUCSUS) in Sweden. She is also the Programme Director for the Culture, Power and Sustainability International Masters. Dr Ramasar has 10 years of research, activism, consulting and teaching experience across southern and eastern Africa, Asia, Europe and North America and is most interested in trying to understand the big picture of how people and planetary dynamics come together, the complexity of these interactions and the implications for justice.
About Tipping Points
Guided by Oppenheimer Generations Research and Conservation's approach of asking the questions that matter, this solutions-based webinar series explores how we can step back from environmental tipping points and foster a sustainable future for both Africa's people and nature.
Every month thought leaders, disruptors, and researchers gather to address key question for Africa's future through an exploration of African environmental research, conservation, sustainability, and development.
Complex challenges have no quick fixes. Inclusive conversation that shares perspectives, uplifts African narratives, challenges conservation paradigms, and interrogates possible paths of action is critical in navigating complicated, interconnected issues.
Join the conversation every month!
Find out more about OGRC at https://ogresearchconservation.org/