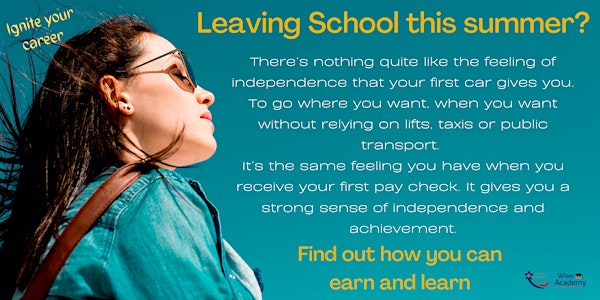 Post GCSE Results - Career Choices for School Leavers
Want to learn about a highly exciting and future focused career option that combines earning while learning in insurance?
About this event
We are pleased to invite all school leavers and thier parents to make use of this highly informative webinar to learn about a really exciting and highly innovative alternative to further education.
At Wiser Academy we will help you build a meaningful and fulfilling career in insurance by combining working and learning activities into one comprehensive work based study programme.
In this webinar you will learn about how you can learn while you earn.
We have created a new approach to traditional College route route; combining Apprenticeships and a Degree into one comprehensive programme.
Register below to learn more about how you can...
1. Be in a full time job earning a full time salary
2. Achieve the highest insurance qualification within the first three years of studies
3. Achieve an insurance degree in the fourth year BA (Hons) in Insurance
4. Be better off financially as against being in debt after a traditional degree programme.