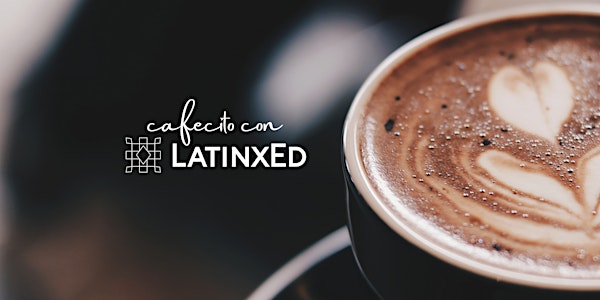 Post-Election Community Cafecito
It's been a wild week. If you're looking for a space dedicated to reflection, hope, & action, this is the one for you!
About this event
While the results of this election may be blurry by the end of the night, our resolve to critically reflect and take action as a community must be strong. We were not designed to process the changes this week promises alone. No matter what happens, la lucha sigue and investing in our collective well-being is of utmost importance.
As we await the results, we are eager for a space to reflect, dream, and take action. Centering hope and joy in this journey isn't for the faint of heart. We don't know what the future holds, and we don't control the actions of others. But don't get it twisted - we have power. We are a powerful community that can choose to dream, resist, and act.
Whether you are a student or parent in our programs or LatinxEd supporter, we invite you to join us as we virtually connect with each other at this week's Community Cafecitos. Our community cafecito is a space for the complexity of emotions we may be feeling post-Election day. Come as your authentic selves, and we'll process what's happening in our world and our community together. We encourage you to bring something that gives you hope or joy (ex. a family photo, favorite recipe, song, or favorite meme).
Wednesday's session will be at 6 pm and hosted in English. Thursday's session will be at 7 pm and hosted in Spanish.
--
Dado que los resultados de esta elección pueden ser borrosos al final de la noche, nuestra determinación de reflexionar críticamente y tomar medidas como comunidad debe ser firme. No fuimos diseñados solo para procesar los cambios que promete esta semana. Pase lo que pase, la lucha sigue, e invertir en nuestro bienestar colectivo es de suma importancia.
Mientras esperamos los resultados, estamos entusiasmados por un espacio para reflexionar, soñar y actuar. Centrar la esperanza y la alegría en este viaje no es para los débiles de corazón. No sabemos lo que nos depara el futuro y no controlamos las acciones de los demás. Pero no lo tuerza, tenemos poder. Somos una comunidad poderosa que puede elegir soñar, resistir y actuar.
Si usted es un estudiante o un padre en nuestros programas o un partidario de LatinxEd, lo invitamos a unirse a nosotros mientras nos conectamos virtualmente entre nosotros en los Cafecitos comunitarios de esta semana. Nuestro cafecito comunitario es un espacio para la complejidad de las emociones que podemos estar sintiendo después de las elecciones. Vengan como ustedes mismos y procesaremos juntos lo que está sucediendo en nuestro mundo y en nuestra comunidad. Te animamos a que traigas algo que te dé esperanza o alegría (por ejemplo, una foto familiar, una receta favorita, una canción o un meme favorito).
La sesión del miércoles será a las 6 pm y será en inglés. La sesión del jueves será a las 7 pm y será en español.