Location
221 E Broadway
New York, NY 10002
Description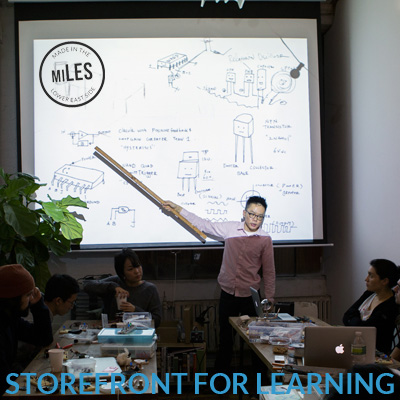 In the fall of 2012, Hurricane Sandy hit lower Manhattan, putting homes and business off the grid. Artist Taeyoon Choi began to imagine ways of digital communication in the world without central power and mobile network. What are the ways of programming without computers and transferring digital data without Internet? This workshop introduce the concept of binary logic and digital memory by drawing, performing, hacking and making objects with 3D printers. Finding inspiration from Mail art and experimental currencies, communication after transistor based computers might be based on affects and solidarity.
Taught by Taeyoon Choi | http://taeyoonchoi.com/
"Storefront for Learning" will showcase a coffee shop turned into community classroom at night. Partnering with Pushcart Coffee, miLES is curating a set of workshops and classes that focuses on creative and educational agenda each night from May 1 - May 4 during the New Museum Ideas City Festival.
miLES - We open storefronts to possibilities by creating micro pop-ups as community hubs.
http://www.madeinLES.org