Post Carnival Relief "Breakfast Party" @ Karma DC. Trinidad Killa Live. Sun March 29th. 11am to 5pm. Complimentary Breakfast 10am to 12noon.
About this event
[P.S.A]
Party Service Announcement
Its OFFICIALLY one week after Trinidad Carnival 2020!
But the Revelry... the Music...yuh STILL Feeling IT!
Not to worry, we got the perfect remedy...Dyy ZESSS!!
DC Carnival Experience x Carifesta x Carib United x Ronn G Events
brings you the best cure for your Post Carnival Depression
Post Carnival RxELIEF :: The Ultimate Breakfast Fete
Sunday, March 29th got all the ZESS with *Trinidad Killa*
Performing LIVE at KARMA Sound Stage!
2221 Adams Place NE, DC
202.425.7828
Feat. Canada's No. 1 Soca team, D'Enforcas
alongside DMV finest Dj Majestic, Fyah Oats,
Dj Bimshire from TeamSoca.com & GeoVoni from AblazinRadio.com
All Pwered by Soundbang Ent.
Comp. breakfast from 10am to noon
EARLY ARRIVAL is HIGHLY SUGGESTED
Get tickets at www.ronngevents.com
Limited Early Bird Tickets For $20
Supported By
BK Ent | Mr. Laroche | Ronn G Events | Carnival Nation |@nargerdaking
Sdot production | Logic promotions | Tazz Entertainment | Soca Mixx
For VIP Tables Call or Text: 202.425.7828
#PostCarnivalRxELIEF #BreakfastParty #TheCure #SocaSerum #CarnivalDepression #DyZess #ronngevents #dancehallkingdom #nargerdaking
#GunManInYuhHole #PCRx2020 #DCCarnivalExperience2020 #ComingSoon #YouBeenWarned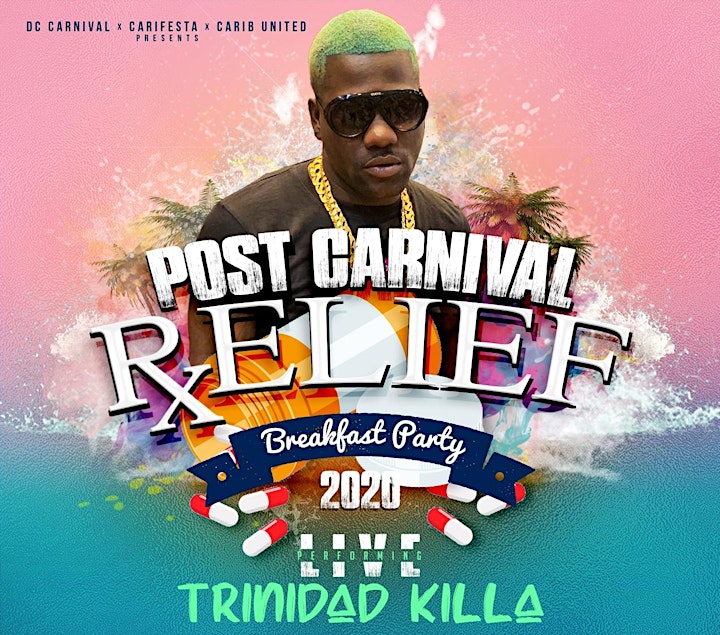 Organizer of Post Carnival Relief "BREAKFAST & Day Party" Trinidad Killa Live