LEVITATION returns Halloween Weekend 2021
About this event
Please make sure you've read and understand our Covid-19 health and safety requirements for LEVITATION 2021 events: https://www.levitation.fm/health
POST ANIMAL • PEARL EARL • NOLAN POTTER'S NIGHTMARE BAND • BEING DEAD
POST ANIMAL - Chicago's Post Animal bring an ambitious mix of hard, soft, prog, and psychedelic rock spiked with hooks, fills, and riffs, with an epic live show to boot. The band are coming through Austin on the heels of two 2020 releases, their full length 'Forward Motion Godyssey' and 'Worried About You' EP. The Chicago Tribune has described the band's sound as "if Tame Impala listened to a lot of Black Sabbath and were signed to Elephant 6."
PEARL EARL - This Denton, TX based all-female rock and roll band have been accurately described as a "psychedelic cornucopia of the glitter and sparkle of glam rock, the space and cosmic intervention of prog, the angst and grit of punk, and the synth pop of the times of neon jumpsuits and disco balls".
NOLAN POTTER'S NIGHTMARE BAND - Dreamy and lucid keys, strings, drum corps, slippery guitar and buff bass, ripe flutes and breezy vocals. For fans of Embryo, the Mothers, Pink Floyd, Mahavishnu Orchestra, Moody Blues, the Stark Reality, and Placebo. They're from Austin, Texas but you'd swear it's from 1972 Europa-Mothership.
BEING DEAD - "Death is eternal, as is rock." So says Austin psych-rock outfit Being Dead, headed up by Juli Keller and Cody Dosier, Being Dead throws everything from bouncy surf rock to fat fuzzed-out guitars and animal sounds into a single song.
- - -
Doors at 5:30pm. Show ends by 10:30
Set times to be announced. Schedule subject to change.
---
Please bring your ticket (printed or digital) and a valid ID.
---
No refunds. Event is held rain or shine. More information and FAQ at levitation.fm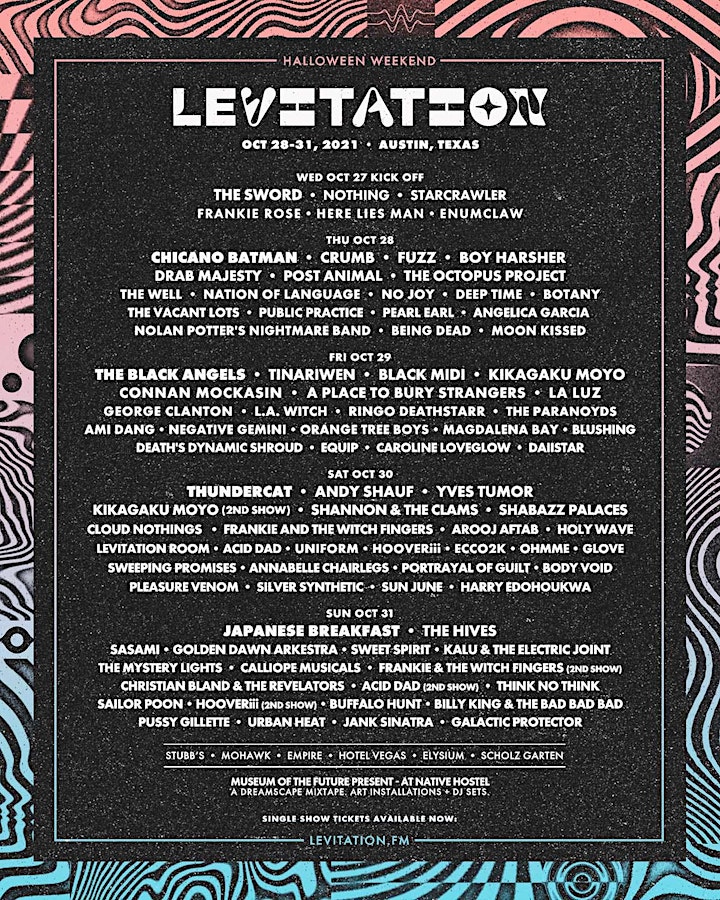 Organizer of POST ANIMAL • PEARL EARL • NOLAN POTTER'S NIGHTMARE BAND • BEING DEAD