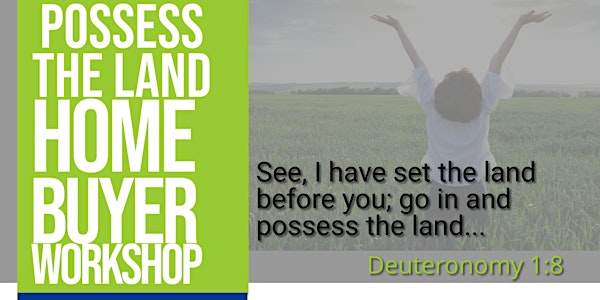 Possess the Land Home Buyer Workshop
Home Buyer Workshop
When and where
Date and time
Saturday, August 21, 2021 · 10am - 2pm EDT
Location
Holiday Inn Express & Suites (Ashley Phosphate) 7670 Northwoods Boulevard North Charleston, SC 29406
About this event
See, I have set the land before you; go in and possess the land which the Lord swore to your fathers—to Abraham, Isaac, and Jacob—to give to them and their descendants after them.
As a real estate professional consulting with hundreds of individuals with the process of buying a home, Shakeima Clark Chatman, has witnessed their struggle to break free from the slavery of renting and receiving their promised land. This interactive workshop will teach you how to use biblical principles to conquer the giants that have inhabited your promised land:
~Prepare for the Home Buying Process
~Improve Your Credit Score
~Reduce Your Debt
~Increase Your Savings
~Possess Your Land
*Registration includes a workbook and a post-event 1-hour consultation.