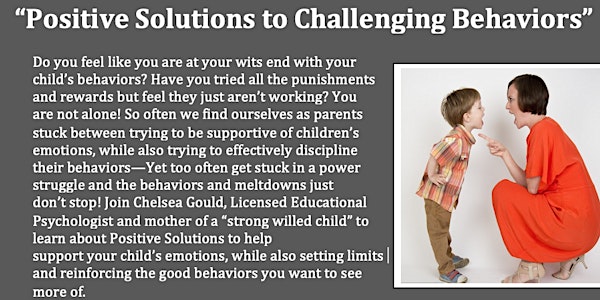 Positive Solutions to Challenging Behaviors
Do you feel like you are at your wits end with your child's behaviors? These Positive Solutions can help!
About this event
Here is the TEAMS link to join!
https://teams.microsoft.com/l/meetup-join/19%3ameeting_YjRhZTQ2ZTItNTE4OS00NmEyLTgzNDctZWE5YTNhMzdmZTM5%40thread.v2/0?context=%7b%22Tid%22%3a%22e87a6e0c-c08e-46b2-bb73-45dd072baa33%22%2c%22Oid%22%3a%22297605e3-b2ae-4282-a43a-4bd48efa8249%22%7d
So often we find ourselves as parents stuck between trying to be supportive of children's emotions, while also trying to effectively discipline their behaviors—Yet too often get stuck in a power struggle and the behaviors and meltdowns just don't stop! Join Chelsea Gould, Licensed Educational Psychologist and mother of a "strong willed child" to learn about Positive Solutions to help support your child's emotions, while also setting limits and reinforcing the good behaviors you want to see more of. This training will cover strategies to help prevent behaviors, ideas for how to teach your child better ways to cope and will also give you new tools to help you appropriately respond when behaviors do happen, in a way that will decrease the likelihood of it happening again!
Here is the TEAMS link to join!
https://teams.microsoft.com/l/meetup-join/19%3ameeting_YjRhZTQ2ZTItNTE4OS00NmEyLTgzNDctZWE5YTNhMzdmZTM5%40thread.v2/0?context=%7b%22Tid%22%3a%22e87a6e0c-c08e-46b2-bb73-45dd072baa33%22%2c%22Oid%22%3a%22297605e3-b2ae-4282-a43a-4bd48efa8249%22%7d