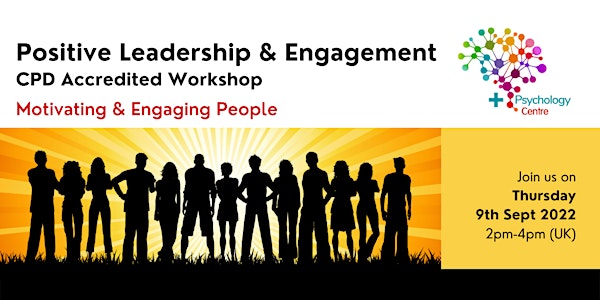 Positive Leadership & Engagement - Motivating & Engaging People
The final workshop of a six-part Positive Psychology series, designed for those managing, leading or utilising human potential.
About this event
This final seminar explores what people want and need at work. It introduces motivational styles in leadership and management, and how to tap into your motivational style. You will discuss and present what you have learned so far with your trainer and group, and identify actions to help carry your learning process forwards.
Who should attend?
The workshops in this series are designed to be of interest and relevance to:
Managers & Leaders
HR Professionals, L&D Professionals
Organisational Development Specialists
Executive Coaches & Trainers
Benefits of Attendance
Certificate of Attendance with 2 CPD points accredited by the Positive Psychology Guild
Positive Psychology Educational Tools (diagrams, worksheets)
Understanding of Strengths, Authenticity, Resilience, Positive Emotions & Motivation
Reflections on application of Positive Psychology concepts and theories to self
Event Details
This event is two hours in duration and consists of a presentation, short break, discussion, individual reflections, and group sharing on concepts learned. You will also engage in practical and reflective activities following the workshop. Please allow a further 2 hours for this.
The cost of this CPD workshop is £30. The same charge will apply to the other five workshops in the series, if booked as single events.
About The Trainer
Reece Coker is the founder of PPG. A fellow at the Institute of Leadership and Management, and Royal Society of Public Health, he is an experienced trainer, psychologist, and sector expert within the subjects of Positive Psychology, Motivation, Organisational Development & Culture, Neurodiversity & Inclusion, and Business Management. A senior manager within the corporate commercial and not-for-profit sectors, Reece is passionate about learning and development at all levels. He completed his Masters in Applied Positive Psychology (MAPP) at Bucks New University in 2016, where his research focused on hope and fear, and is currently completing a PhD in Education and Psychology at Sheffield Hallam University with a focus on courage, anxiety, and autism.
Other Workshops in this Series
Seminar 1: Creating Positive Organisational Cultures
Thurs 21st July, 2pm-4pm (UK) Details & Tickets
Seminar 2: Strengths-Based Engagement
Thurs 28th July, 2pm-4pm (UK) Details & Tickets
Seminar 3: Authenticity, Mental Health & Wellbeing
Thurs 11th Aug, 2pm-4pm (UK) Details & Tickets
Seminar 4: Resilient Leadership, Management & Teamwork
Thurs 18th Aug, 2pm-4pm (UK) Details & Tickets
Seminar 5: Positive Emotional Environments
Thurs 1st Sept, 2pm-4pm (UK) Details & Tickets
Full Course - Fees & Bookings
If you would like to enrol for the full course of all six workshops, the fee is £150. Please note that the course fee must be paid in full before the course commences.
To find out more or book, please visit this link, or email us at events@ppnetwork.org
Corporate Bookings
This single event or the full course may also be delivered in a workplace for groups of 5-20 people. Corporate rates are available on request.
To enquire further, please email: training@ppnetwork.org
Further Study Progression
You may like to continue your studies with any of the following Positive Psychology Practitioner courses:
For more details on these training courses, please visit our website homepage here or contact us at: training@ppnetwork.org