Description
Who's looking for Positive Change in 2017?
Commit to a
Year of Radical Self-Care
with this weekend full of wellness events! Together we will build intention around:
​
Empowerment
Loving Kindness
Mindfulness
Abundance
Healing our minds, bodies and spirits
for a positive shift into a powerful year!
Let's not let this uncertain time of transition distract us from the positive potential available to us all.
Visit our WEBSITE for full details of this 4-day event** or see below for listings.
**Most events require pre-registration, either on this listing or in a separate registration platform.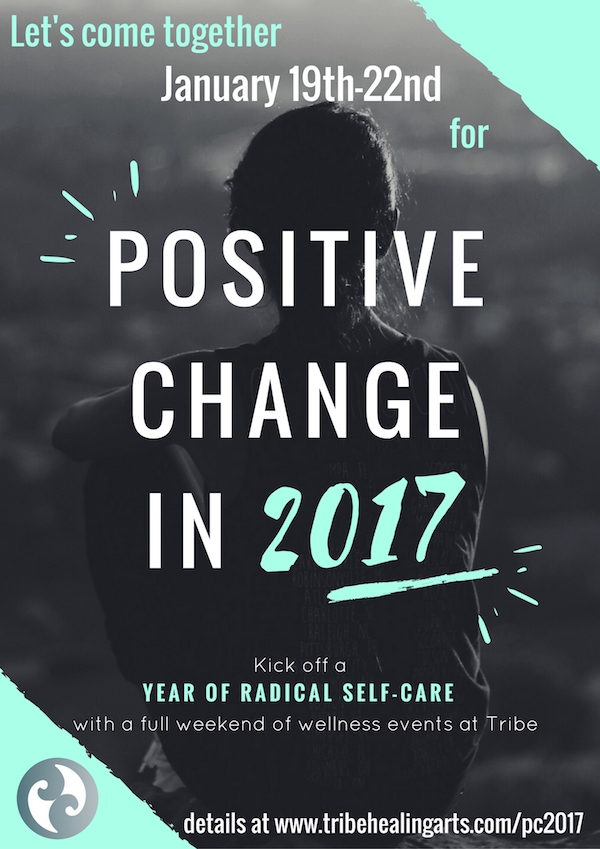 ---
---
THURSDAY, 1/19:
Empowerment and Satya: Yoga Within Politics
6pm-8pm, $25
Within a safe space and using a variety of yogic tools, we will come together to manage the internal dissonance that the election and inauguration have created within many of us. Satya means "truthfulness." Discover the depth of satya as it applies to your beliefs, thoughts, actions and words as we prepare to inaugurate a new president on January 20th.
This workshop will include lecture/ discussion, yoga asana (posture), pranayama (breath work), and meditation. All levels are welcome, and all yoga equipment is provided. Be prepared to see yoga as a tool for change within yourself, as well as in the world around you. Bring a journal, an open heart and an open mind.

REGISTER SEPARATELY HERE
(Class size is limited to 15 guests)
---
FRIDAY, 1/20:
Loving Kindness Meditation
6pm-7pm, (Cash Donation of your choosing)
The Loving Kindness Meditation has been used for centuries as a way to enhance our innate drive to love and be loved. We'll begin by connecting to our heart center, the fourth chakra in the middle of our chests, through breath work. From the heart, we will visualize forgiveness and compassion towards ourselves first. This compassion will extend to close relationships, as we meditate on thoughts, actions, or wishes for those we share the most with. Loving Kindness will radiate throughout the meditation, as we move to all our interpersonal relationships, city, state, country, and even the world. Be prepared to see yourself and others through the eyes and actions of the heart.
​
Reserve your spot via Eventbrite (Class size is limited to 15 guests)

7:30-8:30pm (Cash Donation of your choosing)
Details to come
Reserve your spot via Eventbrite (Class size is limited to 15 guests)
---
SATURDAY, 1/21
During this Sound Bath and bodywork treatment, you will lie on the floor on a yoga mat while Lisa plays the bowls and Cari moves from person to person throughout the session, so please dress in comfortable clothing and bring any additional supports that will allow the body to rest easily on the floor for 90 minutes – and get ready for a transformational sensory journey.
REGISTER SEPARATELY HERE
(Class size is limited to 12 guests)
A despacho is a simple beautiful ceremony performed across the Andes as a way to give thanks, ask for blessings when you are beginning or completing life events such as journeys, marriages, births, deaths and celebrating the seasonal shifts throughout the year. ​
Despacho, loosely translated from its Quechuan roots, means "a gift or offering that is based on a sacred principle or divine reciprocity" or anyi. There, the giving and receiving is one unbroken experience between nature, spirit and humanity. When we join into a vibration of anyi, we are one. The community that assembles to create the uniqueness of the despacho are like snowflakes and finger prints; no two gifts are ever the same.
In this process, with great humility and love, Susan will take a carefully compiled combination of items that all represent facets of our lives that we are inviting to return into balance and harmony by weaving them together, as we offer our prayers, blessings and good wishes on behalf not only of ourselves but our families, communities and world. Join us for a sweet, sincere and powerful moment where we all serve as collaborators and change agents in support of a positive vision we wish to bring into form as our country steps onto a new path.
Reserve your spot via Eventbrite (Ceremony limited to 25 guests)
---
SUNDAY, 1/22
1/22: 2pm-6pm
Free entrance
with Tribe Practitioners & Chicago Vendors/ Friends