"Position of Power" featuring Donahue Peebles III + Kourtney Gibson

Tuesday, June 12, 2018 from 6:00 PM to 9:00 PM (EDT)
Event Details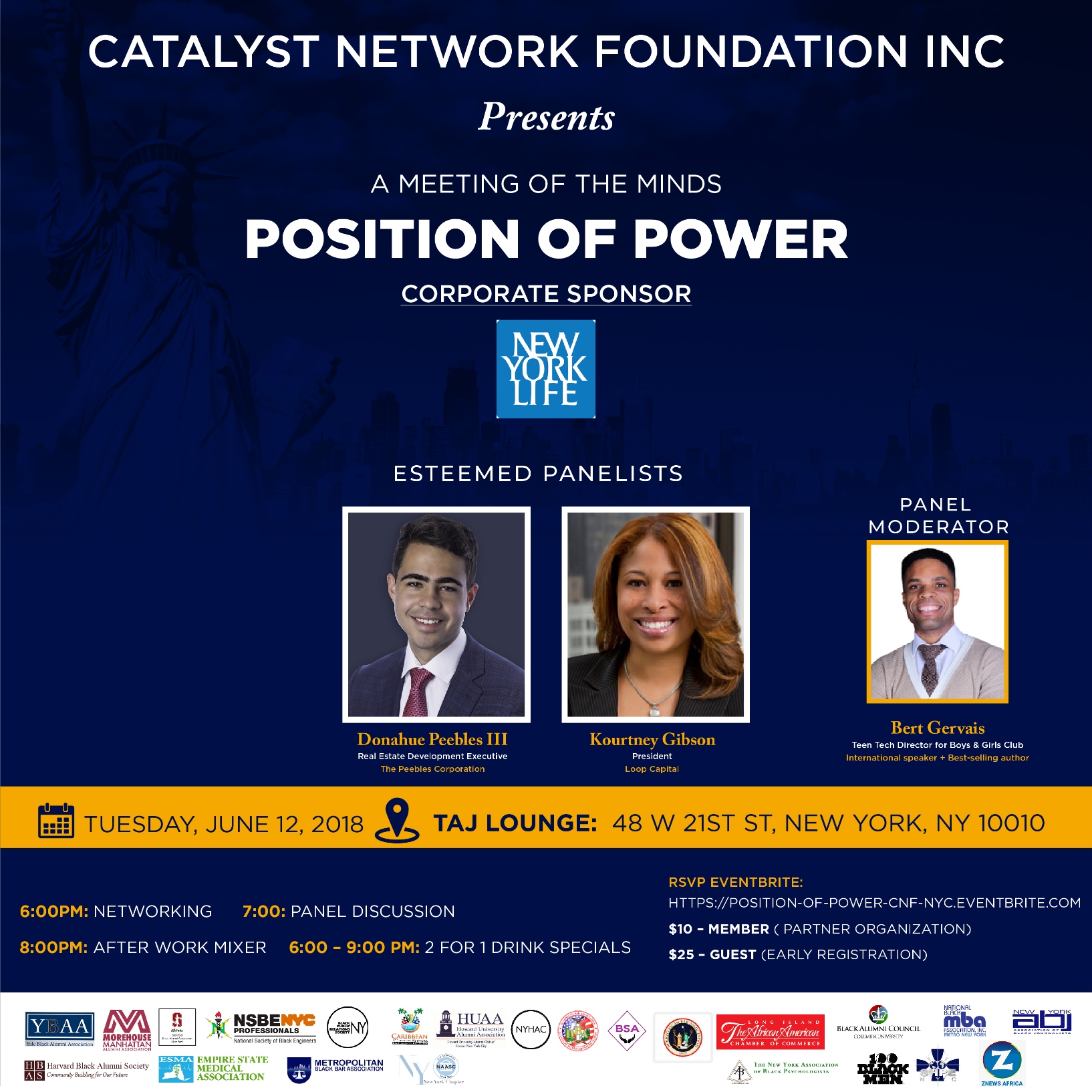 Corporate Sponsor

New York Life Insurance Company
Panelist

Real Estate Development Executive
The Peebles Corporation
Donahue Peebles III is an Executive at Peebles Corporation, a development company of luxury hotels, high-rise residential and commercial properties in New York City Washington, D.C., Boston, Philadelphia, Las Vegas, San Francisco, and Miami Beach. Donahue Peebles owns 100% of The Peebles Corporation.
The company is the largest black-owned real estate company in the nation and has become an industry leader with a portfolio of completed and current developments totaling more than 7 million square feet and $6 billion in major cities including New York, Washington D.C., Los Angeles, Philadelphia, Boston, San Francisco, Charlotte, and Miami.
Donahue handles acquisitions and development at his company.  He is a 2016 Columbia University graduate, who began working with The Peebles Corporation full-time in 2012 while earning his degree in Economics.  Donahue is currently leading the company's Washington, D.C. development efforts, including the day-to-day development of the SLS Hotel and Residences, in which he was an integral part of both the negotiating and pre-developmental teams.  He is also overseeing the day-to-day pre-development activities of five projects in the D.C. area.
Donahue is an active part of The Peebles Corporations public image, as he often participates in local and national business and entrepreneurial summits, as well as serving on real estate panels and forums.  He also serves both the Washington D.C. and New York City communities by engaging with multiple philanthropies that benefit and expose youth to various opportunities in entrepreneurship.  Donahue is currently extremely engaged in working with the foundation Maya's Hope to improve the quality of life of orphaned, impoverished, and special-needs children on a global scale.

Donahue Peebles interview on the Rock Newman Show:
https://www.youtube.com/watch?v=ZXYmhn-9Njg
President
Loop Capital Markets
Kourtney Gibson is President of Loop Capital Markets, the largest minority-owned financial services firm and one of the largest privately-held investment banks in the United States.
She oversees all brand building efforts at Loop Capital, in addition to cultivating and enhancing major strategic client relationships across the firm's various business lines. Ms. Gibson works in conjunction with the Chairman and CEO in the development of strategic initiatives and translating the company's vision and strategy into action plans to be carried out by its various business units. Ms. Gibson serves on the firm's Management Committee and Fairness and Valuation Committee.
Possessing nearly 20 years of experience at the firm, Ms. Gibson has extensive knowledge and involvement across all of Loop Capital's platforms and has been intimately involved in their growth. Ms. Gibson is a CNBC contributor, providing insight, analysis, and outlook on the markets for various shows on the network.
Ms. Gibson received a Master's of Business Administration from Northwestern University's Kellogg School of Management and a Bachelor of Business Administration from the University of Miami. In addition, she is a member of The Economic Club of Chicago and the treasury market practices group and sits on the board of trustees at Viterbo University and the University of Miami as well as the boards of the University of Miami Alumni Association (President-Elect) and Chicago Scholars Foundation. She holds Series 7, 57, 24 and 63 FINRA registrations.
TRADERS MAGAZINE 
Wall Street Women of 2015
Crystal Ladder Award Recipient
CRAIN'S CHICAGO BUSINESS
40 Under 40
Class of 2015
Panel Moderator – Bert Gervais: Best Selling-Author & Teen Tech Director @ Boys & Girls Club
Partner Organizations
Black Alumni Council of Columbia University (BAC)
Society of Hispanic Professional Engineers - NYC
Morehouse Manhattan Alumni Association
Metropolitan Black Bar Association
NY Chapter – National Alumnae Association of Spelman College
National Society of Black Engineers – NYC Alumni
Stanford Black Alumni Association – New York
National Black MBA Association Metro NY Chapter
New York Hampton Alumni Club (NYHAC)
New York Association of Black Journalists
The New York Association of Black Psychologists
Black Public Relations Society of New York
Empire State Medical Association
New York University – Wagner Black Student Association
When & Where

48 W 21st St
48 West 21st Street
TAJ Lounge
New York, NY 10010


Tuesday, June 12, 2018 from 6:00 PM to 9:00 PM (EDT)
Add to my calendar
Organizer
The Catalyst Network Foundation Inc. (CNF) is a non-profit education initiative 501(c)(3) organization based in New York City and Washington, D.C. The social enterprise is fundamentally grassroots, steered by a volunteer leadership team in New York City and Washington, D.C. In July of 2012, Ranking Congressman Ed Towns awarded a proclamation to the Foundation, in recognition of the organization's achievements.
CNF was conceived after its two founding members had a conversation about the future of youth and veterans in their community. After reviewing the lack of communal resources, skill development programs, and career-field opportunities for adults – the founders developed a vision. Through their combined efforts and strategic planning, the two founders recruited additional professionals to support the formation of Catalyst Network Foundation.
Founded in 2011, the nonprofit focuses on life enrichment and professional development, with a mission to engage high-potential youth (ages 14-25) by providing the essential tools, networks, skill-building projects, and development opportunities to maximize talent.
CNF holds a Summer Intensive Program for rising high school juniors and seniors in New York City and Washington, D.C. Successful applicants are enrolled at a CNF partnership high school. Each student receives individualized attention and internships in preparation for higher education and community service. The fellowship scholars are trained from day one: they tour corporate offices, pitch business ideas, and develop professional skills. More than 200 students have been admitted to the Fellowship Program and are CNF Fellows, 99 percent have graduated high school, and 98 percent enrolled in higher education institutions (including prestigious colleges and universities).
Through CNF's Mentorship Program, Fellowship scholars are paired with a mentor that is a trailblazer in the profession or career field the fellows aspire to pursue. The CNF Internship Program secures CNF Fellows with internships at startups, corporations, and medical institutions.
Since 2011, the Fellows have experienced corporate tours and/or pitched capstone presentations and interventions for inner-city school challenges to several companies, including: Google, Goldman Sachs, NIKE, LinkedIn, Morgan Stanley, Microsoft, HBO, Covington & Burling LLP, GAP, Bloomberg, BET, NPR, The Carlyle Group, Kaye Scholer LLP, Hughes Hubbard Reed LLP, Deutsche Bank, Infor, The Peebles Corporation, Deloitte, FOX News, and NBC Studios.
The Youth Initiative annually holds business, law, and tech symposiums at Google;college fairs; resume development, career, and college preparatory workshops throughout the academic school year, instructing more than 2,000 high school students in the aforementioned metropolitan areas.
CNF performs screenings and facilitates seamless partnership arrangements with high schools and corporations. These partnerships provide experiential learning, mentorship and new product development and concept testing for each stakeholder. I.e., City Poly Tech High School < > Infor
The organization works with American veterans, connecting them with resources and information to assist them with their career and academic ambitions.
CNF has curated more than 25 professional networking events and diversity career recruiting sessions. The organization hosts a professional mixer and panel discussion called The Meeting of the Minds (MOTM) a gathering that is held quarterly that uniquely combines networking and thoughtful policy discussion on topics affecting minority communities. The goal is to provide a forum for critical conversation on issues often ignored by mainstream media outlets.