Sorry, the promotional code you entered has expired.
PoshFest 2015: November 7-8
When and where
Location
San Francisco, CA
Description

PoshFest is an annual conference for Poshmark community members from all across America, designed to inspire and empower them to build their own fashion businesses.
The conference brings together hundreds of women to connect with one another and listen to experts and industry speakers share their insights around how to showcase and sell your style. At the event, attendees will learn about fashion trends, hear success stories, gain insider tips, and mix and mingle with their peers.
The two-day event is packed with panels, workshops, parties and networking opportunities against the beautiful backdrop of the San Francisco Design Center.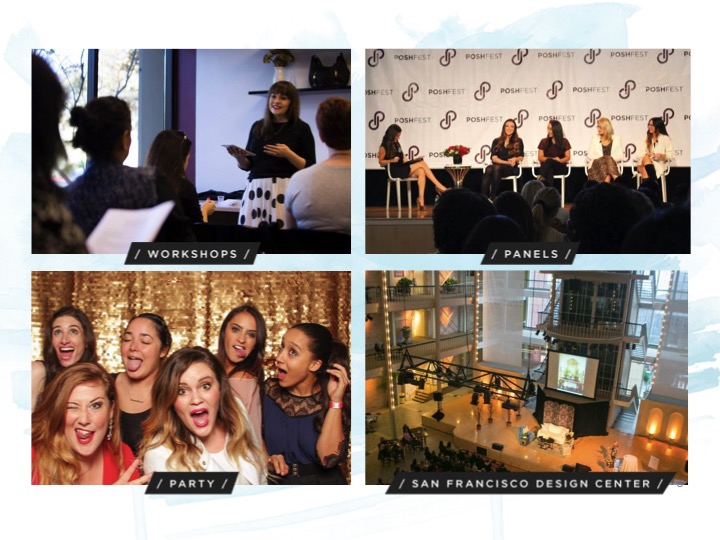 WHO SHOULD ATTEND
New Poshers // Power Poshers
Suggested Users // Style Influencers
Students // Parents // Entrepreneurs

LEARN 4 REASONS TO ATTEND POSHFEST >>
AGENDA
Friday, November 6th, 2015
6:00 - 8:00 p.m. Official Pre-PoshFest Happy Hour hosted by @kathleenmensign
Les Mechantes, Ghirardelli Square, 900 North Point Street, San Francisco, CA 94109
Saturday, November 7th, 2015
San Francisco Design Center
8:00 - 9:00 a.m. Registration & Breakfast (60 minutes)
8:30 - 9:00 a.m. Poshmark 101 Breakfast Roundtable (30 minutes)
9:00 - 10:00 a.m. Speed Networking (60 minutes)
10:00 - 10:40 a.m. Founder and CEO Manish Chandra presents "Poshmark's Vision for the Future" (40 minutes)
10:40 - 11:20 a.m. Meet the New Forces of the Fashion Industry (40 minutes)
11:20 - 11:40 a.m. Success Story: How She Made Half a Million Dollars on Poshmark (20 minutes)
11:40 - 12:15 p.m. The New Way to Sell Retail with Poshmark (35 minutes)
12:15 - 1:15 p.m. Lunch
1:15 - 2:15 p.m. Workshops (30 minutes each, rotating)
Workshop 1: Boss Status: Business Basics You Need to Know
Workshop 2: Creating a Successful Social Media Strategy
2:25 - 2:45 p.m. The Fundamentals of Growing Your Business (20 minutes)
2:45 - 3:25 p.m. Building Your Empire Starts With Your Brand (40 minutes)
3:25 - 4:05 p.m. Ask Me Anything: Poshmark Founders (40 minutes)
Moderator:

LyAnn Chhay

, Poshmark

Manish Chandra, Founder and CEO

Tracy Sun, Co-founder and VP of Merchandising

Gautum Golwala, Co-founder and CTO
4:05 - 4:10 p.m. Closing Remarks (5 minutes)
8:00 - 11:00 p.m. The Ultimate #PoshParty
Sunday, November 8th, 2015
Parc 55 Hotel
10:00 - 11:30 a.m. Networking Brunch (60 minutes)
11:30 - 1:00 p.m. Break-out Mentor Sessions (30 minutes each, rotating)
Session A: How to Navigate the Fashion Industry
Session B: How to Harness The Power of Meet-Ups and Mentoring
Session C: Crash Course: Poshmark's Latest (and Greatest) Features
1:00 - 2:00 p.m. Last minute mingling and goodbyes with your PFFs (60 minutes)
2:00 - 2:30 p.m. Formal Goodbye from Manish (30 minutes)
*For agenda details, please visit the Poshmark Blog here

Agenda is subject to change
HIGHLIGHTS FROM POSHFEST 2014
Rockstar entrepreneur Tina Sharkey inspired us all with her keynote address about realizing your dreams and finding balance along the way.

Information-rich panels and workshops such as "You've Sold Everything in Your Closet, Now What? It's Time to Level Up" and "Success Stories: How I Went From a Closet Cleanout to Six Figures," and more.

Unprecedented in-person networking with hundreds of fellow Poshers and fashion industry influencers.

Get a glimpse into the fun with these photos from PoshFest 2014.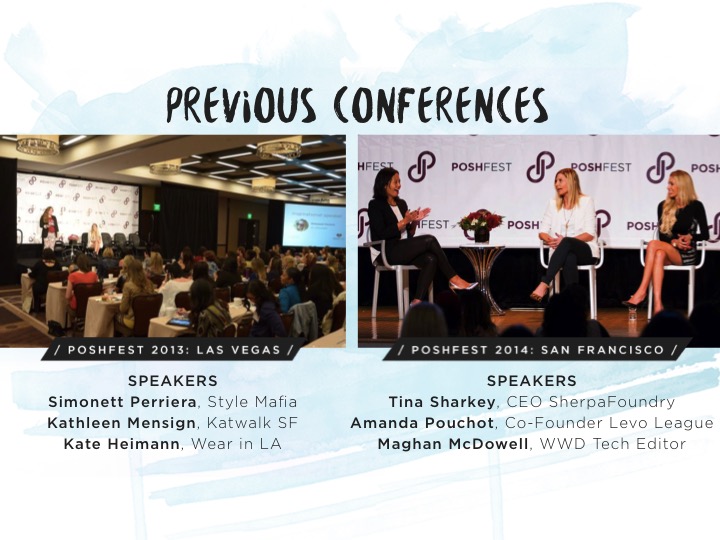 FAQs
What is PoshFest? PoshFest is Poshmark's signature conference to inspire, empower and connect fashionable women from across America. Taking place in San Francisco, expect a weekend of fun that will take your Poshing - and your life! - to the next level.
Who's invited to PoshFest? All registered members of Poshmark are invited to join us at PoshFest. Not a member yet? No problem! Download the free Poshmark iPhone, iPad, or Android app, or register on the web.
Where is PoshFest happening? We'll kick off Day 1 with the main event taking place at the gorgeous San Francisco Design Center (101 Henry Adams Street) located in San Francisco's premiere design district. Be prepared to be inspired like never before. The following day, we'll host workshops and breakout sessions at Parc 55 in San Francisco (55 Cyril Magnin Street), an intimate setting that is an excellent backdrop for continued learning and networking.
Do you have recommendations on where to stay overnight? We partnered with Parc 55 Hotel and for a limited time they offered attendees discounted room rates. Online reservations have now closed and the discounted rates are no longer available.
Is there an age requirement for PoshFest? There is no age requirement to attend PoshFest.
Will you be selling tickets at the door? No, we will not be selling any tickets at the door.
What is your cancellation policy? Unfortunately, we are not able to offer refunds on tickets to PoshFest. Thanks for understanding.