POSHFEST 2013
When and where
Location
The Cosmopolitan of Las Vegas 3708 South Las Vegas Boulevard Las Vegas, NV 89109
Description
On October 19th-20th, Poshmark is hosting our first-ever fashion festival in Las Vegas, bringing together industry influencers, style lovers, and our ever-so-incredible community to celebrate and empower the entrepreneur in all of us!
Held at The Cosmopolitan of Las Vegas, passionate community members from all around the country will come together to connect, learn, and, most importantly, have fun with each other! This two-day fashion event will be full of interactive panels, inspiring guest speakers, hands-on workshops, and—in true Poshmark style—the ultimate LIVE Posh Party, Vegas style!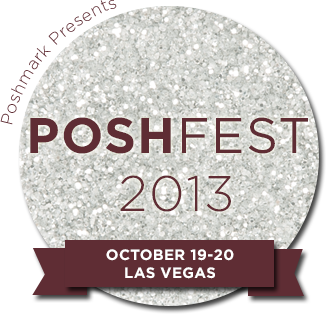 Get inventory and merchandising tips for stocking your Poshmark closet and see how to transform your closet into a business, learn how to build a strong customer base, improve your Covershot-taking skills (including on-the-spot listing!), and get inspired by power users as they share their secrets to building their personal brands on Poshmark. You'll even be able to land some one-on-one time with many of our amazing panelists and workshop leaders!
Whatever happens in Vegas doesn't have to stay in Vegas. Along with a weekend full of memories and new friends, you'll leave PoshFest feeling empowered about your personal style, full of new business ideas, and ready to incorporate the advice and connections you've gained into your everyday Posh life!
Grab your tickets NOW, as space is limited!

Saturday, October 19
8-9:30am: Registration & breakfast
9:30am: Welcome remarks from Poshmark Founder & CEO, Manish Chandra
9:40am: Inspirational Speaker: Simonett Pereira (@_simonett), Owner of Miami Style Mafia

Listen for 10 minutes as Simonett shares her personal story and how understanding and celebrating her personal style led her to create her own blog, start a fashion business and find happiness!
9:50am: Panel 1: Jumpstart Your Style
Step up your own personal style and become a Poshmark tastemaker with this panel's expert tips. Listen to 4-5 whip-smart and super stylish ladies discuss what's on trend for fall/winter, effortless styling tips and advice on what you can get most certainly get rid of out of your closet right now! You'll walk away inspired about personal style and how to incorporate that into your closet.
Moderator: Tracy Sun, Poshmark
Panelists:
What you'll learn:
How to identify and evolve your own personal style

What you should invest in and how to find it on Poshmark

Personal styling tips for you and your closet!
10:35am: Break and Networking

11:05am: Inspirational Speaker: Natasha Bontempo (@acephalous)
Listen for 10 minutes as Natasha shares her personal story on how Poshmark has changed her life, how the community and financial opportunities she's secured through the app has helping her through some hard times with her health struggles.

11:15am: Panel 2: How Poshmark Changed My Life: Secrets To Selling Success

For some, Poshmark has become more than just making a nice chunk of change from their own closet; it can be life-altering. Hear from four power users as they discuss the personal impact Poshmark has had on them. They will share on their strategies for finding inventory, how they buy for their customers, and what Poshmark tools have helped to build their following bringing them continued success on the platform.
Moderator: Kate Franco, Poshmark
Panelists:
What you'll learn:
Inventory and merchandising strategies for stocking your Poshmark closet

How to build a strong customer base who will recommend you to others

Tips to increase the number of items you sell to each customer and how to keep them coming back for more!
12:00pm: Lunch
1:00pm: Keynote Speaker: Manish Chandra, Poshmark's Founder & CEO
1:30pm: Panel 3: Marketing Yourself In The Virtual World
Like any business, how you market yourself is a very important piece of becoming successful. Learn how marketing can increase sales in your Poshmark closet from a crew of bad-ass Posh marketing mavens. Tips will include the importance of providing great customer service, the science behind sharing listings, how to use outside tools to create a personal brand, how social media can drive traffic to your closet and when it's time to take your efforts offline with branded business cards.
Moderator: Maria Morales, Poshmark
Panelists:
What you'll learn:
How to brand your closet

Tips for using social media to spread awareness and bring in more followers

How to utilize sharing and Posh Parties
2:15pm: Break and Networking

2:55pm: Product Chat: Poshmark Inside Look
Poshmark product manager, Tracy Espeleta, leads a conversation with merchandising manager, Kate Franco, around the latest product news, how to use new features just introduced, delving into how the host and suggested user programs work and teasing out a first look at some new buyer/seller tools coming soon.
3:40-4:25pm: Panel 4: Meet The Founders: The Community's Burning Questions Answered
All four Poshmark founders will take the stage to close out Saturday's informative panels to share the story of how they came up with Poshmark, the fun-filled road to PoshFest and will take the hot seat to answer the community's most common burning questions.

Moderator: Joanna Riedl, Poshmark
Panelists:
Manish Chandra, Founder and CEO

Tracy Sun, Co-founder and VP of Merchandising

Gautam Golwala, Co-founder and CTO

Chetan Pungaliya, Co-founder and VP of Engineering
3:55pm: Closing Remarks: Manish Chandra

7-10pm: Posh Party
Sunday, October 20
10:00am: Welcome breakfast
11:00am: Workshops 1 and 2
12:30pm: Lunch
1:30pm: Workshop 3

Like a Boss: How to Start a Business on Poshmark

Poshmark's Director of Marketplace Operations, Olivia Tam, will lead this interactive discussion around what you need to take into account when running a business on Poshmark. Get guidance and direction on business matters such as how to look into tax requirements, wholesale licensing, customer service, and more! Poshmark power seller @missaisha555 will also be on hand to share her personal experience running a business on Poshmark.
Workshop 2: Spreading the PoshLove: How to Build Relationships That Matter
Poshmark's Director of Community, LyAnn Chhay, will lead this interactive discussion around how to make relationships count on Poshmark. Get the low-down on offering spectacular customer service, sharing items, communicating effectively, how to handle conflict gracefully, helping out the community with tips and tricks, and spreading overall Posh Love. Poshmark power user @enigma will also be on hand to share her experience as well as speak on creating a bit of your own special sauce.
Workshop 3: Power User Tips and Tricks
Poshmark's Community Ambassador and power user, Adiel Cloud, will lead this interactive discussion on how to add a little pep to your Posh step while cutting some corners in the pursuit of Poshmark efficiency! Tips will include how to use the USPS app to track packages, order supplies, and request a pickup, how to use the iPhone's keyboard shortcuts to create answers that a user commonly uses, how to prove authenticity, and how to effectively utilize Poshmark Support.

* Schedule and agenda subject to change.


What is PoshFest?
PoshFest is a live two day event filled with fashion, friends, and fun happening in Las Vegas that will connect, inspire, and empower the Poshmark community from all across the country.
When is PoshFest taking place?
This year's inaugural PoshFest begins at 8:00 a.m. PT on Saturday, October 19th, 2013 and goes until 2:00 p.m. PT on Sunday, October 20th, 2013.
Where is PoshFest happening?
PoshFest 2013 will be held at The Cosmopolitan of Las Vegas (3708 Las Vegas Boulevard South, Las Vegas, NV 89109). See their website for more details and directions.
Who's invited to PoshFest 2013?
We're excited to invite all registered members of Poshmark to join us at PoshFest! Not a member yet? No problem! Download the free Poshmark iPhone or iPad app, or register on the web.
Do you have recommendations on where to stay overnight?
Yes! We've partnered with The Cosmopolitan of Las Vegas to not only host the fashion festival, but also offer you rooms at their gorgeous hotel for a discounted price on 8/18 and 8/19! To book your room for $229/night (not including taxes and any additional fees), call the hotel's call center at 855-435-0005, reference group name "Poshmark" and group code "SPOSH3". It is important to use this code so that they know you're in town for PoshFest 2013!
Is there an age requirement for PoshFest?
There is no age requirement to to attend PoshFest 2013.
Will you be selling tickets at the door?
No, we will not be selling any tickets at the door.
What is your cancellation policy?
Unfortunately, we are not able to offer refunds on tickets to PoshFest 2013.