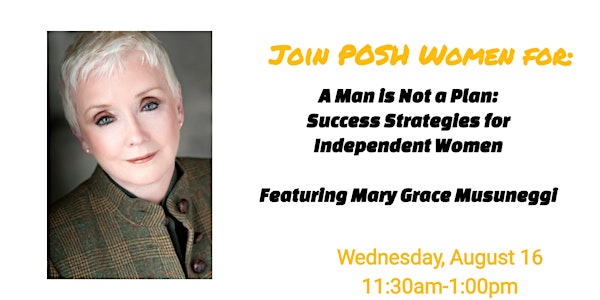 POSH Women August Luncheon
Date and time
Wednesday, August 16, 2017 · 11:30am - 1pm EDT
Location
Houlihan's Galleria 1500 Washington Road Pittsburgh, PA 15228
Description
Join POSH Women for our August Luncheon featuring Mary Grace Musuneggi.
In her role as a financial planner, Mary Grace meets women of all ages who rely on a man as a financial plan with disastrous results. But you won't find detailed instructions about how to make a budget here because this talk is about more than money. This talk is about finding the courage to be CEO of your own life, whether a man is in it or not.
The story of Mary Grace's journey to become the first female agent in an insurance firm, to that firm's first female financial planner, to Chairman and CEO of her own successful financial firm is filled with anecdotes, humor, and practical advice. Women at all stages in their professional and personal lives will be inspired to examine their own dreams and goals and get on the path of achieving them one step at a time.
Registration is required. Sign up early to reserve your spot! If you have registered and find that you cannot attend, please cancel no later than Monday, August 14th.
Bring 30-40 business cards, your fantastic commercial and a friend!