Description
Join Jen and Phyllis of Red Brick Art and the Crew of Poseidon Brewing Company for this fun Paint and Pint class. Only $39 each Includes 1 Pint of Craft Beer, All of your Supplies and Instruction.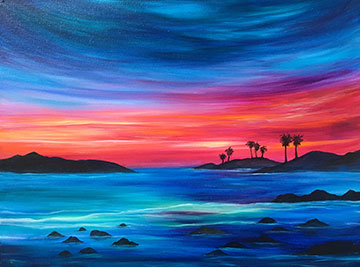 Rincon Sunset Paint and a Pint Class
Sunday, June 10th 3-5:30pm
$39 each includes your
1st Pint, Supplies and Instruction
Capture a bold and colorful sunset along our iconic coast and the silhouetted rocks, land and palmtrees along Rincon.

Have a fun afternoon learning to paint your own unique Whale Painting in acrylics with Jen. You will learn to paint a color filled sky, reflections of light shining in the ocean and the bold silhouettes.

Jen will walk you through all of the steps needed to create your own acrylic painting and have fun making the piece your own.
No previous experience necessary- WE Promise!

Join us for a fun adventure in painting with Red Brick Gallery's Painting Parties. You will learn the techniques to paint your own Acrylic painting, you can choose your own colors and add your own flair to your painting. What makes our parties unique is that we all start with the same theme, but everyone's piece will turn out different, you really have a chance to make it your own! All Supplies are Included.

Please note this class is at Poseidon Brewing Company http://www.poseidonbrewingco.com/home.html
5777 Olivas Park Drive, Unit Q, Ventura, CA 93003 View map