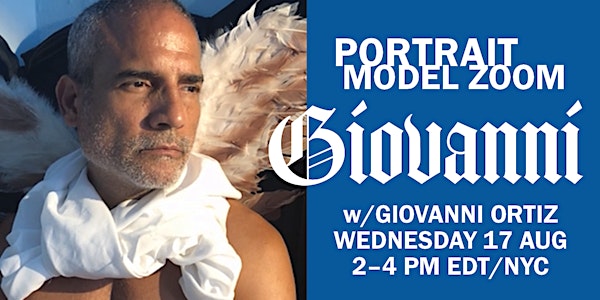 Portrait Model ZOOM with GIOVANNI ORTIZ
LIVESTREAM Two-Hour Portrait Sketch, 2–4 PM EDT on ZOOM
About this event
WEDNESDAY | 2–4PM EDT (GMT-4) | LIVESTREAM on ZOOM
Borrowing from the longstanding tradition of PAINTING AND DRAWING FROM LIFE, a virtual studio setting for artists + models with professional standards.
PORTRAIT MODEL ZOOM meets Wednesdays from 2–4PM and Mondays from 4–6PM EDT for 2 hours of uninstructed painting / drawing with live professional models.
NO SCREENSHOTS, except by permission of the model
DONATION: $10.00 (PayPal use "friends and family") or Credit Card
eTICKET "JOIN NOW" BUTTON activates 2 hours prior to session
ONE DEVICE PER PERSON
ADD TO YOUR CALENDAR : Apple, Outlook Google or Yahoo
PRIVACY: The Right of Privacy is the federal right to be left alone and to not be made the subject of public scrutiny without consent of the artist/model or host. Photos or videos of an individual "artist model" cannot be taken without consent, nor copied and/or sold with the exception of original drawings or paintings created by artists .
All intellectual property and copyright is protected according to the Attribution-NonCommercial-NoDerivatives 4.0 International (CC BY-NC-ND 4.0) license
Your moderator/host: Karen Meneghin
In addition to supporting our models, your donation on Eventbrite helps us run Portrait Model Zoom services and keeps your transactions reliable and secure.
#drawingfromlife #portraitsketch #portraiture #realism #portraiture #paintingfromlife #portraitmodelzoom