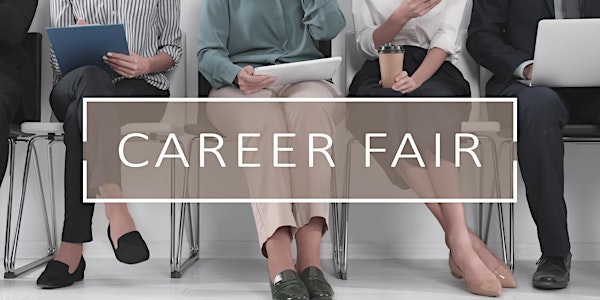 PORTLAND'S IN PERSON (IP) Diversity Employment Day Career Fair 10/22/2021
Live, In-Person Meetings w/ Recruiters! ATTENTION! Portland Job Seekers! 100's of Jobs and Career Positions from Major Portland Employers!
When and where
Location
DoubleTree by Hilton Hotel Portland 1000 Northeast Multnomah Street Portland, OR 97232
About this event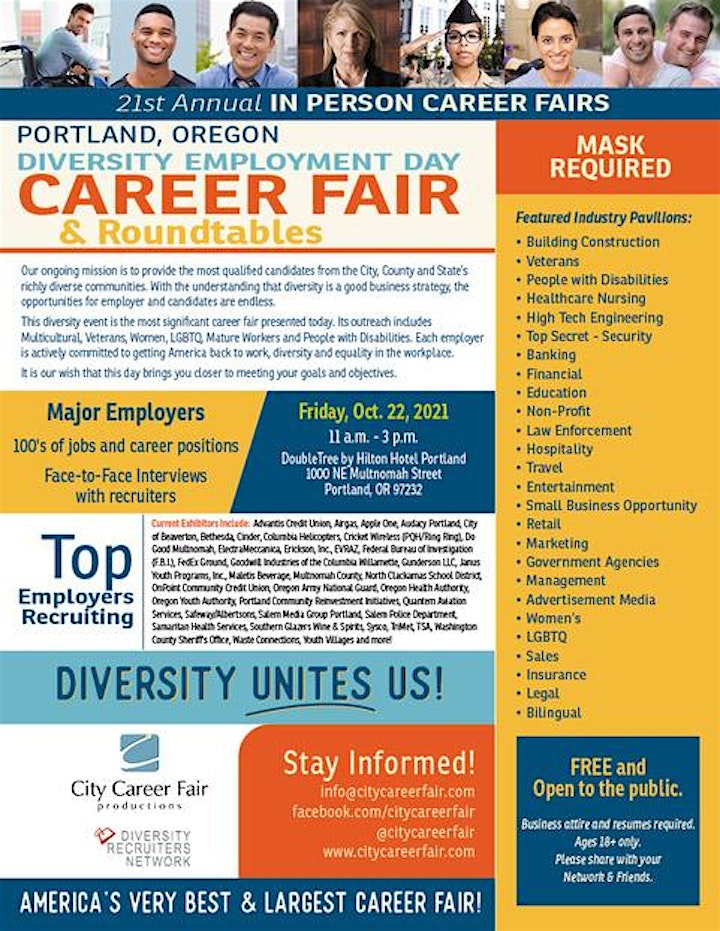 ATTENTION PORTLAND JOB SEEKERS AND CAREER CHANGERS!
The 21st Annual Diversity Employment Day Career Fair & Job Fair for Portland and State of Oregon - IN PERSON
Invites you to meet In Person with Portland's 40+ major employers who are seeking to hire for 100's of Job and Career Positions on October 22th, 2021 from 11 AM to 3 PM.
Entry Level to Professional Level - All industries represented
HIRING BONUSES & SUPER BENEFITS
*Masks will be required for participation.
Recruiters, Staffing Managers and HR Directors will be looking forward to meeting you and sharing their employment opportunities.
Meet with top employers like -
Multnomah County
Audacy Portland
TSA Transportation Security Administration
Sysco
Erickson
Maletis Beverage
Cricket Wireless
Advantis Credit Union
Safeway / Albertsons
TRIMET
Columbia Helicopter
Cinder Staffing
Evraz Oregon Steel Mills
North Clackamas School District
Samaritan Health Services
Safeway/Albertsons
AppleOne
Oregon Department of Environmental Quality
City of Beaverton
SIEMENS Digital Industries Software
Janus Youth Programs
Oregon Health Authority
Youth Villages
Clackamas County
Washington County Sheriffs Office
US Government
Salem Media Group
Oregon Department of Transportation
Salem Police Department
OnPoint Credit Union
Bethesda Lutheran Communities
WorkSource Metro Portland
Quantem Aviation Services
Southern Glazer's Wine & Spirits
Waste Connections
Oregon National Guard
ElectraMeccanica
Event Management CP and many more!
A Few of the Career and Job Positions Available
Information Services, Transportation Security Officer (TSO) Full-Time, Customer Service Representative, Brand Ambassadors, Fiscal Analysts, Certified Medical Assistant/Certified Nurse Assistant, Transportation Security Officer (TSO) Part-Time, Warehouse Package Handler, Member Service Specialist (call center), Maintenance Technician, Operations Admin, Operations Manager, Special Agent, Automotive Specialist, Electronic Technicians, Computer Scientists, Bus Operators, Various Maintenance Positions, Planner, Government Affairs Coordinator, Pension & Retirement Administrator, Recruiter, Retail Clerk, Department Manager, Bakery Department, Pharmacy Technician, E-Commerce Department, Meat Cutters, Account Executive, Registered Nurses, Mental Health Therapy Technicians, Food Service Workers, Epidemiologists, Behavior Health Specialists, CDL A Driver, Sales Consultant, Transportation Supervisor, Warehouse Supervisor, Account Executive, Fleet & Facility Maintenance Manager, Part Time Teller, Member Advisor (Phone Banker), Senior Member Advisor (Phone Banker), Virtual Member Advisor (Video Teller), Digital Banking Support Specialist, Relationship Advisor/Relationship Manager, Professional Health positions, Allied Health, Receptionist/Clerical, Registered Nurse, Assistant City Attorney, Purchasing Manager, Accountant, Associate & Assistant Planners, Events Support Specialist, Plumbing & Electrical Inspectors, Youth Care Specialists, Care & Support Specialists, Outreach Specialists, Family Advocates, Clinical Supervisor, Housing Navigator Specialists, Announcer/Board Operator, Promotions Director, Promotions Assistant, Board Operator, Behavioral Health Provider, Certified Medical Assistant, Community Health Nurse, Corrections Deputy, Deputy District Attorney 1, Deputy Sheriff, Assistant General Counsel, IT Support Technician II, Junior Systems Administrator, Transmission Technician - Experienced, Machinist, Teller (multiple locations), - Clackamas location, Member Service Representative (multiple locations), Project Manager, Direct Support Professional (DSP), Lead Direct Support Professional (LDSP), Program Manager, Recruit Deputy, Recruit Jail Deputy, Lateral Deputy, Lateral Jail Deputy, Group Life Coordinator, QMHP, Cook, Night Warehouse Picker, Day Warehouse Picker, Beverage Merchandiser, Delivery Driver, Wireless Retail Sales Consultant, Assistant Wireless Store Manager, Wireless Store Manager, Sales Specialist, Call Center Representative, Equipment Technician, Automation Engineer, Validation Engineer, Senior Python Developer, Customer Service, Documentation Specialist, Sales, Administrative, Collections, Leasing Administration, CDL Driver, Mechanic, and many more.
Bring your resume to gain access to In-Person interviews with participating employers at the Annual Diversity Employment Day Career Fair for PORTLAND taking place on October 22nd, 2021 – 11 AM to 3 PM at the Doubletree Hotel - 1000 NE Multnomah St, Portland, OR 97232
*Register HERE on Eventbrite and bring your confirmation on the day of the event to bypass registration and the line after the career fair opens.
Or - Email your Resume to FastTrack@CityCareerFair.com with the subject: PORTLANDIP10222021 and receive a confirmation code that allows you to join the Annual Diversity Employment Day Career Fair immediately. It is very IMPORTANT that you have the code in the subject line. Bring your confirmation email to the event.
*This is a professional-level quality recruiting event and business attire and résumés are required for admission.
Remember – "First Impressions are Lasting Impressions".
This is a FREE event. Must be 18 years or older.
Employers – Reach out to prebook@citycareerfair.com for details regarding participation. Your participation fee helps to support Diversity in the workplace and community plus this Diversity & Inclusion recruiting event. Thank You – CityCareerFair.com
***If you are an interested employer, please email PreBook@CityCareerFair.com for pricing details!