Portland Thyroid and Weight Loss Seminar

Monday, September 21, 2015 from 6:30 PM to 8:30 PM (PDT)
Event Details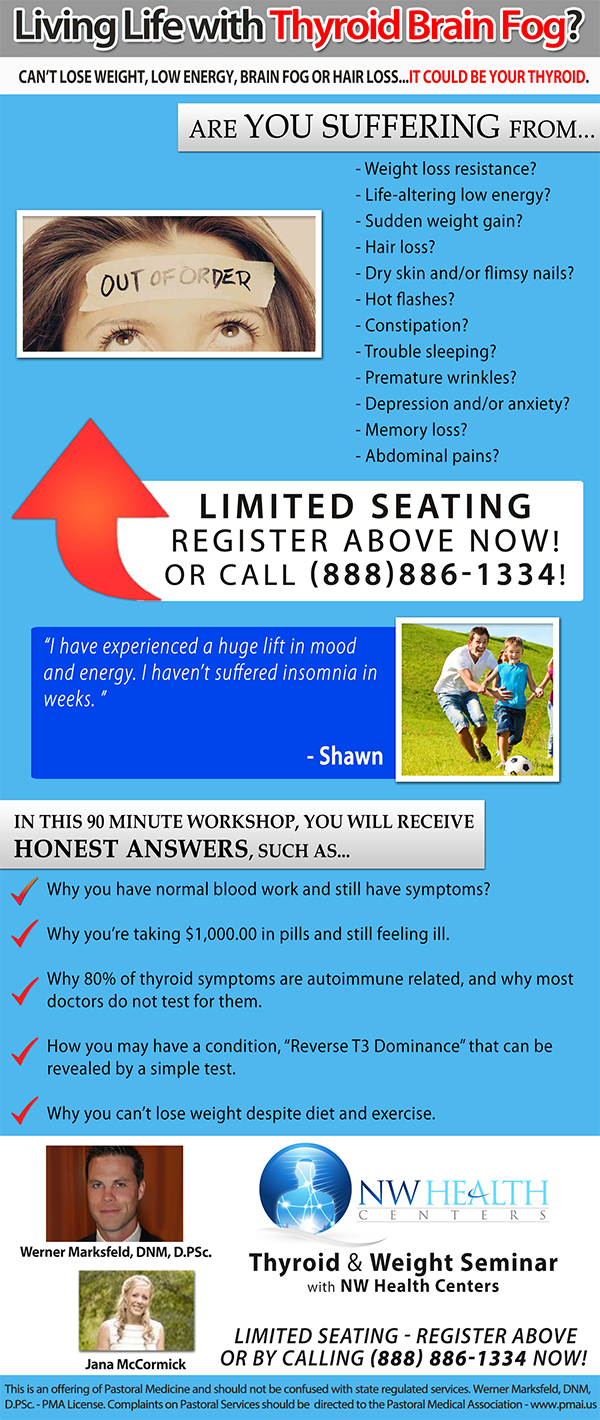 What:  Thyroid Seminar
When:   Monday September 21st, at 6:30pm
Where:  Courtyard Portland Tigard

              15686 SW Sequoia Parkway

              Tigard, OR 97224

Contact: (503) 684-7900
_______________________________________________________
It's More Than Your Thyroid!
According to the American Association of Clinical Endocrinologists (AACE)
27 million suffer from a thyroid condition and 50% are undiagnosed.
90% of women over 40 suffer from subclinical hypothyroid.
Are you suffering?
• Have you gained weight and are unable to lose it without going to extremes?
• Is your hair brittle, skin flaky and nails flimsy?
• Is your hair falling out?
• Are you constantly cold?
• Do you have regular joint pain?
• Regular headaches?
• IBS?
• Is it difficult to get consistent sleep?
• Are you aging prematurely?
• Do you have constant mood swings and irritability?
• Are you depressed?
• Trouble concentrating?
• High Blood Pressure and cholesterol? How does it affect your life?
• Is it affecting your relationship with your partner?
• Is it decreasing your ability to do the things you love to do?
• Are you unable to be kind to other people and are you isolating yourself from others?
• Is your performance at your job suffering leading to less compensation or advancement and lowered self-esteem?
• Do you feel less effective as a mother?
• Are you afraid that you may never find an answer?
• Afraid of being put on medication for the rest of your life or worse, needing surgery?
How does it make you feel?
• Depressed?
• Hopeless?
• Exhausted?
• Desperate?
• Crazy?
• Like nobody understands you?
• Inadequate?
Are you ready to make a change?
Learn
• Why do most women continue to suffer, get run in circles taking the wrong test, and put on multiple medications that only treat the symptoms.
• The latest research in thyroid, autoimmune, and inflammatory disease!
• Why you have never heard what the correct tests are!
• Why your inability to lose weight may not be your fault!
• The connection between weight loss, toxins, and hormone dysregulation.
• The #1 "10 Minute" Exercise program to ignite fat burning and fast weight loss.
• What do chronic symptoms like weight gain, IBS, Infertility, headaches, and fatigue have in common?
The answers might shock you!
• My simple yet comprehensive personalized 3 Step System that gets results safely and naturally! Act Now!
• It's not in your head.
• You're not just getting old.
• It is not your genes (There may be a genetic component triggered by certain things. We address that naturally. More on this at the seminar.)
• It might be your Thyroid and the causes might surprise you.
You are worth it!
• If you are ready to correct the cause of your problem, you are tired of treating the symptoms, and taking useless tests, this is the seminar for you.
You are worth it!
• A simple yet VERY comprehensive 3 Step System to make all of this happen.
You are worth it!
• All you have to do is register today!
Remember, You are worth it!
____________________________________________________
Organizer
Welcome to NW Health Centers - Natural health optimization and bio-nutritional solutions event page.  We are excited that you are taking positive steps to educate yourself about a health challenge that is affecting you and your family.  There is power to make educated decisions about your health through gaining high level science based truth and knowledge.  Our desire at our events is to educate you on both the truth and science regarding your health challenge such as Diabetes, Weight Loss, Thyroid Dysfunction, Autoimmune Disorder, Heart Disease and other challenges you face.  It is also our desire to reveal to you supporting information that will assist you in health restoration and finding the answers you have been searching for regarding a specific health challenge or symptom.  We are committed in these events to assisting you toward transforming your health with our programs.  We are very selective in who we decide to coach, and only accept health participants who are committed to the lifestyle changes and recommended protocols needed for health and healing.  You can contact us about an upcoming event at (360) 524-2219.