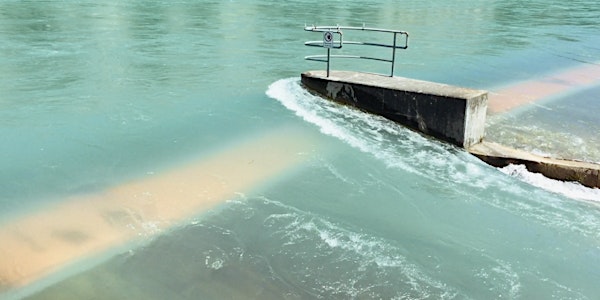 Portland premiere of Marie-Pierre Bonniol's "Wasser"
Nationale is pleased to present Marie-Pierre Bonniol's experimental short films, "Wasser. " Writer Nikki Cormaci reads her latest essay.
Date and time
Thursday, February 2 · 7 - 8:15pm PST
Location
Nationale 15 Southeast 22nd Avenue Portland, OR 97214
About this event
PLEASE EMAIL INFO@NATIONALE.US TO BE ON THE WAITLIST
Nationale is pleased to welcome French filmmaker Marie-Pierre Bonniol for the Portland premiere of her recent experimental shorts, "Wasser." Writer Nikki Cormaci complements the evening with a reading of her latest essay, "Time and the Autonomy of Water."
Please note that some parts of the program are not adapted to people with photosensitive epilepsy.
"Wasser" (2021, 22'35), a powerful abstract essay on water and its transformation into energy, features a soundtrack by Andreas O. Hirsch, Raymonde, Khaki Blazer, Richard Pinhas, and The Dead Mauriacs. Obsessed by the idea of imaginary music, Marcel Duchamp's idea of the "bachelor machine," and the power of mysteries, Marie-Pierre Bonniol's films—all recorded on her smartphone—have been presented at Cafe OTO in London, ZKM in Karlsruhe, the National Library of Argentina, Anthology Film Archive in New York, the Alchemy Arts & Film Festival, the Chicago International Film Festival, and most recently at the Goethe-Institut Boston.
Born in 1978 in Marseille, Marie-Pierre Bonniol is an artist, curator, and producer. She graduated in Visual arts (University of Aix-Marseille) and in Aesthetics and Sciences of Art (University of Paris I Panthéon-Sorbonne). Since 2017, she is behind artworks filmed from her mobile phone only, assembling films captured in her daily life and during residencies around her research themes and obsessions, such as energy transformations, the myth of Bachelor machines, dispositives, and the power of mysteries. Already the author of some twenty videos, often with strong links to music, her work has been presented in institutions (ZKM, Le Lieu Unique, the National Library of Argentina), exhibitions, programs, and festivals. In 2020, she began a collaboration with her 7 year old eldest son, Walter Duncan, with the making of the film "Korridor," which joins several collections. She is also the curator of the "Experiment 120" program of experimental films for children, and of the speculative program of "Hôtel des Autrices." Bonniol lives and works in Berlin. For more information: https://studiowalter.com/mpb/
Nikki Cormaci is a writer and dancer currently living in Seaview, WA. Cormaci's performance work has been archived by the Center for Art + Environment at the Nevada Museum of Art. Her essay, "Time and the Autonomy of Water" is forthcoming in the magazine "Presence II: The Sea."
Limited seating, please BYO blankets & pillows :-)