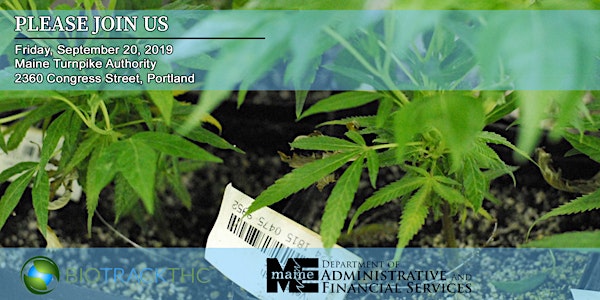 Portland: BioTrackTHC Training (Friday)
When and where
Location
Maine Turnpike Authority 2360 Congress Street Portland, ME 04102
Description
BioTrackTHC and the Office of Marijuana Policy (OMP)--a part of the Maine Department of Administrative and Financial Services--will host three in-depth training sessions related to the State of Maine's new marijuana track and trace system.
The classes are offered on a first-come, first-served basis for medical marijuana caregivers, dispensaries, and their employees. Additional training opportunities will be hosted in Augusta (Civic Center and East Campus), Bangor, and Lewiston the week of September 16, 2019. In addition to these hands-on learning opportunities, online training will be made available in the form of webinars at a later date.
Event
Three medical marijuana training sessions.
9:00am-10:00am: Marijuana Testing Facilities

10:30am-12:00pm: Cultivation
12:30pm-2:00pm: Dispensary/Caregiver Sales
Interested parties may register for one or both of the classes offered related to cultivation and sales. Only potential marijuana testing facilities and their employees may participate in the 9:00am training.
Training Requirements

Be an existing medical marijuana program registrant or employee of a registrant.
Register with the email address that will be used for BioTrackTHC in your professional capacity.*
No more than four (4) attendees per facility or caregiver.
Trainees will be expected to provide their own, fully-charged, laptop computer.
*Please note: Unique email addresses for each attendee must be provided, as these will be used to create a unique BioTrackTHC login credential.
Location
Maine Turnpike Authority, 2360 Congress Street, Portland
**This is a secure facility. OMP staff will be in the lobby and will escort attendees to the training room.**

Parking
Parking is available on-site. Attendees traveling to Portland from the same facility may wish to carpool. Please consider using parking spaces away from the building to be considerate of visitors and employees of the building.

Classes will start promptly at the scheduled time, so please plan to arrive at least 15 minutes early to get setup and obtain login credentials.
These sessions are limited to existing medical program registrants and their employees. BioTrackTHC classes for potential adult use licensees will be offered in the coming months.