Portland Area ProfitCLUB - 4th Wednesday of Each Month

Monthly Event - Fourth Wednesday of every month: 11:30 AM (PDT)
Event Details
ActionCOACH's ProfitCLUB is a group of like-minded business owners who meet twice monthly for an hour and a half in a structured environment to learn and discuss new business tips, strategies and ideas from an ActionCOACH business coach.
The meetings are held on the 2nd and 4th Wednesday of each month from 11:30am to 1pm in the Tigard Area Chamber of Commerce community room. A complimentary lunch and refreshments are provided.
ProfitCLUB is a business education club where business owners can interact with their peers and build strategic alliances. It is NOT a leads group, referral group or networking group. 
ProfitCLUB is your own business training ground to hone your professional business skills.
What exactly will I be doing if I become a member of this club?
o    Build your general business knowledge in key areas such as sales, marketing, team building, communications, advertising, financial mastery, and time management through an interactive 90 minute workshop presented by an ActionCOACH business coach.

o    Powerfully transform your confidence at speaking as you practice in a friendly environment. Each member is encouraged to present their 60 second "ActionCOACH introduction" each session.
o    Do you have any challenges - - or would you like to promote something? - - For 10 minutes one member has the opportunity to present their product, service, new marketing piece, idea or even a challenge that we can help you overcome. The difference at ProfitCLUB is that your peers are now your very own "Board of Advisors".  Your peers will act as a valuable sounding board giving you constructive input and advice. We guarantee that this process alone will be worth your investment.
o    Business building workshops - - In addition to the tremendous value of ProfitCLUB, members can attend ActionCLUB at no additional cost, a monthly two hour workshop focused on key areas of business, including: planning, sales, marketing, team building, communication, advertising, referral strategies, financial mastery, time management, and more.  That's $1,788 of value in workshops per year alone.
If I attend as a guest and find ProfitCLUB to be valuable for me, what does it cost to be a ongoing member?
The monthly membership fee is only $95 (Thats just a little more than $3 per day).
But Wait, there is more benefits to be a ProfitCLUB member. Members also receive a paid subscription to  Oregon ActionCOACH's online coaching and training program, the Success Business Academy.  Go to www.successbusinessacademy.com and check it out for 30 days for free and discover another exceptional resource to help you grow your business. The normal cost of this subscription service is $197 per month, but as a member of ProfitCLUB you will receive access for free.
******************************************************************************************************************
Your membership is protected by our
100 %  Money Back Guarantee
Join ProfitCLUB and if you are not 100% satisfied with the value you receive, we will refund 100% of your month's membership fee and you can keep all the materials and learnings..
******************************************************************************************************************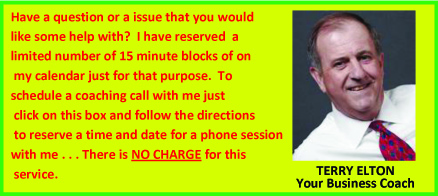 Have questions about Portland Area ProfitCLUB - 4th Wednesday of Each Month?
Contact ActionCOACH
Where

Tigard Area Chamber of Commerce
12345 SW Main St
Tigard, OR 97223


Monthly Event - Fourth Wednesday of every month: 11:30 AM (PDT)
Add to my calendar
Organizer
ActionCOACH
The #1 Business Coaching Firm in the World.
Terry Elton is the owner and founder of Oregon ActionCOACH.  As your business coach, Terry leverages his wealth of experience with passion and heart to help his clients achieve both their personal and business visions and dreams. He is a highly experienced coach and has a proven track record in sales & marketing, team building and mentoring, profit & loss accountability, systems development & management, and customer service & retention – both in privately owned and publicly traded companies.
Terry has lived and worked all over the United States and Europe. His experiences have equipped him with a true understanding of the challenges and opportunities that exist for small, medium or large businesses in urban and rural areas. 
Terry's diverse career experiences have given him the opportunity to work in many industries, including; manufacturing, retail, software development, technical services, commercial call centers, computer networking, computer security, information processing, telecommunications, systems integration, and contracting at both federal & state levels. He has helped companies of all sizes – from single entrepreneurs to companies with teams of over 1,000 members. 
Terry's passion is for coaching and he is totally committed to making his clients successful. He has an innate skill in bringing out the best in his clients and motivating them to exceed their expectations.
"Being in business should be fulfilling and add to the quality of your life. Stress, frustration, and disillusionment are NOT part of this experience." . . .  and ActionCOACH is focused on doing just that. 
Portland Area ProfitCLUB - 4th Wednesday of Each Month