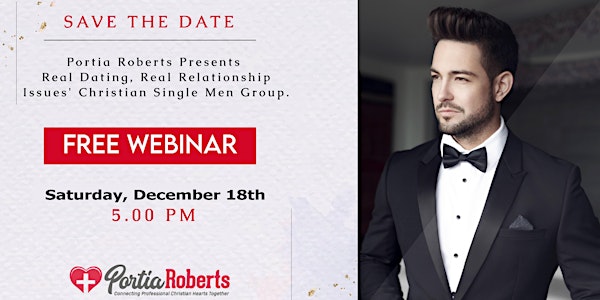 Portia Roberts Men of Today is a professional Christian single men group
Portia Roberts Men of Today is a professional Christian single men group platform
About this event
Portia Roberts Men of Today is a professional Christian single men group platform where they can discuss, explore and have real insightful discussions, issues, struggles and their success stories when it comes to Dating, Relationships and Marriage.
We explore and discuss numerous dating and relationship topics and discussions including the following:
What Women Really Want In Relationship?
What Women Really Find Attractive In A Man?
How do you know that She Is The One?
How To Keep Sex In Your Marriage?
Our Next Free Webinar Session will be on Saturday 4th Dec 2021 at 5PM (UK TIME) Sessions are on monthly basis.
To Join Free Webinar Session Register Today or email us at enquiries@portiaroberts.com
Please do let us know for any other burning dating and relationship topics or discussions would you like to talk about on this platform, after all, this is your Platform!
To find out more about our agency, please visit our website: www.PortiaRoberts.com
We'll see you on the inside!
Isabel Ramires Founder & CEO.