Description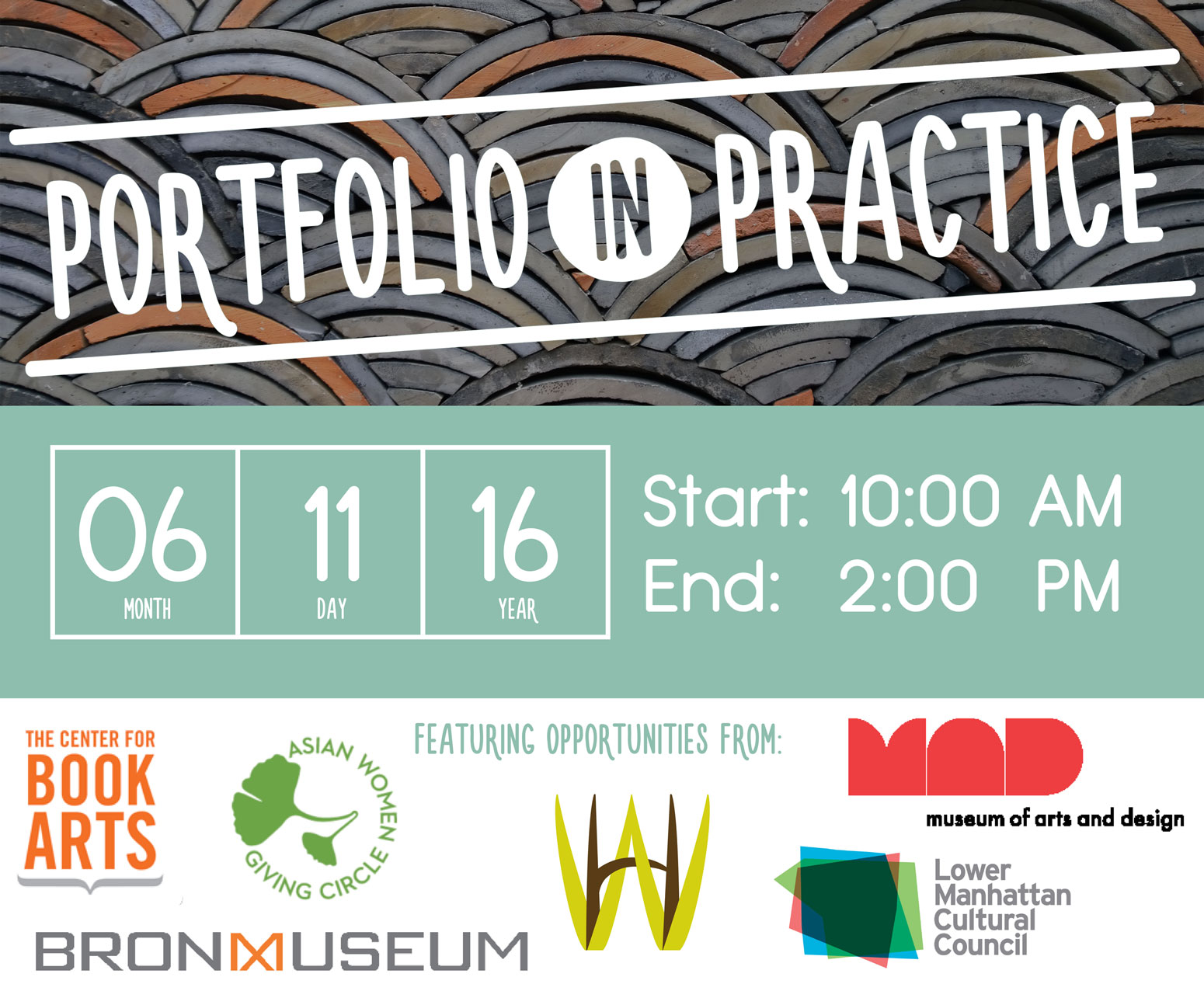 PORTFOLIO IN PRACTICE
Saturday, June 11 from 10AM – 2PM

The Asian American Arts Alliance is pleased to welcome you to Portfolio in Practice. The program invites leaders in the arts to review portfolios in the context of visual art opportunities at their respective institutions. This initiative is intended to promote increased engagement between New York's Asian American visual arts constituency and forward-thinking organizations.
Each artist is allowed to register for a maximum of 3 sessions. Each session is 20 minutes long and a time slot will be assigned by the Alliance post-registration.
Please show up between 10 to 15 minutes prior to your Portfolio time slot. Please go to the check-in table upon arrival.
BEFORE THE EVENT
This is a rare opportunity to receive feedback on your application from someone on the application review committee. The review session should be used to gain insight into a program you wish to apply to now or in the future.
Ways to optimize your review session include:
Research the organization and make sure your work is relevant to their mission

Read the application guidelines and FAQ carefully to get a sense of what the organization wishes to achieve by offering the program.

Present your work in the context of the open call, including the language used in explaining your work

Ask for feedback on the images/works you are considering to use for the application, and have options ready for discussion

Ask how you can strengthen the weaker areas of your application
Ask for clarification and takes notes in response to comments
PROGRAMS
Carli Beseau, Manager of Interpretation @ Museum of Arts and Design
#publicengagement #teachingartist #museum #paidposition
The Artist Studios Program hosts artists and designers daily in a live studio environment. Visitors to MAD meet working artists who openly welcome questions and dialogue, and discuss their processes, materials, and concepts with diverse members of the public.

Residents and Van Lier Arts Fellows are selected for four-month cycles, with residents being assigned one day each week to work and fellows working on site at least 40 hours per week. Residents receive a daily honoraria of $125 and fellows receive a stipend of $10,000, distributed over sixteen weeks. The fellowship is open to artists 30 years of age or younger who identify racially and/or culturally with a historically underrepresented community. Additionally, fellows must demonstrate financial need and be New York City residents.

Successful applicants have a mature body of work that reveals a mastery of techniques and materials, as well as demonstrates developed concepts and ideas. Proposals need to address a clear direction or question for pursuit in the applicant's work and take into account the public-facing nature of the program. Successful applicants also have an artistic practice that aligns with the mission of the museum, including: Innovative practices, the highest level of skill and workmanship, and an emphasis on cross-disciplinary approaches to production.

For more information on program benefits and expectations, please click here.

The next call for proposals will open July 2016.
Anne Muntges, Education and Studio Manager @ The Center for Book Arts
#stipend #printmaking #bookbinding #exhibition #printstudio
The Artist-in-Residence Workspace Grant for New York Emerging Artists is a yearlong program to promote experimentation in book arts, thus artists from all disciplinary backgrounds are encouraged to apply.
The Center for Book Arts was founded in 1974 to develop and promote traditional bookmaking practices and contemporary interpretations of the book as an art object. This grant will provide 24-hour access to a partitioned individual workspace (with a work table, storage space and locker) and use of the Center's equipment and facilities. These include a complete letterpress print shop, many cabinets of foundry type, a Charles Brand etching press, a 36" guillotine paper cutter, two binderies, and many hand tools. The Center's fine art collection, reference library, artist registry and other reference materials are also available. Up to five New York-based emerging artists will be offered space, time and support to explore the production of artist's books and related work. The Center especially encourages applications from artists of culturally diverse backgrounds.
The award includes a stipend, materials budget, tuition waivers, and 24-hour access to the Center's printing and binding facilities.
For more information on program benefits and expectations, please click here.
Application deadline is October 15, 2016.

Gabriel de Guzman, Curator of Visual Arts @ Wave Hill
#professionaldevelopment #exhibition #studiospace #stipend #funding #sitespecific
Opportunities at Wave Hill are for contemporary artists who explore the dynamic relationship between nature, culture and site.
The General Opportunities application is open to all artists interested in introducing their work to Wave Hill's curators to be considered for exhibitions in Glyndor Gallery, a spot in the Winter Workspace Program, or invited to create a temporal project through the generated@wavehill program.
The Sunroom Project Space Program offers local emerging artists site-specific solo exhibitions in one of Wave Hill's project spaces in Glyndor House. A stipend and exhibition support is provided to selected artists.
For more information on program benefits, guidelines and expectations, please click here.
Applications for General Opportunities are closed until next year. The next deadline for the Sunroom Project Space Program will be in February 2017.

Joyce Yu, Steering Committee Member @ Asian Women Giving Circle
#projectgrant #socialchange #api #femaleempowerment #community #family
The Asian Women Giving Circle (AWGC) is the first and largest giving circle in the nation led by Asian American women. Passionate about amplifying the transformative power of arts and culture to bring about progressive change, they raise funds to support Asian American women-led projects in NYC that use arts and culture to:
Bring about progressive social transformation

Raise awareness and catalyze action around critical issues that affect Asian American women, girls and families

Highlight and promote women's central role as leaders, creators, developers and managers of these projects
Last year, AWGC awarded grants to 8 projects ranging in amounts of $8000 to $13,000.
For more information on Asian Women Giving Circle program benefits and expectations, please click here.
The next Request for Proposals will be available in January 2017.
Heather Reyes, Exhibitions and Collection Manager @ The Bronx Museum of the Arts
#professionaldevelopment #seminars #networking #exhibition #museum
The Artist in the Marketplace (AIM) provides professional development opportunities to emerging artists through a 13-week seminar that addresses practical concerns and cultivates networking opportunities.
Every year a panel of five arts professionals selects thirty-six artists to participate in the AIM program. AIM sessions are led by a faculty of specialists. Topics covered include: Community, Grant Writing, Writing Workshop, Copyright, Contracts, Art Market, Studio Visit, Art Criticism, and Marketing. Every two years, AIM introduces the work of 72 artists to a greater audience via exhibition and catalogue. Participating artists are encouraged to build their networks through the program's collaborative structure.
For more information on Artist in the Marketplace program benefits and expectations, please click here.
Applications will be open in June 2016 for the next round.
Haowen Wang, Program Manager, Grants @ Lower Manhattan Cultural Council
#projectgrant #artseducation #communityengagement #partnerships
LMCC's Creative Engagement and Creative Learning programs provide Manhattan-based artists and small arts organization with awards of up to $8,000 to enable hundreds of arts projects in all disciplines, serving communities from Inwood to The Battery.
Creative Engagement supports projects that connect audiences to rich arts experiences as demonstrated by opportunities to attend and/or participate in arts events and programming. Supported activities include concerts, performances, public art, exhibitions, screenings, festivals, workshops, readings, and more.
Creative Learning supports projects that draw on arts education practices to engage participants in the creation and interpretation of artistic works. Funding is provided for sequential, skill-based arts study and participatory arts projects that take place in accessible community-based settings such as afterschool programs, senior centers and community centers.
Two Programs, One Deadline: Tuesday, September 13, 2016 at 5PM
Applications will be open in June 2016. For more information, please click here.
Questions? Contact Leslie Kuo, Visual Arts Consultant, at lesliekuo.info@gmail.com and Cate Yu, Director of Public Programs, at cyu@aaartsalliance.org.
This program is supported, in part, by public funds from the New York City Department of Cultural Affairs in partnership with the City Council.