ABOUT PORT TO FORT ADVENTURE RACES are sprint adventure races of 2 distances; or Trail Runs of 2 different distances, 10 or 15 miles.
About this event
 ABOUT
PORT TO FORT ADVENTURE RACE is a solo sprint adventure race and a separate 10 or 15 mile Trail Runs for those who want to run only! The adventure race will test your swimming, trail running, and kayak/canoeing skills as well as some skills that won't be called upon til race day!  The long course also has a mountain bike (or cross bike, gravel grinder, etc). 
DATE:  Saturday, August 21, 2021
START LINE AND FINISH LINE OF ALL EVENTS:  Three Forks Harbor, Muskogee
LONG AND REG ADVENTURE RACES START TIME:   7:00 AM
TRAIL RACE START TIME: 7:30 AM
BASIC ADVENTURE RACE SKILLS NEEDED:  Each entrant in the adventure race will need to be able to trail run approximately 5 miles, swim approximately 100 yards in open water (life vests allowed) and kayak/canoe approximately 5 miles.  FOR THE LONG COURSE, IT'S approximately 100 YARD SWIM, 5 MILE TRAIL RUN,  5 MILE PADDLE, AND 15 MILE BICYCLE LEG.
REGISTRATION:   Registration is open online through noon, Thursday, August 19. After that register at Three Forks Harbor Event Center on Friday, August 20, 3:00 PM to 6:00 PM and at Three Forks Harbor on event day, July 21, beginning at 6:00 AM. 
T-SHIRTS:  T-shirts guaranteed with entry through midnight Sunday, August 1. First come, first served thereafter. 
AWARDS: 
FINISHER AWARDS-ADVENTURE RACE: Finisher awards for all who finish the adventure race - regular or long course. 
1st through 3rd OVERALL MALE & FEMALE IN REGULAR OR LONG adventure races.  
TRAIL RUN AWARDS: Overall Male and Female first, second, and third. First, second, and third place awards in age groups 1-15, 16-30, 31-45, and 46-99.
PACKET PICKUP: Three Forks Harbor Event Center on Friday, August 20, 3:00 PM to 6:00 PM and at Three Forks Harbor Event Center on event day, August 21, beginning at 6:00 AM. 
RULES
(The regular course will take to 2-4 hours.  The long course will take 3 to 6 hours of swim, trail run, kayak/canoe, off-road bike.)
Course Rules:
Bicycles have the right of way on the trails and runners will always yield for cyclists. Cyclists approaching from the rear and wanting to pass should say 'on your left' so runners or other cyclists know to let you pass on the left.
Faster runners on the trails have the right of way over slower runners. So if there is a narrow section slower runners yield to faster runners.
Automatic reasons for disqualification:•Mode of travel not specified for each segment of the race •Littering on course •Non-assistance to person in danger
Only staff and participants are allowed on the course.  
Anyone found littering will be automatically disqualified.
Each person should carry water/fluids with them.
Each person must wear a flotation device while in a canoe or kayak or be removed from the course. 
Each cyclist must wear a helmet while on the bicycle or be removed from the course.
TRANSITION AREAS/AID STATIONS
Adventure Race: Water and energy snacks will be available at the transition area from run to kayak/canoe and also for long course on the transition from kayak/canoe to mountain bike. There will be an additional aid station at the turnaround (midway) for the bike course.
 Adventure Race Age Requirement:  All participants must be at least 16 years of age. If under the age of 16, you will need to contact the Port-to-Fort  Race Committee for approval. (email is easiest with a brief description of minor's qualifications to participate - past races, training, etc)
The time recorded by the Race Timer will be the official time. Grievances shall be given to race HQ in writing.
BIKE TRANSITION AREA (FOR LONG COURSE RACE ONLY)
The bike transition area will be NEAR THE START LINE AT THREE FORKS HARBOR! Boats still must go to Clinkenbeard Park in Fort Gibson, but bikes will remain at the boat/bike transition at Three Forks Harbor. This is different from previous years where bikes were dropped with boats at Clinkenbeard Park.
BOAT DROP-OFF
Kayak/Canoe drop off is at Clinkenbeard Park on the Grand River just west of the the town of Fort Gibson.  You can drop off boats from 5:00 PM Friday through event time.  We will have overnight security staying with the boats and bikes.  (see map below)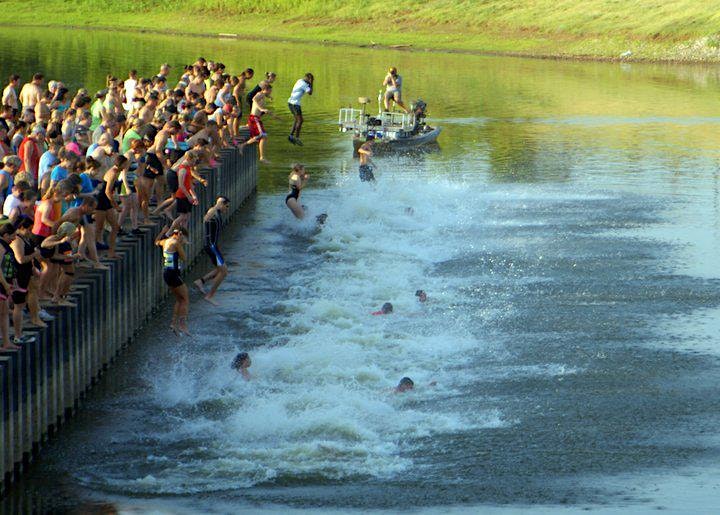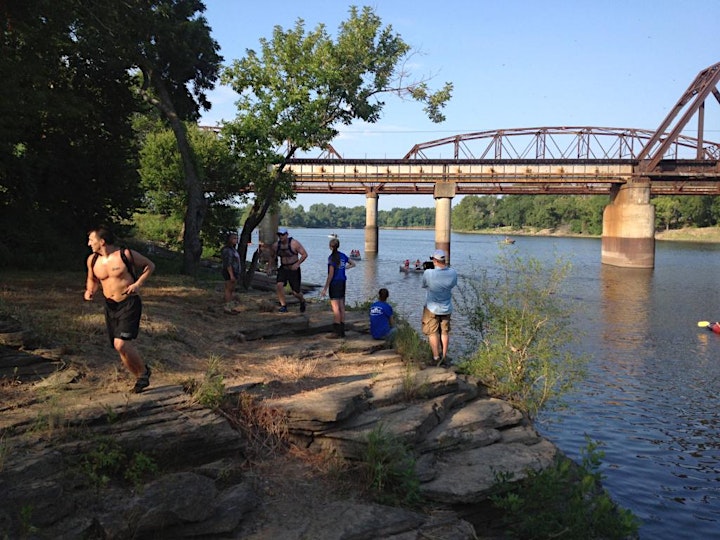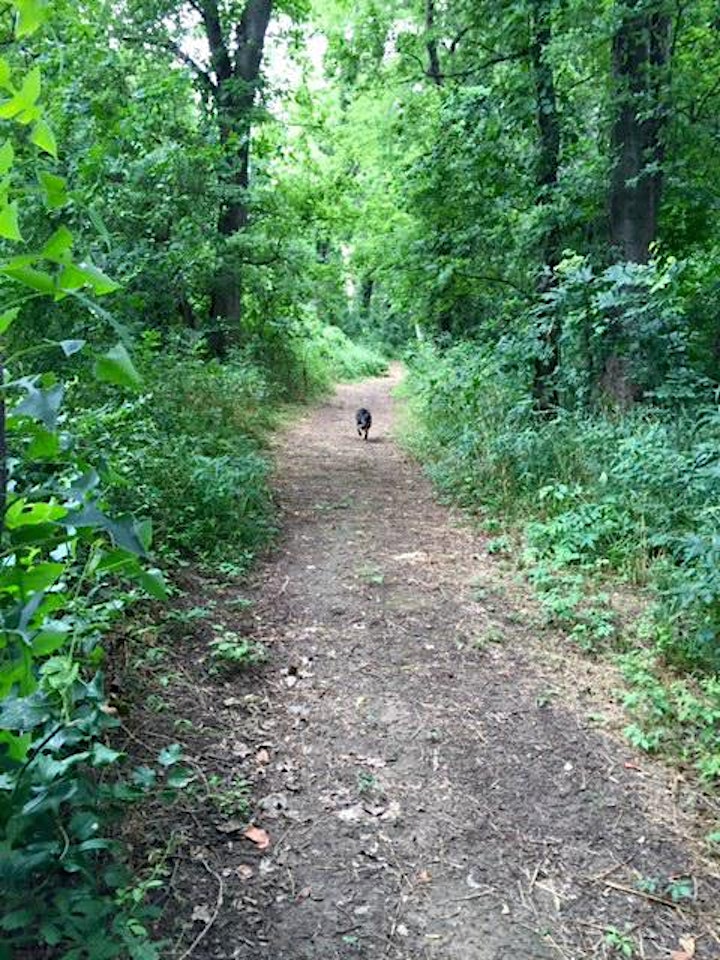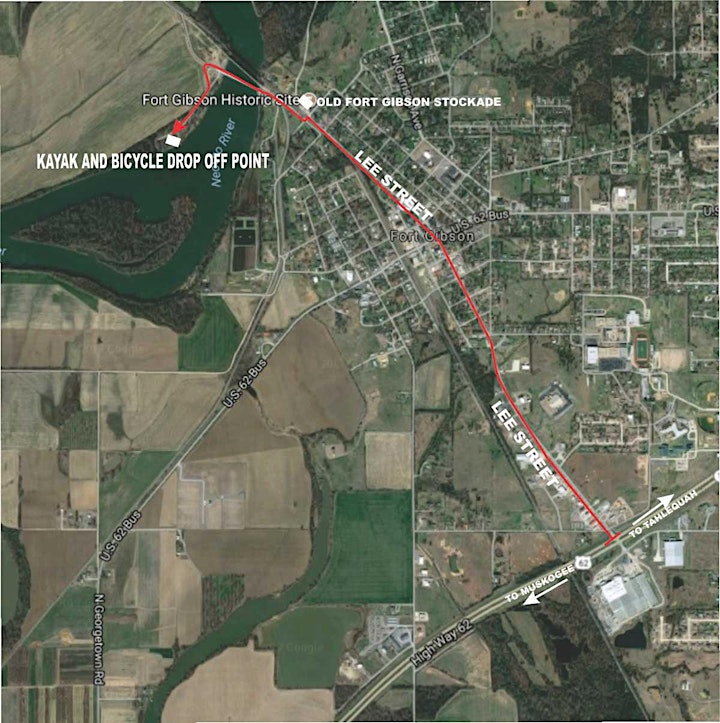 Organizer of Port to Fort Adventure Races & 10 /15 Mile Trail Runs 2021