The Progressive and Productive Port of Toledo
About this event
Hear first-hand how the Port of Toledo has grown to become an important economic driver for the Oregon Coast Maritime Industry
Learn about Hatfield Marine Science Center iLab's partnership with Oregon RAIN to grow Oregon's Blue Economy
Participate in discussions about how to solve current challenges among Oregon's ports
The Speakers:
Bud Shoemake – Outgoing Port Manager
Lorna Davis – New Port Manager
Facilitator: Laura Furgurson – Blue Economy Innovation Catalyst
Bud Shoemake was with the Port of Toledo for just over 16 years. Bud is a visionary, and had an impressive growth history during his tenure. As their new Port Manager, Lorna Davis will take-over where Bud left-off to chart the course for the Port's future.
The Port went from 3 employees to 36 with the acquisition of the Boatyard, and is a significant economic contributor to Toledo, the district and the County. Outside the Port's staff, they have over 37 trade businesses that provide service to boat owners that bring their boats for maintenance, repair and reconstruction to our yard. The Port of Toledo also owns and maintains a public boat launch and park, a paddle park, marina, and their crown jewel, Waterfront Park.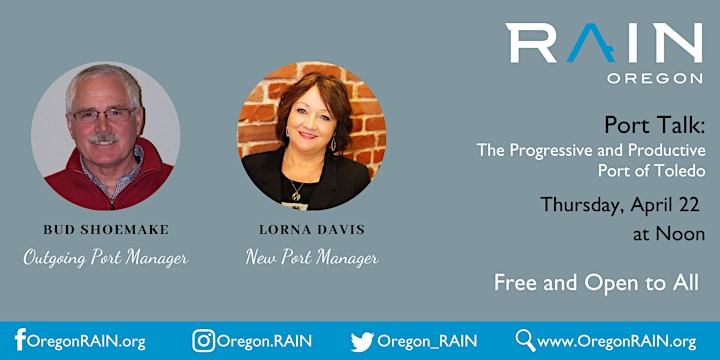 Organizer of PORT TALK: The Progressive and Productive Port of Toledo
OUR MISSION:
Oregon RAIN's mission is to partner with Oregon communities to catalyze entrepreneurial ecosystems, connect entrepreneurs to resources (including overlooked entrepreneurs), and contribute to the creation of prosperous economies.
OUR VISION:
Communities support, value, and celebrate entrepreneurs.
Regional leaders recognize entrepreneurs are a primary creator of net new jobs.
Small and rural communities in Oregon have thriving economies.
A culture of possibilities is embraced.
The Oregon Regional Accelerator & Innovation Network (Oregon RAIN) is 501(c)3 non-profit organization that was founded to advance the formation of local-impact innovative startup companies that generate jobs, wealth, and opportunities for the state. Oregon RAIN, which is run by experienced entrepreneurs and angel investors, connects entrepreneurs with strategic resources for launching and scaling business ventures, including mentor connections, educational and training programs, and access to capital.