Location
Port Costa School
1 Plaza del Hombre
Port Costa, CA 94569
Refund policy
Refunds up to 1 day before event
Sales Have Ended
Ticket sales have ended
Online ticket sales have ended for this performance, but some tickets are usually available at the door! If you have any questions, please try calling us at 510.542.9009. Due to limited cell phone reception at the venue, we may not be able to return your call right away, but we'll do our best to reach you before the show.
Description
An earthquake happened last night.
Did you feel it? Odd things happen after earthquakes. Some say cracks in time open up, just like cracks in the earth. Folks can slip through the fissures, especially if they're on their way to somewhere else. Especially if they're far from home.
Port Stories is an interactive, site-specific theater adventure exploring the town of Port Costa, migration in California, and the meaning of home.
---
Participants (that's you!) can expect to walk about 1/2 mile during the course of the production; and as scenes take place in different locations, that can involve some frequent sitting and standing. If that's not practical for you, please contact us so that we can make arrangements for you to enjoy the show without moving so much at 510.542.9009 or idiotstring@gmail.com. We are dedicated to accomodating any accessibility needs, not only mobility concerns.
**SPECIAL OFFER** from the Burlington Hotel in Port Costa: $20 off room nights for Port Stories ticketholders! Please call 510.787.6795 for details and reservations.
Please read our Frequently Asked Questions (below) for more information about the show.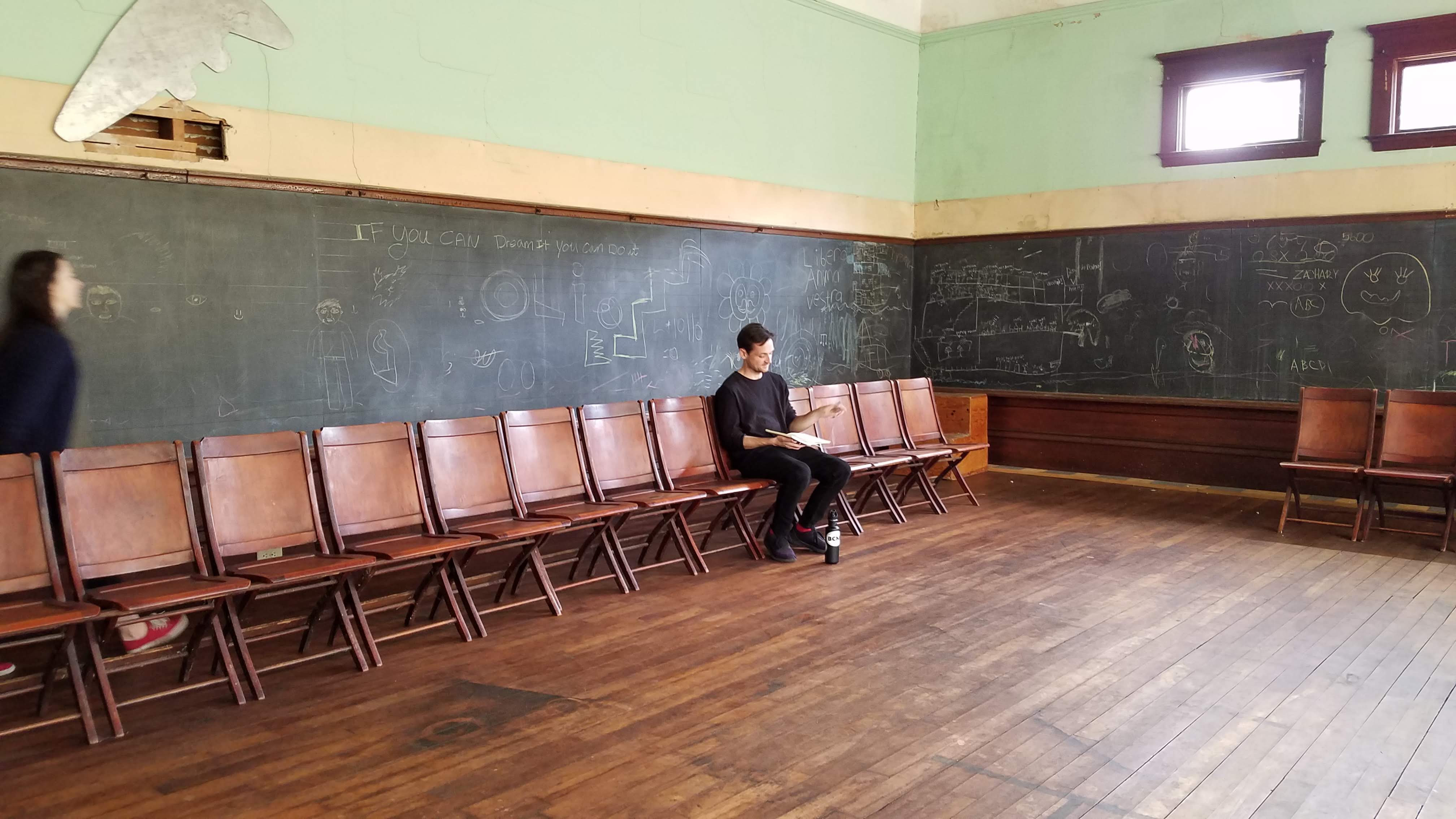 ---
FAQs
What should I expect from a site-specific show?
Rather than being performed in a theater or auditorium, the scenes in Port Stories take place in rooms inside the Port Costa School, and various indoor and outdoor locations in downtown Port Costa. Most of the audience will do some walking and periodic standing to watch the scenes. Nearly all scenes have seating available, but as scenes are not terribly long there is some frequent moving from one location to the next. If that's not practical for you, just let us know and we will arrange accomodations. We want everyone to be able to enjoy the show!
What do you mean by "interactive"?
In addition to physically following the action of the play from scene to scene, the actors in Port Stories will directly address the audience from time to time. Please consider interaction an invitation to engage fully in the play. The actors will not force you to do or say anything; you can always refuse a request. We plan to earn your friendship and trust, and will do so by clear and specific invitations.
Will my group stay together?
No two audience members will have the same experience, and at certain points in the story, groups of participants will be invited to experience the play in different ways. If you come with a group, you may stay together, but we encourage you to accept invitations to split up. No one can experience every moment of the show, but everyone will experience all that's necessary to enjoy the story and the play. Both curiosity and common-sense courtesy will help you navigate this world.
Is Port Stories wheelchair accessible? What about other mobility or accessibility needs?
Yes, Port Stories is wheelchair accessible. The Port Costa School is fully ADA compliant, and outdoor scene locations are also accessible by wheelchair. Please contact us to discuss your mobility and accessibility needs -- including extra seating, guidance over rough terrain, and more -- so that we can arrange the best accomodations for you.

What ages will enjoy Port Stories?
Port Stories is best enjoyed by ages 8 and up, but no one is disallowed from attending. Younger kids will enjoy the show most if they don't mind prolonged standing and/or walking, and if they're intrigued by following dialogue to piece together stories. The nature of the production allows families whose members need a break to take one; you may miss a scene or a line of dialogue, but you are welcome to exit and re-join the play, especially if that will help minimize disruption to other participants.
What are my transportation/parking options for getting to and from the event?
Port Costa is most easily accessible by car, and parking is available on-site at the Port Costa School. Parking donations are appreciated and help cover maintenance expenses for the school building.
Taxi or rideshare services are also an option, either from the Vallejo Ferry Terminal (7.5 miles away) or El Cerrito del Norte BART Station (16 miles away).
What should I bring to the show?
About half of the production takes place outdoors. Please bring comfortable walking shoes, sun protection, and a water bottle to reduce waste. While Port Costa is a dog-friendly town, we regret that dogs will not be allowed in any of the indoor spaces where scenes take place, so we advise leaving pets at home. We also advise leaving large bags at home, or leaving them in your vehicle, as you'll be asked to keep your belongings with you at all times.
Do I have to bring my printed ticket to the event?
No, we'll have your name at the door! There's no need to print your ticket.
Is it ok if the name on my ticket or registration doesn't match the person who attends?
Yes.
How do I reserve a reduced-price ticket for local residents?
Residents of Port Costa, Crockett, or Tormey and faculty, staff and students of the John Swett Unified School District may purchase $5 tickets here, or reserve tickets by calling 510.542.9009. If you phone, your payment will be made at the door. In either case, please be prepared to show a piece of mail or an ID with a local address. Thank you to the Crockett Community Foundation for sponsoring our reduced-price ticket program!
What if the show is sold out, or ticket sales have ended?


Ticket sales end 1 hour before showtime. However, if the show is not sold out, tickets will be available at the door. If it's practical for you, we encourage you to come to the box office before the show begins (up to 30 minutes before showtime) to purchase a ticket at the door.
If a particular show is sold out, again, tickets are often available at the door due to last-minute cancellations. Again, there's no guarantee -- but showing up early (up to 30 minutes before showtime) will increase your chances of being able to see the show on that date.
How can I contact the organizer with any questions?
Call 510.542.9009
Email idiotstring@gmail.com