Join the KPBS and PRX podcast "Port of Entry" for a behind-the-scenes interview with famed animator, artist and director Jorge R. Gutierrez.
About this event
Host Alan Lilienthal will interview famed animator, artist, and director Jorge R. Gutierrez live on the KPBS YouTube channel for an upcoming episode of the "Port of Entry" podcast.
Audience Q&A will follow interview. Spanish captions will be provided.
This is a special fundraising event and an opportunity to show your support for KPBS and "Port of Entry." All are welcome at this free event.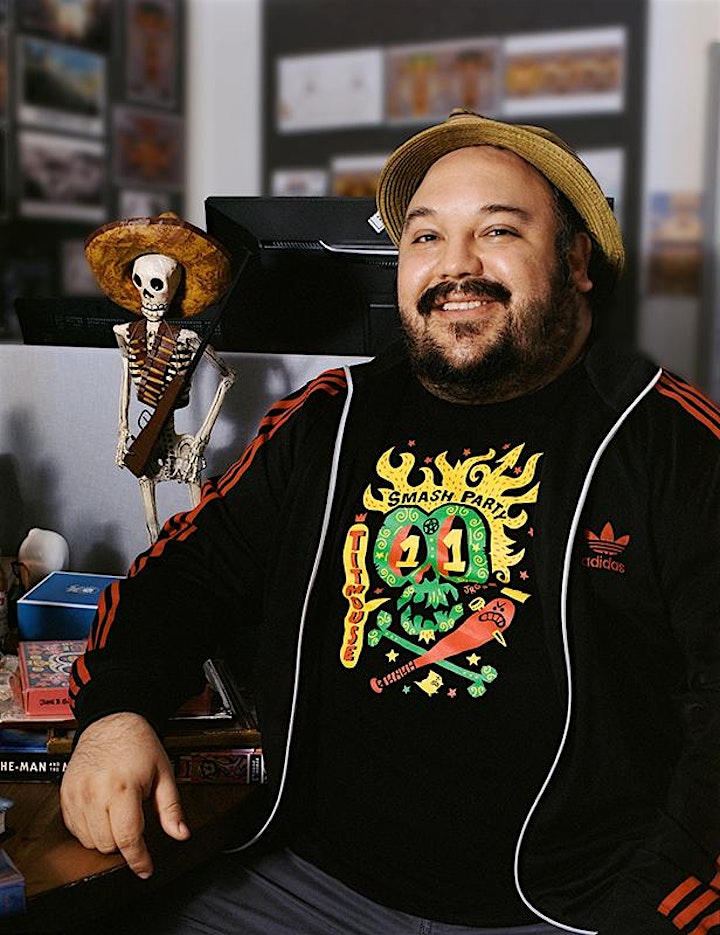 ABOUT JORGE R. GUTIERREZ
Gutierrez grew up crossing the San Diego-Tijuana border. The colorful criss-crossing of Mexican and American pop culture and iconography is central to his work. He's the director and co-writer of the Guillermo Del Toro produced animated feature "The Book of Life," creator of the interactive virtual reality short film, "Son of Jaguar," and creator (alongside his muse and wife Sandra Equihua, a fellow Tijuanense) of the hit Nickelodeon show "El Tigre: The Adventures of Manny Rivera."
Recently, Gutierrez inked a deal with Netflix. He's currently creating his new series "Maya and the Three" and various other unannounced projects for Netflix.
Gutierrez has his BFA and MFA from CalArts. He's a Mexican animator, painter, voice actor, writer and director who's completed various murals, films, cartoons, illustrations, and paintings exploring his love of Mexican and fronterizo/transborder culture.
Organizer of Port of Entry LIVE: 'The Book Of Life' Director Jorge R. Gutierrez
The KPBS Mission
KPBS provides stories that make us think, help us dream, and keep us connected. 
The KPBS Vision
KPBS will tell the stories of our time.
KPBS News Mission
KPBS News serves the people of the San Diego region with trustworthy, in-depth information that allows the community to hold its leaders accountable. We show you how global and local current affairs change our lives, and how San Diego changes the world. We tell you more than just what is happening -- we tell you why.