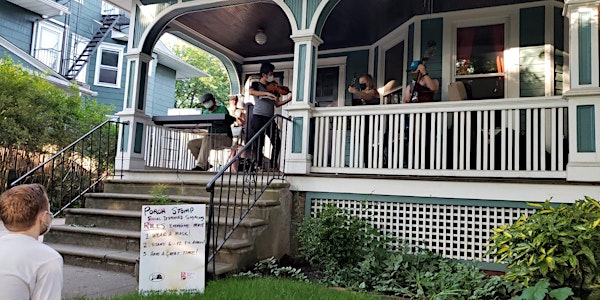 Porch Stomp 2020
Free, socially-distanced folk music festival on Governors Island, NY
When and where
Location
Governors Island Nolan Park New York, NY 11231
About this event
Porch Stomp is excited to announce plans for our annual festival, this year in a new, socially distanced form. Porch Stomp 2020, originally scheduled for June, will take place on October 10th, 2020. Set on the beautiful greenery of Governors Island, Porch Stomp invites folk bands, artists, and performing arts organizations to use the historic porches of Nolan Park as a space for performance and education, highlighting artistry ranging from traditional folk to old-time, blues, roots, bluegrass and Americana.
Porch Stomp is a volunteer-run, free music celebration produced in association with Make Music New York, a not-for-profit that connects music makers, fans and the public spaces of New York City. Unlike typical music festivals, anyone can take part in Porch Stomp, and all events are free and open to the public. Now in its seventh year, Porch Stomp offers unique performance and educational opportunities, including concerts, workshops and open jams. Each "stage" or porch is curated and produced by an arts organization or local venue that supports traditional arts, and will represent a specific folk community in New York City. 2020 partners will include Cowgirl Seahorse, Music Country, Brooklyn Wildlife, Sunny's Bar, Live Muzic Mondayz, and more.
Porch Stomp is committed to ensuring the health and safety of its performers and audience members. Here are some of the steps that we are taking to make sure that our festival happens safely:
Reducing the number of stages and performers by 60% (as compared to Porch Stomp 2019)
Limiting the total number of people at each stage (performers and attendees) to 50 or fewer
Hiring a security team to ensure that festival-goers are wearing masks and social distancing as they enter the park
Requiring all festival goers and audience members to wear masks, even when performing
Volunteers will enforce mask wearing and social distancing throughout the festival, and stage curators will enforce mask wearing and social distancing at their respective stages
No sale of food or beverage within Nolan Park
No sale of merch (merch can be pre-ordered and picked up at the festival)
Festival-goers who have to be asked repeatedly to comply with protocol will be asked to leave the festival, and may be excluded from future Porch Stomp programming.
Safety protocol set in place by Governors Island include:
Capacity on Governors Island ferries will be limited during the 2020 season to allow for social distancing. A new ticket reservation system is in place to manage capacity on ferries. Visitors are required to reserve tickets in advance and must depart on their selected return ferry. Tickets are available now with more becoming available on a daily rolling basis. Here is the link to purchase tickets: https://www.govisland.com/visit-the-island/ferry
Requiring visitors to wear face coverings while boarding and riding the ferry and while on the Island
Limiting visitors' time on the Island to 5 hours
Reminding visitors to stay 6 feet apart when queuing on the ferry, while riding the ferry, and while visiting the Island
Increased cleaning procedures and schedules in all restrooms, aboard ferries, and in high-touch, high-traffic areas across the Island
Enhanced health and safety protocols at all food and drink vending locations
Installing hand sanitizer and hand washing stations throughout the Island
We are open to other suggestions around how to best ensure the safety of our community. Please reach out to us at mmnyporchstomp@gmail.com.
You can find the ferry schedule and more information about taking the ferry here: https://govisland.com/visit-the-island/ferry
NOTE: YOU DON'T NEED THIS "TICKET" TO ATTEND PORCH STOMP, IT IS SIMPLY AN RSVP TO LET US KNOW YOU PLAN TO ATTEND.