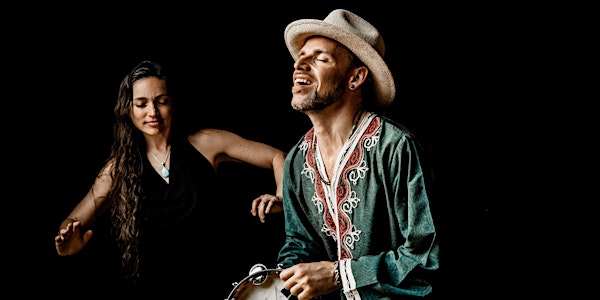 Poranguí live in Seattle: Beauty Way Tour @ WASHINGTON HALL
Abbey Arts presents: Poranguí Beauty Way Tour live at Washington Hall
Date and time
Starts on Sunday, May 21 · 7pm PDT
Location
Washington Hall 153 14th Avenue Seattle, WA 98122
Refund Policy
Refunds up to 7 days before event
About this event
3 hours 30 minutes

Mobile eTicket
Beauty Way Tour: A Transformative Music, Dance, and Healing Experience
Multicultural musician, healer, and educator Poranguí will return to Seattle, WA on May 21, 2023 at Washington Hall. He and co-facilitator Ashley Klein will create an intentional curated container to experience the healing power of music and authentic expression. The Beauty Way Tour offers participants an evening of improvised world soul music, dance, and sound healing along with a unique opportunity to connect with themselves and their community, emerging transformed and more whole.
The four-hour journey of rhythm, sound, and movement, commences with an opening ceremony and opportunity for the audience to activate their voice and sing together. Poranguí's extended live music set will be complemented by Ashley's vocal guidance and live visual projections creating an unforgettable journey through the beauty of the earth and the tapestry of life. The event concludes with an integration experience as we return to our greater community with the medicine of the night.
The Beauty Way album and tour are inspired by Diné (Navajo) teachings from Poranguí & Ashley's beloved Southwest. To walk in the Beauty Way is to live in balance and harmony with the unfolding of all life. Walking the Beauty Way together, we weave ourselves more deeply into the fabric of the earth, herself. Porangui's forthcoming album, Beauty Way, will be released on April 21, 2023.
Hózhóogo naasháa doo. May we all walk in beauty.
Learn more about Poranguí's music is medicine events in this short video: https://youtu.be/yPKPMRmLgD0
"Reared among the three cultures of Brazil, Mexico and the U.S., Poranguí was steeped in various traditional forms of music, healing and ceremony since birth. Drawing from his cross-cultural background and ethnomusicology training at Duke University, Poranguí has over twenty-five years of international work experience as an artist, musician, healer, and educator, utilizing the healing properties of sound and movement to foster our individual and collective well being.
As a live looping artist and one-man orchestra Poranguí weaves ancestral songs and indigenous rhythms from around the globe. Creating his performances from scratch using looping technology, Poranguí's live grooves range from meditative to dance, moving the body, lifting the spirit, and transcending the divide between performer and audience. His World Soul concerts have taken him around the globe and led him to collaborate with many artists, including a current album series titled Kuya Sessions with Liquid Bloom."
-Artist Bio
"Ashley Klein (Ed.S) is a dancer, embodiment guide, retreat facilitator, and music business manager based in Sedona, Arizona. She collaborates on and off stage with international touring artist, Poranguí, with the mission of sharing earth-based wisdom through the healing power of music and dance.
Her life-long movement practices and training have led her to a current focus on facilitating Dancing Freedom journeys and continuing to study the polyrhythmic dances of the African diaspora. She is on the international Dancing Freedom training team and facilitates at festivals, retreats, and concerts guiding audiences into a deeper connection to the Earth Mother and the elemental wisdom innate within us all. Her spoken-word guidance is featured on the live album, "Poranguí Live - Guided Journey", as well as several remix tracks on "Poranguí - Remixes Vol I & Vol II".
Additionally, Ashley co-creates retreats based in Sedona and around the world, curating containers for individuals to dive deep and feel held safely to become more of their authentic connected selves."
-Artist Bio
6pm doors, 7pm workshop, 8p show
@ Washington Hall
153 14th Ave, Seattle, WA 98122
All ages, elixir bar & snacks available for purchase
No alcohol
Mostly standing show, Some seating may be available
ABBEY ARTS EVENT INFO:
This is an alcohol free event
Please limit photos during the show so as to not distract other attendees from the experience.
We are an all ages venue. Kids 10 & under are free at Abbey Arts concerts & arts events unless noted.
Entering the venue indicates agreement to adhere to the Abbey Respect Policy. All are welcome.
ABBEY ARTS, SEATTLE | NONPROFIT 501C3, NON-RELIGIOUS, EST. 2005
Presenting welcoming music, arts & cultural experiences for people of all ages & incomes.
Home Venue: Fremont Abbey, 4272 Fremont Ave North, Seattle, WA 98103 / 206-414-8325
ABOUT WASHINGTON HALL -
"A home away from home since 1908. Washington Hall has been a welcoming place where people gather, create, entertain, and celebrate since it was built in 1908. The Hall has been a cultural home to many communities and art forms, and for a long time embodied the soul of Seattle's Central Area." https://www.washingtonhall.org/
"Duke Ellington, Billie Holiday, Jimi Hendrix, Mark Morris, Pat Graney, Bill T. Jones, David Byrne, Afrika Bambaataa, Fugazi, Elvis Costello, Massive Monkees, Macklemore, THEESatisfaction, and countless art, architecture and Seattle history lovers have walked these halls." Historic Seattle
Note: All ticket sales are final unless noted.
Lineup and opening performers are subject to change.
About the organizer
Public Health Info:
Be sure to check your events ticketing page for any special requirements per event.
That being said, we still strongly encourage people attending to follow all safety protocols shown below and per King County Public Health.
Attendees are welcome to wear masks at their discretion, all are welcome. Please don't discriminate based on mask or no mask. Some people may opt to wear a N95 for their own protection.
Please check your specific event details before purchasing a ticket.
THESE GUIDELINES MAY CHANGE AT ANY TIME DUE TO PUBLIC HEALTH GUIDELINES
-----------MORE INFO--------------
All Abbey Arts employees & volunteers are vaccinated.
We are operating at full capacity and do not have any capacity restrictions unless otherwise noted in the event description.
We have added hand sanitizing stations and air filtration systems around our venues. We encourage you to regularly sanitize and fully wash hands when you use the restroom.
****
By entering the Venue, you and the members of your group voluntarily assume the risks of contracting COVID-19 and agree to release, waive, discharge and covenant not to sue any Artist performing or Abbey employee or company (including their owners, officers, employees, volunteers, agents and the City of Seattle), and hold these entities and persons harmless from liability regarding any and all claims relating to COVID-19 and indirectly or directly arising out of or relating to the Venue or event.
****
Individual events may have additional safety measures in place, see Ticketing pages for details.
-----------------------
ABBEY ARTS, SEATTLE:
NONPROFIT 501C3, NON-RELIGIOUS, EST. 2005
Fremont Abbey | Ballard Homestead | South Park Hall | St Mark's Capitol Hill | The Auditorium @ UHeights |  & more
Independent nonprofit, non-religious, all ages/incomes. 
Low Fee Tickets! No hidden high fees like Ticktmstr. :-)
[ Click here to subscribe to our optional text messages. ]
[The views and opinions expressed at events are those of the artists and performers and do not necessarily reflect Abbey Arts. About Page | Respect Policy.]
Refunds may be available per event settings.
No refunds due to support act changes.
Tickets for rental events may be via their website. 
Note: Entry requirements are subject to change. By purchasing tickets to this event you agree to abide by entry requirements in effect at the time of the event. Check the venue website leading up to your event for the latest protocols.