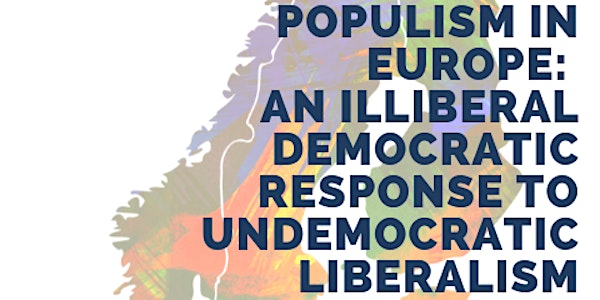 Populism in Europe: An Illiberal Democratic Response to Undemocratic Liberalism
When and where
Location
Johns Hopkins SAIS Nitze Auditorium 1740 Massachusetts Ave NW Washington, DC 20036
Description
The European and Eurasian Studies Program (EES) at Johns Hopkins Paul H. Nitze School of Advanced International Studies (SAIS) is honored to host the 2019 Leonard Schapiro Memorial Prize Lecture at the SAIS Washington campus. Hosted by SAIS EES Director, Professor Erik Jones, the prize lecture is sponsored by Government & Opposition, one of the world's leading global comparative politics journals.
The 2019 honoree is distinguished Professor Cas Mudde of The University of Georgia (USA) and the University of Oslo (Norway) who will present a lecture on "Populism in Europe: An Illiberal Democratic Response to Undemocratic Liberalism." Join us at the SAIS Washington campus on Thursday, February 14, 2019 for the lecture from 5:30-7:00pm followed by a reception from 7:00-7:30pm.

Registration is required to attend the lecture and reception. A government-issued ID or JHU ID is required for entry to the building. If you have any questions or for special accommodations, please contact saisevents@jhu.edu and cristina.benitez@jhu.edu.
Hotel Accommodations. The Kimpton Hotel Rouge (www.rougehotel.com) has a limited amount of rooms available for event participants on the evening of Thursday, February 14, 2019 at a discounted JHU rate of approx $175 USD (subject to change). You may contact the hotel directly or contact World Travel Inc (WTI) at 1-888-433-2556 and provide code 'TRA0008579'. You may also inquire with WTI about other hotel options.

The lecture will be webcast live. Those unable to join us in Washington are welcome to register to recieve the webcast link.

Members of the Media: If you require space for recording equipment, please RSVP and also provide notification to cristina.benitez@jhu.edu. Members of the media who bring recording equipment will not be allowed to proceed without prior notice.


---

Cas Mudde is Stanley Wade Shelton UGAF Professor in the School of Public and International Affairs at the University of Georgia in the United States and Professor II at the Center for Research on Extremism (C-REX) at the University of Oslo in Norway. He was born and raised in the Netherlands, where he got his M.A. and Ph.D. at Leiden University, before embarking on an academic career that has taken him to universities throughout Europe and the United States.
His broader research agenda addresses the question: how can liberal democracies defend themselves against political challenges without undermining their core values? Most of his work has focused on political challenges from the far right in Europe, but more recent work also looks at settlers in Israel, animal rights and environmentalist activists in western democracies and left and right populists across the globe.
His recent book publications include The Far Right in America (Routledge, 2018), The Populist Radical Right: A Reader (Routledge, 2017), SYRIZA: The Failure of the Populist Promise (Palgrave, 2017), Populism: A Very Short Introduction (Oxford University Press, 2017), and On Extremism and Democracy in Europe (Routledge, 2016). He is currently working on three new books: (with Sivan Hirsch-Hoefler) The Israeli Settler Movement; Assessing and Explaining the Success of Social Movements (Cambridge University Press), The Populist Radical Right in the 21st Century (Cambridge University Press) and Politics in Populist Times: Transformations of European Politics (Hurst). His book The Far Right Today will be published by Polity in late 2019.
Dr. Mudde has won several (international) awards, including the Belgian Francqui Professor Chair (2018-9), the Friedrich Wilhelm Bessel Research Award from the German Alexander von Humboldt Foundation (2016), and the Stein Rokkan Prize for Comparative Social Science (2008). His books Populist Radical Right Parties in Europe (Cambridge University Press, 2007) and Populism in Europe and the Americas: Corrective or Threat for Democracy? (Cambridge University Press, 2012) were named Outstanding Academic Title by Choice.
He is co-founder of the ECPR Standing Group on Extremism & Democracy and co-founder and former co-editor of the Routledge Studies on Extremism & Democracy book series. He is also former co-editor of the European Journal of Political Research (EJPR) and former editor of the IPSA Concepts & Methods Working Papers series.
He has been consulted by a broad variety of state and non-state institutions, including the British Foreign and Commonwealth Office, Canadian Security and Intelligence Service, Council of Europe, European Parliament, Israeli Ministry of Foreign Affairs, Southern Poverty Law Center, Swedish Prime Minister's Office, US Helsinki Committee, and US State Department. He is a frequent contributor and interviewee in international media and a columnist for GuardianUS and Hope not Hate. He tweets at @casmudde.


---
The Government and Opposition Leonard Schapiro Memorial Lecture is named in honour of Leonard Schapiro, one of the journal's founding editors and takes place every year at the Political Studies Association annual meeting.