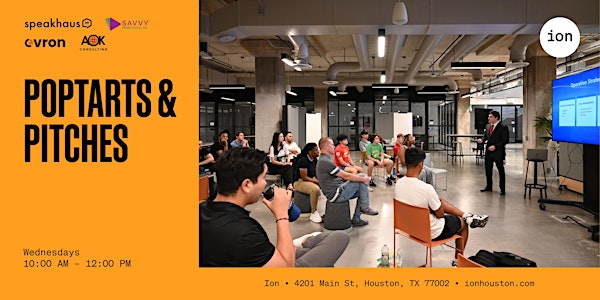 Poptarts & Pitches
Join us on Wednesdays at 10 AM on the Lower Level to learn about the art of pitching and get valuable feedback on your deck!
Date and time
Wednesday, July 26 · 10am - 12pm CDT
Location
The Ion 4201 Main Street Houston, TX 77002
About this event
If you are a founder who will be raising or seeking clients in 2023, you are welcome to practice your pitch at Poptarts and Pitches, which meets Wednesday at 10 AM at the Ion. Bring a laptop and be prepared to present your pitch. Grab a cup of coffee from Common Bond and head on down to the Lower Level of the Ion. We will either be in the Flex Space or in Conference Room 034.
In every session, there are limited slots for pitching. Pitching in front of the audience is for founders raising or seeking clients. IF YOU ARE INTERESTED IN PITCHING, UPLOAD YOUR DECK HERE 48 hours prior to Wednesday at 10 AM. After review of your deck, you will be notified by Monday at 5 PM if you will be pitching. Aim to arrive at 9:45 AM on Wednesday if you have been accepted to pitch.
General Housekeeping:
No solicitation of business, no dissemination of business or organization pamphlets or promotional materials (business cards are ok for networking purposes). Solicitors will be asked to leave.
Pitches are limited to 5 minutes and must be related to a startup or product/service offered by YOUR business. No pitching another company's product or presenting unrelated material.
The expectation is that you are participating somehow. Even as an audience member, you can show up and listen respectfully without bringing other work to do during this time.
Poptarts & Pitches is open to individuals 18 years old and up.
Run of Show:
10-10:15: Introductions . If you are a founder, entrepreneur, investor, community member, or corporate innovator, this is your chance to introduce yourself.
10:15-10:45: The Main Event! This is a short lesson related to pitching or business development from a subject matter expert. Subject matter experts include Isaiah Studivent of Evron Digital; Sherhara Downing and Christa Clarke of SpeakHaus; Melissa Ambers, PMP, LSS, PR of Savvy Media Group, Inc.; and Ayo Kuyinu of AOK Consulting, and more.
10:45-11:00: Pitches. This is when founders can practice their pitch in front of the audience.
11:00-12:00: Small groups working on their pitch with mentors and others, gaining marketing, sales, pitching, storytelling, media, and business development advice and counsel you can apply when presenting to the funders and potential clients
Poptarts & Pitches is partially funded by a grant from the U.S. Department of Commerce, Minority Business Development Agency.
Parking Instructions: Enter 4203 Fannin Street into your GPS for directions directly to the red parking lot, located across the street from the Ion building.
About the organizer
The Ion anchors a 16-acre innovation district, the epicenter for Houston's innovation ecosystem, as an inclusive, dynamic, vibrant, and dense hub focusing on quality collaborations between entrepreneurs, incubators, accelerators, corporations, academics, and the Houston community. The 266,000-square-foot building accommodates multiple uses, including class-A office space, shared workspace, prototyping and maker resources, event space, classrooms, food and beverage offerings as well as indoor/outdoor communal areas with shared amenities. For more information, please visit https://ionhouston.com/.
Visitor Parking Instructions:
Enter 4200 Fannin Street into your GPS for directions directly to the visitor parking lot, located in front of The Ion building.

Overflow Parking Instructions:
Enter 4203 Fannin Street into your GPS for directions directly to this parking lot, located across the street from The Ion building.
If you have any questions, please email events@ionhouston.com.