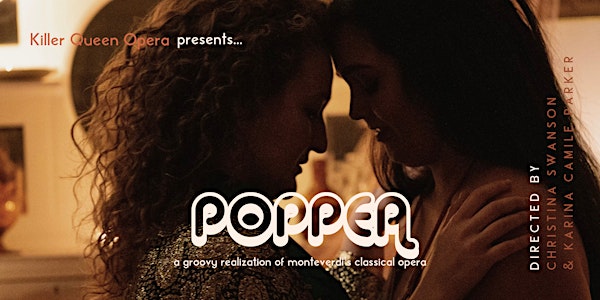 Poppea
A groovy realization of Monteverdi's classic opera L'incoronazione di Poppea.
When and where
Location
McCarren Park 776 Lorimer Street Brooklyn, NY 11222
About this event
Join us in Brooklyn Public Parks for this free screening of the operatic film, Poppea. Whether this is your first operatic experience or one of many, we invite you to bring your blanket, grab your favorite snack, and enjoy this adaptation of L'incoronazione di Poppea.
PLEASE NOTE THIS EVENT WILL NOW TAKE PLACE AT MCCAREN PARK, WILLIAMSBURG BROOKLYN.
Some chairs will be available for those who require seating.
Written in 1643 and credited to the Italian composer Claudio Monteverdi, this opera follows the Roman Emperor Nero as he demolishes all obstacles in his path to coronate his mistress, Poppea. For centuries, stagings of Poppea have presented Nero as a power hungry villain. However, this film realization of the classic opera complicates the narrative: is anyone blameless in pursuit of power? Timeless characters are reawakened as they jump from Ancient Rome to 1970s New York City. The lure of celebrity status, the sting of betrayal, and the power of love are set against a backdrop of political and social unrest, evoking a time not unlike our own.
Poppea is sponsored, in part, by the Greater New York Arts Development Fund of the New York City Department of Cultural Affairs, administered by Brooklyn Arts Council (BAC).
For audiences with children: this opera contains mature themes.