Description
Popathon Creative Hack Jam
This creative hack jam will give you hands-on experience creating interactive stories on the web. Visual storytellers and JavaScript coders are getting together to exchange skills and collaborate on real-world projects. We'll introduce you to Popcorn.js, a JavaScript library that integrates the web into media production. You will team up to hack templates, create new open-source code and demo prototypes of your own interactive web-native stories.
Why Popcorn?
Popcorn makes video work like the web. Before the advent of HTML5, video was a kind of 'black box', isolated from the rest of the web page. Now, Mozilla's Popcorn.js make it easy to create dynamic and interactive time-based experiences in web standard technology.
This is a really exciting moment for filmmakers and web developers to collaborate by sharing their technologies and that's exactly what we'll do at the Popathon!
Take a look at some awesome demos that have already been produced using Popcorn.
Learn by sharing and making!
Teams compete against the clock, not against each other. This day will be a great opportunity to learn about new tools by creative collaboration. Test early and often and be ready for the evening screening, where your web native narrative may be selected for the Participants' Choice Award.
Bring whatever you'll need to hack with. Charged laptops with production software, external drives with footage or have everything online. Also bring headphones, as you'll be working in a shared space. We encourage bringing ideas and content for your own projects!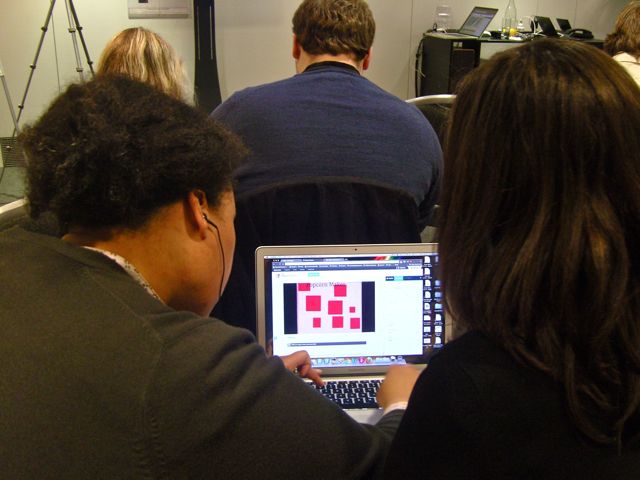 About the Organisers
Philo van Kemenade is a creative technologist who enjoys connecting story and technology. Applying his Artificial Intelligence research to online video storytelling, got him in touch with Popcorn.js and he hasn't been more excited about a piece of technology before.
Gilles Pradeau is a documentary filmmaker working between Portugal, France and the UK for the production of his film 'Learning how to count' on Participatory Budgeting. Besides the project consisting of crowd-sourced contributions of high school students across three different countries, the film will be a completely popcorn-powered web-native narrative.
Philo and Gilles have organised several workshops around the Popcorn project, amongst others at the BBC Future Fiction Summit and the London Hackspace.
FAQ
Q: Is this a one-off event?
A: No, we aim to foster the community of interactive storytellers who use the web as their medium. This Hack Jam is the first in a longer running series of similar events, both in London and elsewhere in Europe.
Q: Why do I have to pay for my ticket?
A: This first event isn't yet sponsored, which is why we have decided to ask a small ticket fee. Money from the ticket sales will be used for lunch, materials and the organisation of future events. We hope to have the next event sponsored, so we can offer tickets for free.
Q: Can I bring my own project?
A: Absolutely! We encourage everyone to bring their own ideas and footage for projects. This will actually help to come up with awesome prototypes.
Q: (filmmakers / storytellers) Do I need to know HTML or JavaScript?
A: We believe that there is a unique opportunity now for visual storytelling to move to the web and that collaboration between filmmakers and web developers is key here. This Hack Jam aims to bring together complementing skills to take projects to the next level, letting participants focus on their own expertise. Having said that, it never hurts to introduce yourself to the workings of the medium you use.
Q: (web developers / JS hackers) Will this Hack Jam be limited to using Popcorn.js?
A: We introduce Popcorn.js because it makes working with the time-based capabilities of HTML5 video easy and accessible. We aim to use open-source technology as much as possible, but encourage everyone to use their favorite tools and technologies.
Links
Kindly supported by the Mozilla Foundation

Organizer of Popathon London
Popathon is an international series of hack jams and workshops bringing together media makers, technologists and designers to prototype the future of web-native storytelling. This edition of Popathon will be facilitated by Philo van Kemenade & Gilles Pradeau.
Philo van Kemenade is a creative technologist combining computational design with new media narrative. His background in Artificial Intelligence and passion for filmmaking got him interested in the potential of the web as a platform for interactive storytelling. He believes we are currently lacking an interactive storytelling language that fits the nature of the web and sees hands-on experimentation as the way forward.
Gilles Pradeau explores participatory documentary focusing on democratic innovations and public spendings in Europe. The first chapter of "Learning to count" uses a 360º camera to record teenagers negociating the budget for their highschool. Before making his own films, Gilles provided consultancy and workshops for public engagement and worked in Paris for a mobile film festival.