About this Event
Popa Chubby Tickets:
Pre-sale begins 9:00pm June 26
Tickets on sale 10:00am June 28
Sign up for our weekly newsletter to get pre-sale codes
Seated GA Tickets - $25
Standing / Bar Area GA Tickets - $20
For any wheelchair or ADA needs, please contact the Box Office in advance of the performance at (443) 283-1200.
Popa Chubby, born Ted Horowitz, has been hard rocking the blues in his fierce and soulful way for more than 25 years. Over the course of a career that dates back to 1994, he has been a force of to be reckoned with on the guitar, and his tempestuous, soulful playing has never been more powerful. An imposing figure with a shaven head, tattooed arms, a goatee and a performance style he describes as "the Stooges meets Buddy Guy, Motörhead meets Muddy Waters, and Jimi Hendrix meets Robert Johnson," Popa Chubby is an endearing character who is one of the genre's most popular figures.
His career has always been about moving forward and carving a place for himself in the imposing terrain of the music business, overcoming odds to continue growing and maturing as a creative force. He has built a constantly increasing base of fans across the world, where in many territories he is a star. A native New Yorker, Horowitz's first gigs were in the NYC punk scene as a guitarist for what he reflects was a "crazy Japanese special effects performance artist in a kimono called Screaming Mad George who had a horror-movie inspired show." Right from the start he was immersed in rock 'n' roll as theater, and learned from George and others playing CBGB's at the time that included the Ramones, the Cramps, Richard Hell, whose band, the Voidoids he joined that rock 'n' roll should be dangerous. He reflects, "Musicians like the Ramones and the Sex Pistols weren't just bands. They were a threat to society."
The Blues however was the foundation of his playing style. He recalls, "Since I'd grown up on Hendrix, Cream and Led Zeppelin, when I started playing blues in New York clubs I understood that the blues should be dangerous, too. It wasn't just from playing in punk bands. Howlin' Wolf and Muddy Waters were dangerous men. They'd cut or shoot you if they thought it was necessary, and Little Walter packed a gun and wouldn't hesitate to use it. That danger is a real part of the Blues and I keep it alive in my music."
Popa Chubby is his own man for better or worse. He reflects, "I'm living in a wild time, and that is where the inspiration is drawn from. There are my issues, but the picture is much bigger than me and my situation. Everything is breaking down in the world. The lines are being redefined. We all need something."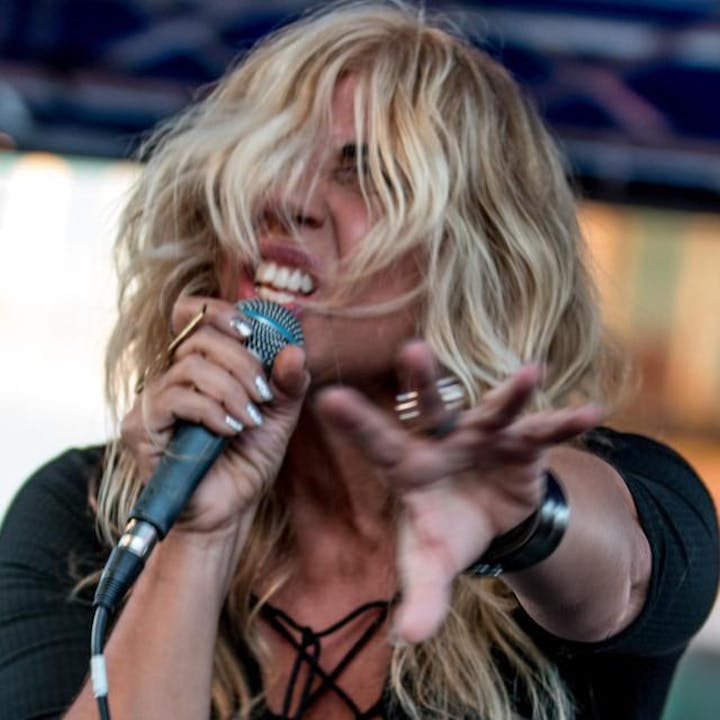 Eliza Neals is a prolific songwriter, confident producer, arranger, bandleader, pianist, and one-of-a-kind live performer. Eliza sings with unearthly passion and velvety grit, effortlessly pushing air to new heights. Her operatically trained voice has been called both sexy and menacing. None of this is surprising, of course, as Eliza mentored with Detroit's songwriting legend Barrett Strong Jr.
"Eliza Neals and the Narcotics" is a combination of modern electric Blues, Psychedelic Rock with a twist of Jam band and Southern Soul. Original compositions have garnered Eliza a 2018 Detroit Black Music Award for "Blues Artist of the Year." and FIVE Detroit Music Awards. A total of eight nominations in the newly formed "Independent Blues Awards" along with "Get Ready To Rock UK's" glowing Best Artists awards in five categories.
Eliza's history of performing/opening for legendary musicians goes back many years from Detroit's songwriting godfather Barrett Strong to George Clinton, The Four Tops, Kenny Olson, Mike Zito, Tommy Castro, Walter Trout, Poppa Chubby, Albert Castiglia, Micki Free, Victor Wainwright and recently Blues Foundation HOF man Joe Louis Walker.
Eliza last full album "10,000 Feet Below" is a 'Top Album of 2017' after landing on so many best of lists. "10,000 Feet Below" finished 2017; #14 on the Blues-Rock chart and #41 on the Blues RMR chart.
SIRIUS XM CH.74 B.B. Kings Bluesville has had Eliza Neals in rotation since she released her incendiary 'Breaking and Entering' literally breaking her into the National Blues scene. A total of FIVE of Eliza's songs have been played on Sirius XM satellite radio. Her blues ballad "Another Lifetime" reached #6 on Rack-of-Blues and her most recent single New Orleans infused "Love Dr. Love" reached #12 on Rack-of-Blues in 2018. Eliza's albums have made it onto Billboard Top #25 and had 5 singles in the TOP 5 spots on Amazon and Itunes for over 3 months.
A cadre of amazing musicians has backed up Eliza Neals over the years. "The best in the business" is what people are saying with an all-star line-up wherever Eliza goes, the audience will be thrilled with her band and plethora of special guests.
Her radio charting and press is phenomenal, however, the standout is seeing Eliza Neals perform live. Eliza's live shows are exciting, intoxicating and jam-packed with sultry powerful vocals, spirited moves, and soulful piano playing, all while leading her stellar band not missing a beat. Phil Ohlinger the president of the Ohio "Big Bend Blues Bash" who booked Eliza said… "In seventeen years we have had some great women vocalists perform but NOT ONE has outperformed Eliza. I think we have a new crowd favorite!."