Pop Up Makerspace for Kids!

Multiple Dates
Event Details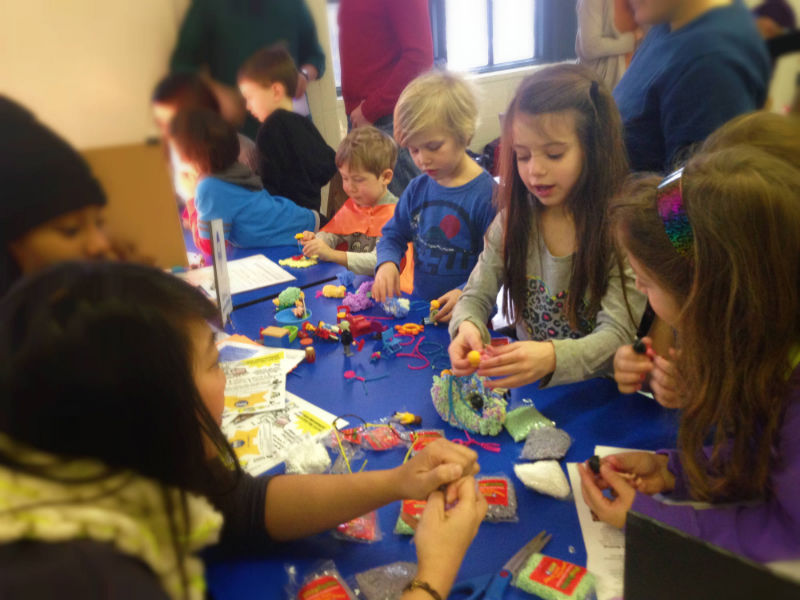 Kids (6-15) won't believe the amazingly fun, hands-on projects they'll be creating in this pop up makerspace (see below). We call our projects "Challenges" because they inspire kids to engage with science and engineering, level up in new skills, and learn to love the process of designing, building, inventing and learning.
Pre-registering is important as this event will fill up fast!
Here are a few examples of the fun projects your young maker will be creating at each station:
Spy Cards:

Enter a world of intrigue with our Secret Agent Card kit. Create an interactive ID card to identify fellow agents, communicate in ciphers, and tell the story of your covert mission to save the world! Secret Agent kits teach paper circuitry, fundamental electrical engineering principles, the art of encryption, and visual storytelling. How would you address a real world problem with your new skills? We can't wait to find out!

Paper Rockets

: Makers build their own paper rockets and launch them with compressed air to altitudes of 50 feet, 100 feet…or more. How high can your rocket go? Makers learn principles of motion and force in this engineering and design experiment.

MaKey MaKey & Squishy Circuits

: Make a game controller or musical instrument with MaKey MaKey and Squishy Circuits.

MaKey MaKey is an invention kit that tricks your computer into thinking that almost anything is a keyboard--and almost anything can become an input device like Squishy Circuits (conductive play-doh or even a banana). We're making

infinitely variable conductive controllers!

Soap Boats

: Make your own boat and race it in a water tank. This fun build demonstrates the Marangoni Effect, how mass transfers along an interface between two fluids due to surface tension gradients.

Sharpie Fabric Tie Dye:

Create your own psychedelic wristband or piece of art with fabric, felt, a sharpie, and alcohol. Demonstrates liquid adhesion and absorption.

Tesla Music to Patterns Challenge:

We're taking the Nikola Tesla challenge to "to find the secrets of the universe" by exploring "energy frequency, and vibration." Makers will adjust music tones from an underlying speaker to vibrate a plate to change tone pitch and form amazingly complex geometric patterns. It's about visualizing sound waves!

Sink or Swim Experiment:

Guess which of various objects will sink or float in tap water and salted water. Will your favorite drink suspend or swallow household objects. Demonstrates density.

Secret Code Ciphers:

Makers will quickly create their own cipher language and write secret messages in code (warning: could result in students passing crazy messages to each other! :-)

Paper Circuits:

Create a Glowing Cyclops Face or Tea Light out of cardboard, an LED and a small battery. Then take it to the next level by creating a Special Agent ID Card or pop up card with a slide switch that activates your LED.
MORE ABOUT MAKERSTATE
MakerState makerspaces empower kids with science, technology, engineering, arts, and math (STEAM) passion and skill through makerspaces in robot engineering, fashion/wearable electronics, video game design, paper circuits, 3D prototyping and printing, comic book creation, and moviemaking. MakerState hosts its makerspaces in after school and school gap time programs, community workshops, pop up makerspaces, summer camps and birthday party celebrations. MakerState introduces maker learning to kids and schools through Pop Up Makerspaces and its unique STEAMtrunks "makerspace-in-a-box" kit. Learn more about our program at www.maker-state.com.
Location is at 12th St. & Ave C in East Village.
Ticket allows maker to attend event during listed time (if registering for first session of the day and there is room, maker may be able to continue with activities in second session).
Questions, please call: 845-399-9300
Where

Specials on C in East Village
195 Avenue C
New York 10009


Multiple Dates
Add to my calendar
Organizer
MakerState empowers kids ages 5-18 with new science, technology, engineering, arts, and math (STEAM) passions and skills through hands-on, in-school, after-school, and summer camp courses in coding and video game design, robot engineering, wearable electronic fashions, 3D design, rocket science, moviemaking, and more. MakerState runs more than 100 makerspaces nationwide. Learn how you can bring a makerspace to your school or community at www.maker-state.com.