Pop-up in a Pop-up!

Friday, March 8, 2013 from 7:00 PM to 10:00 PM (EST)
Event Details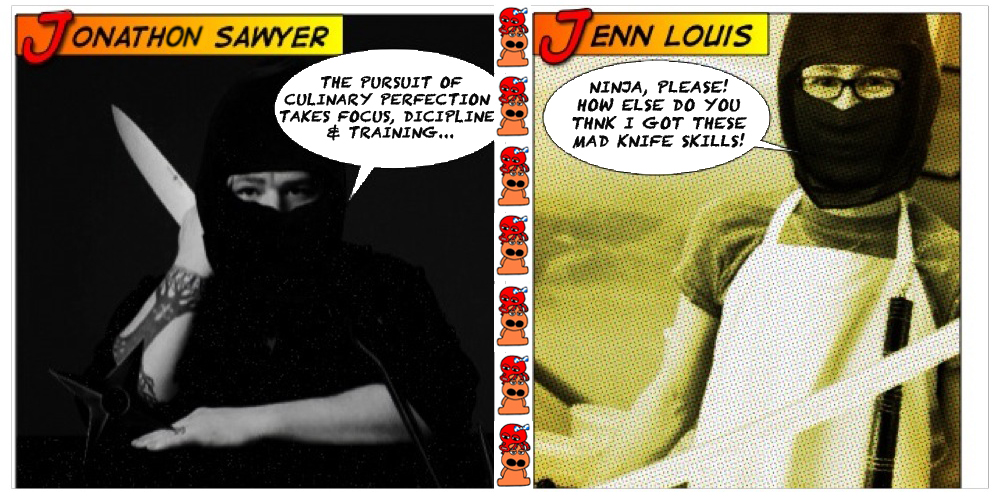 Food & Wine Best New Chefs Jonathon Sawyer & Jenn Louis join fRESHTSTREET Yakitori's Kenny Kim & Misako Ohba for a
Pop-up in a Pop-up!
On Friday March 8th, Food & Wine Magazine Best New Chefs Jonathon Sawyer & Jenn Louis are popping into the kitchen at fRESHSTREET yakitori, located inside Double Happiness Bar in Columbus' Brewery District (482 S. Front St. Columbus, OH 43215). They're serving dishes like "Half Quail w/ XO Sauce," "Hamachi Scraps w/ belly, cheek, tail & veal sauce" and more alongside fRESHSTREET's yakitori masters Kenny Kim & Kisako Ohba. The party runs from 7-10pm.
About Chef Jonathon Sawyer
Chef Jonathon Sawyer is proudly from Cleveland Ohio, where he owns & operates his flagship The Greenhouse Tavern, Noodlecat, Tavern Vinegar Co, Sawyer's Street Frites & SeeSaw Pretzel Shoppe.  In 2010, he was honored as one of Food & Wine Magazine's Best New Chefs. Chef Sawyer has also made national television appearances including Iron Chef America, Dinner Impossible, Unique Eats, and Best Thing I Ever Ate.
 When Jonathon is not in the kitchen he is surrounded by his family, his wife Amelia, son Catcher, daughter Louisiana, dogs Potato and Vito, and chickens Acorn, Bunny, Ginger, Trout, Bear & Squid. He can often be found in the cellar of his century home where he ferments beer & wine vinegars for the restaurants and for Tavern Vinegar Co.  Jonathon is a tireless supporter of the green movement, local agriculture, and sustainable businesses both in Northeast Ohio and around the country.
About Chef Jenn Louis 
Chef Jenn Louis is the chef & owner of Lincoln Restaurant, Sunshine Tavern & Culinary Artistry. Louis' menu takes its cue from the seasons, harvesting locally-grown Pacific Northwest ingredients and transforming them into sophisticated yet honest fare. Her mix of fortitude and finesse immediately made Chef Louis a standout in the Portland restaurant scene. In 2012, the popularity of Lincoln Restaurant and Sunshine Tavern catapulted Louis' presence on a national scale and she was named one of Food & Wine's prestigious Best New Chefs.
When not in the kitchen or planning events, Louis can be found traveling the globe with her husband, teaching cooking classes, playing the drums or spending time with her three cats, White Cat, Orange Cat and Wasco.
About fRESHSTREET Yakitori
 fRESHSTREET Yakitori is a Japanese street food pop-up restaurant located inside the Double Happiness Bar in Columbus, Ohio. The pop-up is run by Kenny Kim & Misako Ohba and specializes in Japanese oak grilled skewers.
When & Where

fRESHSTREET Yakitori inside Double Happiness
482 South Front Street
Columbus, OH 43215


Friday, March 8, 2013 from 7:00 PM to 10:00 PM (EST)
Add to my calendar