Description
Expect the unexpected as Cannabis Society takes over Kokeshi Restaurant & Bar in spooky Salem for a Halloween Pop-Up Toasty Tuesday. This is not your typical networking event. You never know who will show up to a Cannabis Society Toasty Tuesday. Investors, professionals looking to enter the cannabis industry, and participants in the new industry will be out in force. Costumes are suggested but not required. The event takes place in historic Salem where it is Halloween everyday in October so definitely take sometime and enjoy Halloweentown before and after the event.

Our events bring a healthy mix of cannabis advocates and professionals from a variety of fields together to network and talk marijuana. The event is 21+ only and the dress code is usually business professional but because it is Halloween we suggest costumes and having some fun instead.

#ToastyTuesday events are completely FREE to enter in order to facilitate all aspects of the cannabis community coming together in a friendly environment.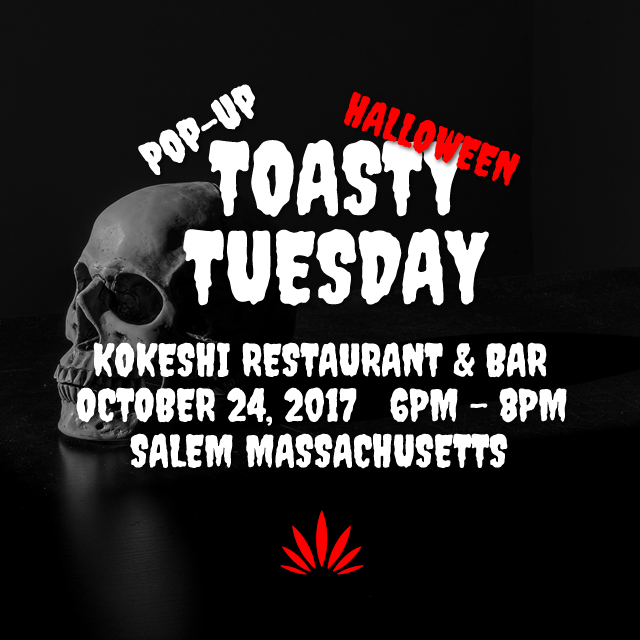 About Toasty Tuesday
True innovation often emerges from serendipitous meetings and interactions. Toasty Tuesday's are free professional networking events for the cannabis community. Toasty's began in Boston and New York City and are now expanding west to bring the high end experience of the northeast cannabis industry to the rockies and west coast. We welcome everyone from all backgrounds to attend our events.
About Cannabis Society
We are a membership based non-profit social club dedicated to creating sophisticated cannabis experiences. http://cansociety.com/
About Kokeshi Restaurant and Bar
Asian Street Food
Noodles and Soup
Craft Cocktails & Sake
http://www.kokeshirestaurant.com/
Instagram / Twitter / Facebook Tips

One of the best ways to share our events is to use common hashtags when tweeting, facebooking, or instagramming about the event. Don't forget to take photos and share them with everyone using the hashtags below. #CanSociety #ToastyTuesday #DontDabAlone #DabWithFriends #ToastyBoston
This is a Non-Consumption Event...
No cannabis will be permitted during this event. This is a professional networking event and we want everyone to be in the right mindset to make lasting connections so we make Toasty Tuesday non-consumption events. Bring your business card or a way for individuals who attend to get back in touch with you so the connections last. Cannabis consumption, viewing, consuming, exchanging, or gifting are absolutely forbidden at this event.
Email List Disclaimer
If you RSVP for a Cannabis Society event we add you to our mailing list announcing future events and promotions from our organization. By attending a Cannabis Society event you give us permission to add your email contact information to our mailing list for future contact. For any questions related to our mailing list policy and user privacy please email core@cansociety.com.
Legal Disclaimer
Views or opinions expressed by speakers or sponsors at our local Cannabis Society community events do not necessarily express the opinion or views of the Cannabis Society organization and we do not take responsibility for the views expressed or the actions of speakers or sponsors at our local events. The Cannabis Society does not distribute cannabis.
The Cannabis Society is Growing
Our group has grown by leaps and bounds these past few years and we are proud to announce that the Cannabis Society is going to continue to grow and develop our ecosystem with groundbreaking events centering around medical cannabis, technology, art, and science. We couldn't do it without our members and we want to thank you for being apart of this growing organization.