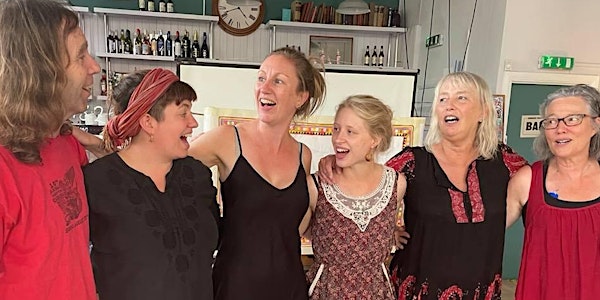 Pop-up Georgian Choir: 6 week course in Polyphonic Singing
Connect with other singers on Monday evenings. Immerse yourself in Georgian music with this short course in polyphonic and embodied singing.
When and where
Location
The Old Schoolhouse Hertford Street Oxford OX4 3AJ United Kingdom
Refund Policy
Contact the organizer to request a refund.
Eventbrite's fee is nonrefundable.
About this event
The Course
This is an opportunity to go deep into the ancient folk music of Georgia. Over 6 weeks we will form a temporary choir, experiencing the sense of great connection that comes from sharing these epic harmonies.
You will learn many folk songs from the polyphonic tradition of Georgia, and how to make the most out of your natural voice while singing them. You will experience the joy of connecting with others through shared sound.
Each week we will learn a new song and a singing technique for increasing our bodily vibration. We will also revisit the previous week's song, so attending every session will give you the greatest insight and sense of satisfaction.
Schedule: Mondays from 30th May - 4th July 2022
Monday 30th May 2022 , 19.00-21.00
Week One - Introduction to Georgian Music, Donation Based Taster Session.
Step into the sound world of Georgian folk music. Make friends with the unfamiliar chords.
Monday 6th June 2022, 19.00-21.00
Week Two - Healing Songs
Learn about the ancient ritual of soothing a sick child and pleasing the spirits with sweet melodies.
Monday 13th June 2022, 19.00-21.00
Week Three - Songs of Celebration
Mravaljhamier! Songs that wish you many years of health and happiness.
Monday 20th June 2022, 19.00-21.00
Week Four - From the West: Samegrelo
For such a small area, Samegrelo has some of the most beautiful and interesting music, such as tragic love songs, field working and rousing cavalry songs.
Monday 27th June 2022, 19.00-21.00
Week Five - Religious Songs from Svaneti
Nestled in the high caucasus mountains, Svanetian music is possibly the most unusual of all Georgian music. They have several songs with words praising a Christian God, though the music itself sounds even more ancient.
Monday 4th July 2022, 19.00-21.00
Week Six - Putting it Together
We will recap all the songs we have learnt so far, and enhance them with vibration techniques (these techniques will be introduced week by week throughout the course).
Note: the songs may change from the advertised schedule, depending on the group's needs.
Georgian Polyphonic Songs
Georgia is a small country bordering the Black Sea, Russia, Azerbaijan, Armenia and Turkey. Its polyphonic music, as well as its unique alphabet, have been recognised by UNESCO as an 'Intangible Cultural Heritage of Humanity'.
Though small, there is great variety within the different regions of the country, including soothing healing songs, rousing table songs, and reverent chants. These songs touch something deep inside our bodies, reaching down to the earth and back through generations of ancestors.
This workshop offers a way in to learning about these songs, as well as the stories and people behind them. Holly will bring cultural context to this centuries-old tradition.
The Course Leader
Holly Taylor-Zuntz is a voice leader, song collector and multi-disciplinary artist from Oxford who has been living in Georgia and studying Georgian songs for the last five years.
Having 'grown up' in community folk choirs, she went on to train in Musical Theatre and then European Theatre at drama school. Her physical theatre training opened up a world of embodied voice practice, leading her to Poland and ultimately Georgia. Along the way she has learned from composer Helen Chadwick, vibrational expert Frank Kane, and director Anna-Helena Mclean, as well as many prominent ethnomusicologists in Georgia (Nino Naneishvili, Malkhaz Erkvanidze, Nana Mzhavanadze).
Holly's singing workshops are full of joy! Most recently she lead a series of community singing workshops in Tbilisi, including Georgian polyphony, Ukrainian songs, and mindful voice practice. Below you can see her teaching with her fellow singers at Folk East festival in Suffolk, 2021.
She is one of the founders of Voices of the Ancestors, a podcast and theatre show about Georgian polyphonic songs, the women who sing them, and how they came to be loved in the UK. For more info go to: www.voicesoftheancestors.co.uk
Holly will be leading a half-day workshop on 22nd May, which you can find here: https://www.eventbrite.com/e/329584254377
Singing Level Required
This choir is open to those who can hold a tune while singing with others. No previous experience of Georgian music is required, and you do not need to be able to read music. If you already know many Georgian songs, this course offers a new perspective on them.
Venue
The Old Schoolhouse
Hertford Street (Off Magdalen Road)
Oxford
OX4 3AJ
Accessibility: We are in a ground floor room.
Tickets
Full course of 6 weeks: £50 plus eventbrite fee.
Weekly Drop in: £11 plus eventbrite fee.
First session: Donation based
Places limited to 20.
Covid-19 Guidance
Please note, this choir will be inside and not distanced.
Participants are encouraged to take a rapid flow test on the day of each meeting.
Questions?
Email hollytaylor575@gmail.com