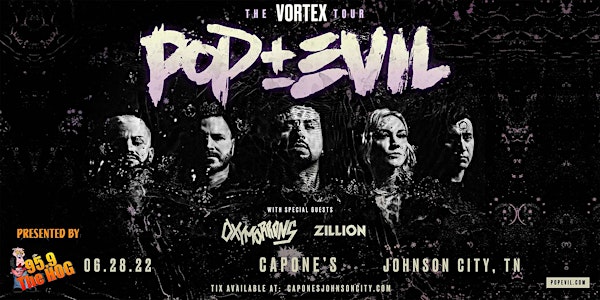 Pop Evil: The Vortex Tour
Performers
Pop Evil
Oxymorrons, Zillion
Location
Capone's
227 E. Main St
Johnson City, TN 37604
95.9 The Hog's Summer to Get Rocked Party featuring Pop Evil: The Vortex Tour w/special guests Oxymorons & Zillion at Capone's on June 28th!
About this event
POP EVIL
Official Website | Facebook | Instagram | YouTube | Twitter | Soundcloud | Spotify | Amazon Music | Apple Music | Pandora
If rock is dead, then Pop Evil is definitive proof of the afterlife.
The blue-collar band with the massive anthems built a new rock n' roll institution on a foundation of showmanship, raw relatability, and hard rock hooks, both forward-thinking and timeless. No matter the headline-grabbing declarations from legendary icons, lamenting the changing of the guard, the slow-burning success of Pop Evil demonstrates the hunger for hard-hitting honest music persisting worldwide. New songs like "Set Me Free," "Inferno," "Survivor," and "Fire Inside" set the stage for the band's next chapter, summoning the strength of their past with an ambitious vision for the future.
Versatile, the band's sixth album, sounds exactly like the name suggests. Versatile distills the soaring melodies and driving riffs of Pop Evil's past and introduces an ambitious exploration of the future.
With its rhythmic pulse and EDM flourishes, the success of "Work" at rock radio and on streaming playlists cemented the Pop Evil faithful's willingness to honor the Michigan band's journey. After "Work" broke into the Top 10, explosive third single "Breathe Again" became their next Top 5 hit.
Beyond the success story told by the charts, the 1 million units of "total activity" across their catalog, and the over 600 million streams of their songs on major platforms, Pop Evil's greatest strength is the diverse group of people captivated by the band's relatable storytelling and undeniable catchiness. These are fans earned, city by city, on tours with a modern rock playlist's worth of genre titans. They are a staple act at major rock festivals and a consistent headliner in theaters and clubs worldwide.
The Versatile singles are simply the latest Mainstream Rock Top 10 songs, joining No. 1 hits "Waking Lions," "Footsteps," "Deal with the Devil," "Trenches," and "Torn to Pieces," which was certified GOLD by the RIAA in 2020 for sales, downloads, and equivalent streams in excess of 500,000 copies. As tastemaker UK rock publication Kerrang! observed, "this lot could write radio hits in their sleep."
OXYMORRONS
Official Website | Facebook | Instagram | YouTube | Twitter | Spotify | Amazon Music | Apple Music | Pandora
When you think about Alternative music Oxymorrons undoubtedly come to mind. The New York-based boundary-pushers have made a name for themselves in the spirit of change - building a movement from years of being told they were too rock for hip-hop, too hip-hop for rock. They boldly committed to creating music that defies arbitrary rules of classification, cementing the band as early pioneers of the modern genre-blending revolution.
Oxymorrons are no stranger to the big stage. They have toured and shared the stage with the likes of Lupe Fiasco, Fever 333, Fishbone, Gym Class Heroes, OutKast, Neck Deep, Waka Flocka, Antiflag, Rihanna and more. They have also graced the stage at notable festivals such as Riot Fest, AfterShock, Warped Tour, Afro Punk, Firefly, SummerFest and Funkfest to name a few.
Their high energy performance and versatile sound makes for a potent combination that never disappoints.. They have received co-signs from Billboard, Kerrang!, The Fader, Alternative Press, Complex, Hypebeast, Ebro of Beats 1 Radio, Daniel Carter BBC1 Radio and many more. They have also found synergy in brand partnerships with Dr Martens, HUF, Microsoft, Taco Bell, Hot Topic and beyond.
As one of the acts in Jason Butler's (Fever 333) Artist Collective '333 Wreckords Crew', Oxymorrons have expanded their sound with the release of their EP 'Mohawks & Durags', putting forth a Creative, Powerful and Unique sound thats much needed in not just the Alt-space but music in general. "We have a lot to say with Mohwaks & Durags, and it's more than just content, it's about what it represents in a space we and many other BIPOC artist have faught so hard to again acceptence in. Says Dee. It aligns with the movement regardless of who accepts it or not.
Although 2021 was the year of uncertainy, it was still a very productive year for Oxymorrons. They expanded their fan base by releaseding an EP and crushed two national tours during the fall. They're now in prime position to bring the noise in 2022. Be on the lookout for their next single and much more you have been warned.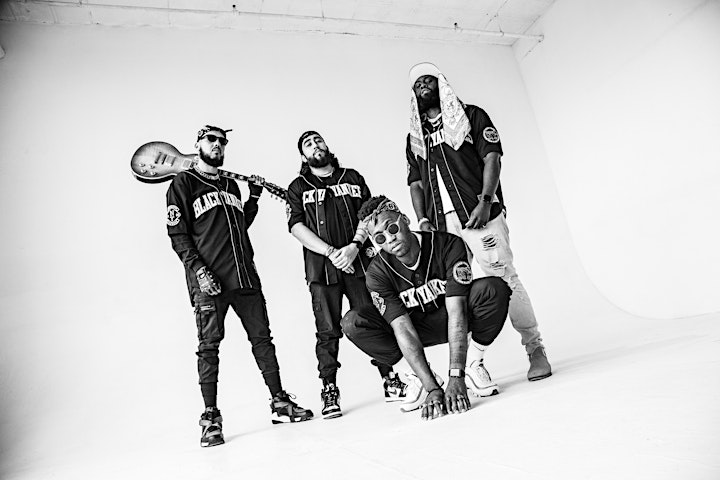 ZILLION
Official Website | Facebook | Instagram | YouTube | Twitter | Soundcloud | Spotify | Amazon Music | Apple Music | Pandora