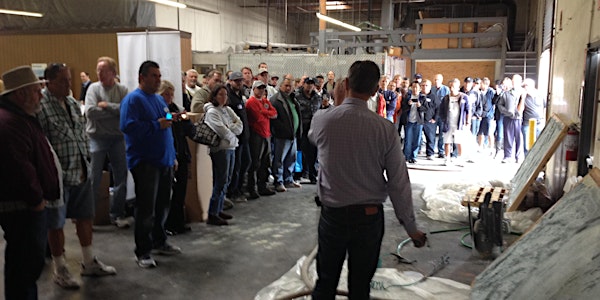 Pool Service Appreciation Day at Alan Smith Pool Plastering
Pool Service Appreciation Day is back!
When and where
Location
Alan Smith Pool Plastering 227 W Carleton Ave Orange, CA 92867
About this event
Alan Smith Pool Presents  the 7th
"POOL SERVICE
APPRECIATION DAY"
January 7th, 2023 from 7 AM - 4 PM
Doors open at 6:30am!!! ALAN SMITH POOLS 227 W. Carleton Ave. Orange, CA 92867
Be our guests for the day and receive a free breakfast,
lunch and an educational day!!
Attend Free Seminars. Watch live Hydroblasting, MicroGlass &
Plastering Demonstration
Valuable raffle prizes
Thanks to our partners and sponsors all this is offered at
NO COST FOR YOU!
Pentair, Jandy, PEP, Pool Corp
Extra Raffle Tickets:
Register in August- Receive 6 raffle tickets
Register in September- Receive 5 raffle tickets
Register in October- Receive 4 raffle tickets
Register in November- Receive 3 raffle tickets
Register in December-Receive 2 raffle tickets
Show up and receive 1 raffle ticket
 Extra raffle tickets are available for purchase at the event.
7th Pool Service Appreciation Day
Saturday, January 7 th, 2023
Breakfast and Sign up - Meet the vendors
6:30am
8:00 AM
"Basics of Leak Detection" Rick Specht, Operations Manager of H2O Leak Pros
"Micro Glass " Alan Smith, Owner of Alan Smith Pools
"Ways to Stretch Your Chlorine" Terry Arko, HASA
"Basic Water Chemistry 101" Terry Arko, HASA
"Pentair automation" Pentair Training
"Pentair Intelliflo 3" Pentair Training
"iAqualink Connected" Jandy Training
"Saturation Index Basics" Brett Gereau, Owner of Advanced Pool Specialists
2 Business Classes taught by David Hawes
Lunch + Hydro Demonstration + Plaster Demonstration
***This event is intended for the benefit of Pool Service  Companies only. Specific suppliers have been invited to participate and have agreed to materially support this event. All other suppliers and non-Pool Service Companies are requested to contact  ASP in advance for permission to attend.  ASP reserves the right to refuse admittance to this event of any company or organization.
Call Harriet for help registering at 714-497-6525
or email harriet.porter@alansmithpools.com
or just show up and register at event*