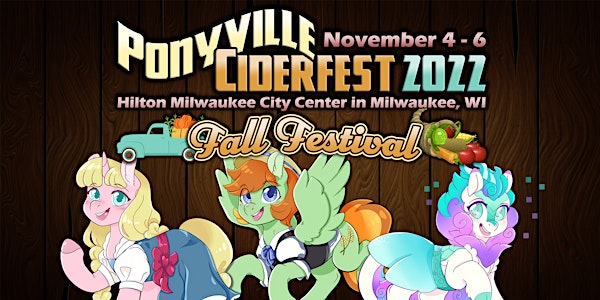 Ponyville Ciderfest 2022
For our 8th IRL event, we are returning to the Hilton Milwaukee City Center to celebrate all things fall! Join us at #PVCF22 on Nov 4-6!
When and where
Location
Hilton Milwaukee City Center 509 West Wisconsin Avenue Milwaukee, WI 53203
About this event
Worthwhile Events NFP is proud to bring Ponyville Ciderfest back to the Hilton Milwaukee City Center for its 8th in-person year!
For 2022, we're celebrating all things fall, including friendship, family, fun, food, and of course apple cider! Join us from November 4-6 for the last pony con of the year!
We look forward to bringing the excitement of MLP:FiM and its fandom back for a fun-filled weekend of ponies, friends, fun, and entertainment!