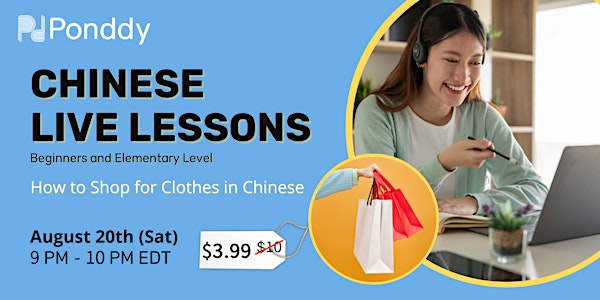 Ponddy Chinese Live Lessons: How to Shop for Clothes in Chinese
Welcome to Ponddy's Chinese Live Lessons! We're excited to have you learn Chinese with our certified star instructor and powerful AI tools!
About this event
Want to learn how to ask to try clothes on in Chinese? Or ask for another size, another color?
In today's lesson, you'll learn many useful Chinese phrases and sentences about shopping for clothes with our certified star instructor, Kally Li, and with the help of our AI-powered smart textbook and other cutting-edge learning resources to make your Chinese learning fun and effective!
Original price for our online lesson: $10
Don't miss out on our limited special offer of $3.99 !!!
| Contact Us |
📩Email: support@ponddy-edu.com
☎️TEL: 408-800-7798
| About Ponddy Education |
【Live Lessons】🧑‍🏫
We offer Live Chinese Lessons with practical daily topics, taught by our certified star instructors and supported by our powerful AI smart textbook! Learn more
【Ponddy Chinese Dictionary】📖
Your personalized learning tool with all the leveled Chinese vocabulary aligned with the ACTFL and the New Grading Standards (HSK 1-9). It includes detailed learning status tracking and various practice modes to help you to practice Chinese vocabulary efficiently! Download FREE now
【Ponddy Tutors】👩‍💻
If you'd like more structural learning and tailored courses, we also provide 1-on-1 live lessons with our certified instructors personalizing your learning needs at all levels. Learn more