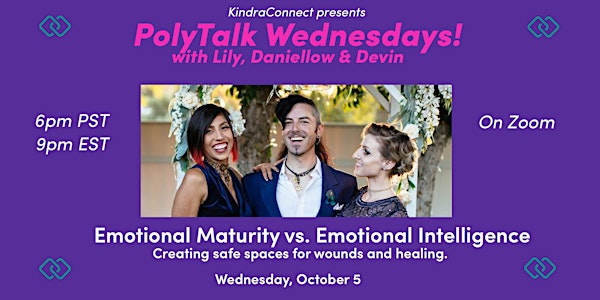 PolyTalk Wednesdays
PolyTalk Wednesdays: Learn and discuss tools and tricks for successful relationship building.
Refund Policy
Contact the organizer to request a refund.
Eventbrite's fee is nonrefundable.
About this event
PolyTalk Wednesday's topic this week is Compatibility Part2: Attuning to Love"
We want to be seen, heard, appreciated and feel connected as human beings. We may feel an immediate connection with someone new and get swept into the bliss of "riding the same wavelength", but sensing compatibility immediately upon meeting is not a necessity for romance to be possible. Attunement will inevitably play a role in the relationship as we bond. Let's discuss this process of attuning to love as a "compatibility calibration" and build on last week's themes of listening, not making assumptions, and accepting influence in love.
Led by throuple Devin, Daniellow, and Lily, Polytalk is an interactive workshop series where we discuss the tools and tricks that create successful relationships. While it is flown under the flag of poly relating, the advice and issues discussed are relevant for all relating: mono, poly, mono-ish, solo poly, single life, family and friends. All are welcome. PolyTalk is supportive of all relationship styles! (KindraConnect welcomes people with all sexual and relationship orientations. About 40% of the people on the KindraConnect app are open or poly; 60% are monogamous.)
Please note: These sessions may be recorded and made available to people who aren't able to attend. However, breakout rooms within the sessions are not recorded.
Tickets are donation-based. We very much appreciate your donation which goes to pay our facilitators and support our virtual offerings.
See prior sessions on youtube here.
Previously, PolyTalk Wednesdays covered: Where are you in Poly World? Asking for (and Knowing) What you Want; Trust and Security; Active Listening; Transitions - Moving From One Relational Agreement To Another; Emotional Responsibility; Entering Established Partnerships with Grace; Abundance Mentality: There will always be more cookies; Techniques for Overcoming Jealousy; Navigating Jealousy in Established Partnerships; Navigating Jealousy as The New Love; Sharing Our Needs, Our Growth and our Stories; Asking for What You Want; What Does It Mean To be Special?, Building Trust ; Explaining Poly To Those Who Are Not; Workshop Your Relationship Challenges; Active Listening & the Art of the Paraphrase; Confronting Anti-Polyamory in a Monogamous Society; The Ramifications (Real & Imagined) of Being Polyamorous in a Monogamous Society; Navigating Non-Monogamy during the Holidays; The Freedom of Boundaries: Expressing Ourselves Emotionally and Sexually; The Language of Consent: Creating Safety & Fulfillment; Let's Talk About Sex Baby!; More Sexy Talk; What is Your Relationship Orientation?; How Do My Values Show Up in My Relationship Orientation?; Languaging & Expression; Ask For What You Want; Defining Your Boundaries; Boundaries and Agreements; Integrity & Responsibility; Life Is Hard Enough - Relationships Get To Be Easy; Conflict, Context & Content: Processing in Poly Relationships; Following the Conflict: Responding vs. Reacting to Conflict; Creating an Abundance Mentality; and Touchpoints for Abundance Mentality; Cultivating Compersion; Core Beliefs & Empowered Conflict Resolution; Being Right vs. Being Connected; Attraction: You Are a Magnet; Compatibility: First Impressions Aren't Everything
About KindraConnect:
Calling Burners, Creatives, Makers, Thinkers and Seekers!  KindraConnect brings together people who share the values of authenticity, kindness, creativity, play, and personal growth.  We meet each other for friendship, dating and collaboration on our free KindraConnect app (available on iPhone and Android) and at our virtual gatherings.
More info on KindraConnect at www.kindraconnect.com