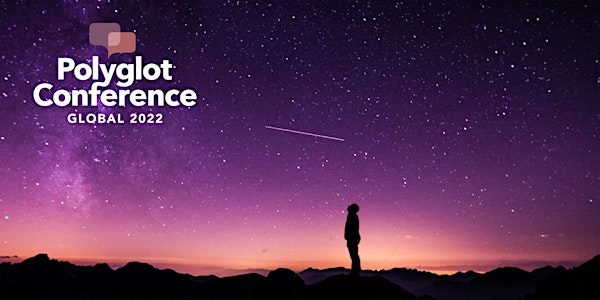 Polyglot Conference Global 2022 - Extra Time
For Everyone Who Loves Language - a space bringing together language enthusiasts, professionals, academics and language learners
About this event
171 days 23 hours

Mobile eTicket
The Polyglot Conference Global 2022 Live Environment in open to you!
REMEMBER to read you WHOLE ticket from Eventbrite for instructions on how to join us and email us with any issues!
You donation gives you access to the Live Environment for the WHOLE year, including the Polyglot Conference Global and any other events we hold until next year's Polyglot Conference Global event!
In the Polyglot Conference Global Live Environment you can:
* Meet other language learners
* Practise your languages
* Organise and take part in language exchanges
* Follow recorded language lessons
* Offer and take lessons with other participants
* Watch previously unreleased talks about languages whenever you want, including new talks from 2022!
* Find out about our Partners & Sponsors and the offers they have for you.
* Attend ALL events scheduled in The Live Environment before between today and October 2023!
* Join in fun activities with the LangFest Team & uTalk
* Spend the winter/summer months with kindred spirits in the language learning community all over the world.
If you require a free ticket because donating is not an opion for you, then please visit the following link: https://forms.gle/kQLt3f3msvGRb2DA6
*Please note that free tickets will be issued as and when the team can action those requests. Please be patient. If you cannot wait a small donation helps everyone!
Disclaimer: As a participant I have read and agree to the terms of the Polyglot Conference Code of Conduct on the website (https://global.polyglotconference.com/code-of-conduct/). I will behave in a way to promote a positive environment for all, so we all feel included, valid and welcome. I will respect the privacy and boundaries of others. I agree to take part in the Polyglot Conference with the knowledge that my image and/or words could be in the public domain. I understand that any publicly transmitted materials by the Polyglot Conference will be highlighted and I have the responsibility to avoid being identified, should that be my wish. The Polyglot Conference will not purposefully identify individual participants with full name and photo publicly at any point, unless you freely add such details to your screen name as a tag/title that forms part of the image itself. Images may only be used as a generic screen grab without names or tags added. Equally, I agree not to tag or identify other participants without their consent. I also agree not to share or copy links or materials from the Polyglot Conference Global outside of the Polyglot Conference Global itself.
REFUND POLICY: As this is a DONATION-based ticket, you are supporting a community and its work VOLUNTARILY. We CANNOT therefore issue any refunds. If you have issues with your ticket or access, you can always e-mail us and we're happy to help.