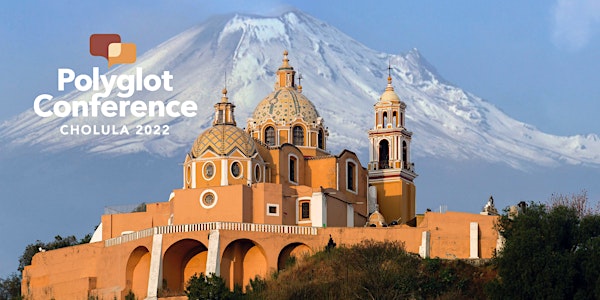 Polyglot Conference Cholula 2022
For Everyone Who Loves Language - a space bringing together language enthusiasts, professionals, academics and language learners
When and where
Location
Hotel Posada Señorial Av. 5 de Mayo 1400 San Juan Aquiahuac San Andrés Cholula, PUE 72810 Mexico
About this event
Polyglot Conference Cholula 2022 will start on 28th October and finish on 30th October 2022. There will be opportunities to take part in activities the week before the event, organised by The Polyglot Conference, Zaloa Languages and LangFest.
REMEMBER to read your ticket from Eventbrite for IMPORTANT INFORMATION!
At the Polyglot Conference Cholula you can:
* Meet other language learners
* Practise your languages
* Do coursses in Nahuatl or Spanish with Zaloa Languages (the week before the conference)
* Get to know local people and what matters to them
* Take part in games & quizzes with our Partners & Sponsors
* Join in fun activities with the LangFest Team & uTalk
* Win great gooies like italki credits and books/courses by of sponsors at Teach Yourself, Michel Thomas and Assimil
Disclaimer: As a participant I have read and agree to the terms of the Polyglot Conference Code of Conduct on the website (https://polyglotconference.com/code-of-conduct). I will behave in a way to promote a positive environment for all, so we all feel included, valid and welcome. I will respect the privacy and boundaries of others. I agree to take part in the Polyglot Conference with the knowledge that my image and/or words could be in the public domain. I understand that any publicly transmitted materials by the Polyglot Conference will be highlighted and I have the responsibility to avoid being identified, should that be my wish. The Polyglot Conference will not purposefully identify individual participants with full name and photo publicly at any point, unless you freely add such details being published. Images may only be used as a generic screen grab without names or tags added. Equally, I agree not to tag or identify other participants without their consent. I also agree not to share or copy links or materials from the Polyglot Conference Global outside of the Polyglot Conference Global itself. I understand that travelling to another country means that I have taken out the necessary steps to ensure I have adecuate travel insurance, financial cover and provisions for my trip. I have consulted and followed the guidelines set out by the my government on travel to Mexico, as well as the information presented on travel to and in Mexico from The Mexican Government. I understand that Covid regulations change and that the Polyglot Conference will follow the local guidelines set out by the authorities in Cholula.
REFUND POLICY: As this is a DONATION-based ticket, you are supporting a community and its work VOLUNTARILY. We CANNOT therefore issue any refunds. If you have issues with your ticket, access or an emergency, you can always e-mail us and we're happy to help figure out a solution where possible.