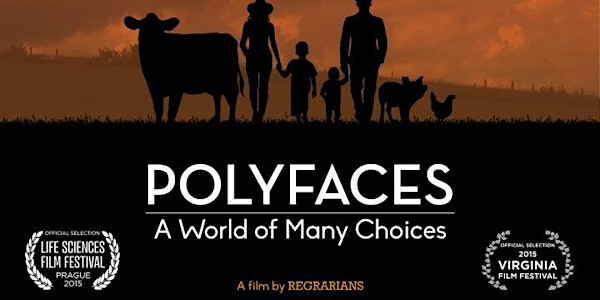 POLYFACES Documentary/a REGRARIANS FILM showcasing Joel Salatin
Location
Paseo Nuevo Theaters
Paseo Nuevo Shopping Mall, 8 West De La Guerra St
Santa Barbara, CA 93101
Description
The Santa Barbara film premier of the highly acclaimed documentary

POLYFACES
A World of Many Choices
A film by REGRARIANS

TICKETS $10 pre-order on Eventbrite/ or $15 at the door
Join us for a very special farm-to-table dinner at Barbareno before the film at 5pm - details below
---
POLYFACES FILM trailer Early in the Morning https://vimeo.com/138177205
Followed by Q&A with the film producers, Lisa Heenan & Darren Doherty

On the renowned POLYFACE farm in Virginia a different kind of farming is taking place,
with Joel Salatin, a farmer who wants us to rekindle our relationship with food.
A film directed by Lisa Heenan and Isaebella Doherty, that focuses on Joel Salatin and Polyface, a farm in Northern Virginia. There, for decades, the Salatin family has shunned chemical-heavy farming practices in favor of sustainable rotation and grazing methods.
A Heinz Award winner, Joel Salatin was called the 'most innovative farmer in the world' by Time Magazine, stars in the Oscar-nominated Food Inc., along with Michael Pollan's best selling 'The Omnivore's Dilemma' and is seen as an inspiration to many thousands of farmers around the world.

"...regenerating soil is what will save the world..." HARVEY WEINSTEIN, Weinstein Company

"...an important contribution to the American food movement..." MICHAEL POLLAN, The Omnivores Dilemma

"...the best way to help us eat (and live) a whole lot better..." NEW YORK TIMES

"...Watch it. Get inspired..." ALEX JAMIESON, Super Size Me

POLYFACES website http://www.polyfaces.com
POLYFACES FILM trailer https://vimeo.com/125404937
Event Co-Sponsors: Santa Barbara Permaculture Network, SB Independent, Community Environmental Council (CEC), Cultivate Events, Santa Barbara Fermentation Festival, LoaTree, Casitas Valley Farm, Quail Springs, Island Seed & Feed, Orella Ranch, the Santa Barbara Food Alliance.
---
Farm-to-Table Dinner at Barbareno with POLYFACES Director Lisa Heenan

5pm-7pm before the film at Barbareno, 205 W. Canon Perdido Street
$50/pp, wine & beer available by the glass a la carte,

LIMITED SPACE, To reserve your spot: call 805-963-9591 or email Jesse@Barbareno.com
Menu / you will have a choice of First Course, Entree, and Dessert
Snacks / Eggamuffins, Santa Maria Tartare, Wild Mushroom Bisque
First Course 1 / Garden Lettuces olallieberry vinaigrette, blackbery shrub, drake goat cheese
First Course 2 / Little Gem Salad fennel vinaigrette, finocchiona, pistachio, preserved lemon
First Course 3 / California Roll avocado roulade, poached yellowtail, cucumber, nori vinaigrette
Entree 1 / Santa Maria BBQ tri tip, pico de gallo, red oak, pinquito beans
Entree 2 / Market Fish coconut oolong rice, yuzu, avocado, broken blood orange emulsion
Entree 3 / Black Olive Raviolo fennel, duck egg yolk, chevre, marinated chilis
Dessert 1 / Wine and Cheese goat cheesecake, cabernet jelly, pine nut brittle, tarragon
Dessert 2 / Inside-Out Affogato handlebar espresso ice cream, twenty four balckbirds chocolate, vanilla shot
Barbareño Restaurant - 205 W Canon Perdido St, Santa Barbara, CA 93101
http://barbareno.com/