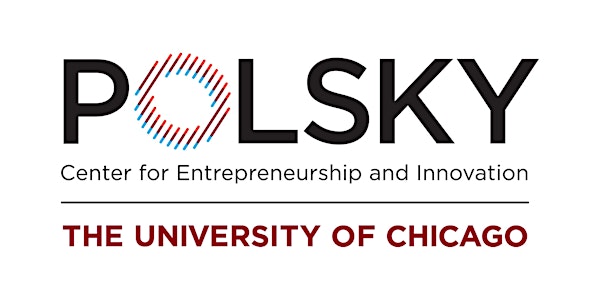 Polsky Small Business Bootcamp: Behavior and Branding
When and where
Location
https://polsky.uchicago.edu/livestreams/ Chicago, IL
Description
The Polsky Center for Entrepreneurship and Innovation is pleased to announce the Polsky Center Small Business Bootcamp to provide small business owners and local entrepreneurs with resources during these changing times. This virtual event series will take place during the week of April 13th via livestream, and sessions will take place in the mornings and afternoons to accommodate a variety of schedules.
This series is made possible through a partnership with the Rustandy Center for Social Sector Innovation and the Office of Civic Engagement at the University of Chicago, on behalf of a larger coalition of University groups and partners.
About this Session:
In this session, Polsky Exchange mentor Kenyata Martin will leverage his years of marketing and branding expertise to teach business owners how to build a brand and add value during a time of crisis when customers are focused on other things. A Q&A session will follow the presentation.
About the Speaker: Kenyata Martin, MBA '09, Managing Partner, Thought Process
Kenyata Martin, MBA '09, is a​ consumer package goods marketing​ executive​ with over 17 years experience working with ​household brand names at the largest global organizations like Proctor & Gamble, Shell Oil, and Nestlé. Martin has seen many businesses at all phases of development and has built deep experience in marketing for budgets and expertise of all sizes.
---
Other topics in the Polsky Center Small Business Bootcamp series include:
Mon, April 13 at 10:00 AM: Negotiating in Times of Change
Mon, April 13 at 2:00 PM: Navigating Access to Capital Resources
Tue, April 14 at 10:00 AM: Understanding the Human Elements in Your Business - Trust, Collaboration, and Emotional Loss
Tue, April 14 at 2:00 PM: How To Manage Personal and Professional Ups and Downs While Managing a Business
Wed, April 15 at 10:00 AM: Transforming Your Business...Now
Wed, April 15 at 2:00 PM: Crisis Management Communication
Thur, April 16 at 10:00 AM: Decision Making in Tough Environments
Fri, April 17 at 10:00 AM: Marketing Strategies in Times of Uncertainty
Fri, April 17 at 2:00 PM: Cash Management
Questions? Contact Katie Spoden at kspoden@uchicago.edu.