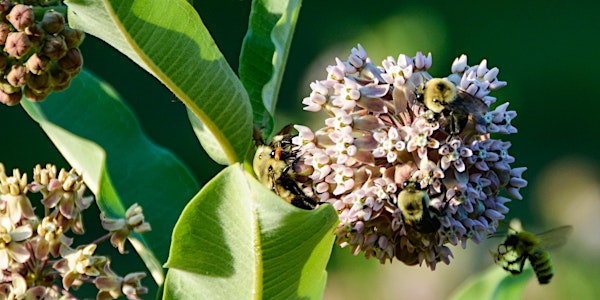 Pollinator Film & Talk with Doug Tallamy - Tickets Required
Get informed and inspired about pollinators, native plants, and ways you can contribute to biodiversity and beauty in your own garden!
When and where
Location
The Frank Center, Shepherdstown, WV 260 University Drive Shepherdstown, WV 25443
About this event
Please join us for a blooming evening to celebrate pollinators and native plants with the inspiring film My Garden of a Thousand Bees followed by a talk with renowned entomologist, ecologist and author Doug Tallamy. Registration is FREE and required.
6pm – Doors open. Book signing. Books available to purchase from Four Season Books
7:00-8:00 - Welcome and screening of My Garden of a Thousand Bees
8:00-9:00 – Nature's Best Hope with Doug Tallamy. Presentation and Q & A immediately following
9:00-9:20 - Questions and Answers
10:00 –Book Signing. Books available to purchase from Four Season Books
My Garden of a Thousand Bees (50 minutes) - Veteran wildlife filmmaker Martin Dohrn seeks refuge from the pandemic by filming the wild bees that live in his city garden in Bristol, England with mind-blowing results. He sees over 60 species of bees and, more importantly, develops a close relationship with an individual bee he follows through its entire life.
Nature's Best Hope with Doug Tallamy
Recent headlines about global insect declines and three billion fewer birds in North America are a bleak reality check about how ineffective our current landscape designs have been at sustaining the plants and animals that sustain us. To create landscapes that enhance local ecosystems rather than degrade them, we must 10 remove the invasives on our property and 2) add the native plant communities that sustain food webs, sequester carbon, maintain diverse native bee communities, and manage our watersheds. If we do this in half of the area now in lawn, we can create Homegrown National Park, a 20 million acre network of viable habitats that will provide vital corridors connecting the few natural areas that remain. This approach to conservation empowers everyone to play a significant role in the future of the natural world.
Doug Tallamy is the T. A. Baker Professor of Agriculture in the Department of Entomology and Wildlife Ecology at the University of Delaware, where he has authored 106 research publications and has taught insect-related courses for 41 years. Chief among his research goals is to better understand the many ways insects interact with plants and how such interactions determine the diversity of animal communities. His book Bringing Nature Home was published by Timber Press in 2007, The Living Landscape, co-authored with Rick Darke, was published in 2014; Nature's Best Hope, a New York Times bestseller, was released in February 2020, and his latest book, The Nature of Oaks, was released in March 2021. His awards include recognition from The Garden Writer's Association, Audubon, The National Wildlife Federation, Western Carolina University, The Garden Club of America, and The American Horticultural Association. Doug lives with his wife, Cindy, on their restored property in Oxford, PA.
Sponsored by the American Conservation Film Festival and the Garden Stewards of the Shepherdstown Public Library with support from HHMI|Tangled Bank Studios and in partnership with the Potomac Valley Audubon Society.